What Is 'Outlander' Star Sam Heughan's Net Worth?
Sam Heughan has come a long way since his early days as a stage actor in Edinburgh. The Outlander star has used his role on the popular television series to transition to the big screens, where he recently had a part in the movie The Spy Who Dumped Me. But just how much money has Heughan accumulated over the course of his career?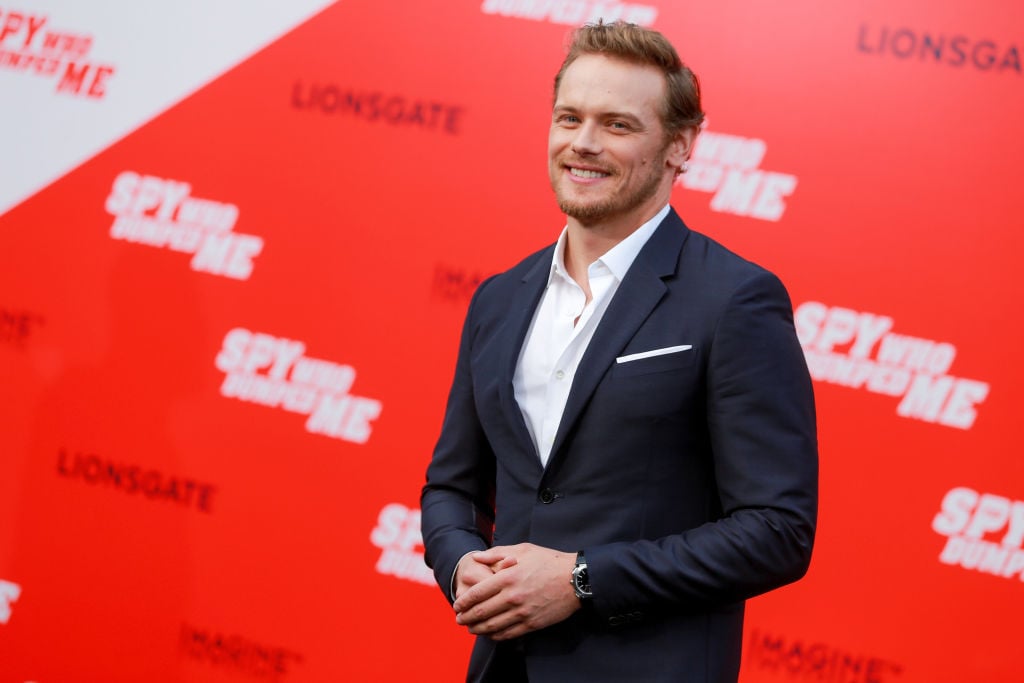 What is Sam Heughan's net worth?
The vast majority of Heughan's net worth comes from playing the part of Jamie Fraser on Starz's hit series, Outlander. According to Celebrity Worth, Heughan's fortune currently stands at an estimated $5 million, which is not bad considering Outlander is only in its fifth season.
With the series continuing to smash ratings and Heughan proving that he can make it in the film industry, the sky is the limit to how much the Scottish hunk can make over the next few years.
Inside Heughan's early career
Before he appeared on the small screens as Jamie Fraser, Sam Heughan made a name for himself as a stage actor in Edinburgh. Heughan gained the most recognition for his part in a play by David Greig called Outlying Islands, which opened in 2002. The part earned him a nomination for the Laurence Oliver Award and caught the attention of critics around the country.
At the time, Heughan was still attending the Royal Conservatoire of Scotland, where he eventually graduated before resuming his career. From there, Heughan got parts in a variety of plays and landed some small roles in television.
But his big break came when he was offered a job to advertise for a beer company in Scotland, Tennent's Lager, which opened the door for his Outlander audition. After he was cast for the part in Outlander, Sam Heughan's career really took off, though he hasn't forgotten his Scottish roots.
Heughan's work outside of Hollywood
When he isn't reading scripts or on a promotional tour, Heughan is an active participant in a number of different charities. Back in 2011, Heughan got behind a charity called Bloodwise and was even named the president of the group's chapter in Scotland.
In 2016, the Outlander star participated in the Great North Run, proceeds of which went towards an organization of his choice. Heughan also started a non-profit organization called My Peak Challenge, which holds events on an annual basis.
The actor is also a patron of the Youth Theatre Arts of Scotland. The organization gives young people the opportunity to change their lives by participating in theater.
Given Heughan's history of acting on the stage, this is a cause that is obviously dear to his heart. With all the charitable work he does on a regular basis, Heughan often updates fans on social media about his work outside of the show.
Sam Heughan is gearing up for Season 5 of 'Outlander'
At the moment, Heughan is filming the upcoming season of Outlander in Scotland. The fifth season is based on Diana Gabaldon's novel, The Fiery Cross, and will continue Jamie and Claire's (Caitriona Balfe) journey in the New World.
With filming underway, Heughan recently took part in a behind-the-scenes video with several of his co-stars, including Balfe, Sophie Skelton, Duncan Lacroix, and Richard Rankin. The cast and crew of Outlander have not revealed too many spoilers about what's ahead, but it looks like we're for another exciting season.
That said, the clip did reveal that the couple's home in North Carolina, dubbed Fraser's Ridge, will play an important part in the upcoming season. This includes serving as a refuge for Lacroix's Murtagh, who is hiding from the governor because of his involvement in the traitorous group, the Regulators.
At the end of Season 4, Jamie was ordered to hunt down the leaders of the Regulators, which definitely puts him at odds with his longtime companion. It is not clear how Sam Heughan's Jamie will handle the situation in Season 5, though he definitely has experience navigating political waters.
Starz has not announced when Season 5 of Outlander will premiere. With filming ahead of schedule, the series is expected to return sometime this fall.