What is Paula Abdul's Net Worth and How She Makes Money Today
This is how much original 'American Idol' judge Paul Abdul is worth and how she still makes a ton of money today.
Paula Abdul became a pop icon belting out hit after hit in the late '80s and early '90s. Then, in 2002, she introduced herself to another generation of fans as one of the judges on the reality singing competition American Idol.
Addul left the popular show in 2009 but she didn't disappear from the spotlight totally. Here's more on what the star has been up to and what her net worth is today.
Long before her days as one of the original American Idol judges, Abdul was a cheerleader for the NBA's Los Angeles Lakers. Following her stint as a Laker Girl, she became a choreographer. Her first major gig was when she was hired by The Jacksons to choreograph the group's dance number for the video "Torture." Abdul ended up choreographing their Victory Tour and later worked with their sister, Janet Jackson, to choreograph the moves done in her "Nasty" and "Control" videos.
Abdul's success coordinating dance routines extended beyond working just with musicians as she was pegged to arrange dance sequences for a number of films including Can't Buy Me Love, The Running Man, Big, Coming to America, Action Jackson, The Doors, Jerry Maguire, and American Beauty. 
For her singing career that was very successful as well. Abdul recorded three albums Forever Your Girl, Spellbound and Head over Heels between 1988 and 1995. The albums had commercial success and produced six No. 1 tracks. Abdul then took some time away from music and in 2002, she was tapped to serve as one of judges on the reality competition that launched Ryan Secreast's career and made Simon Cowell and Randy Jackson household names.
The "ForeverYour Girl" singer left the series in 2009 but later served as a judge on Live to Dance, The X Factor, and So You Think You Can Dance. She's also had a few other business ventures with endorsement deals as well as a jewelry line on QVC. Abdul's net worth is an estimated $30 million and she still raking in plenty of cash today by touring.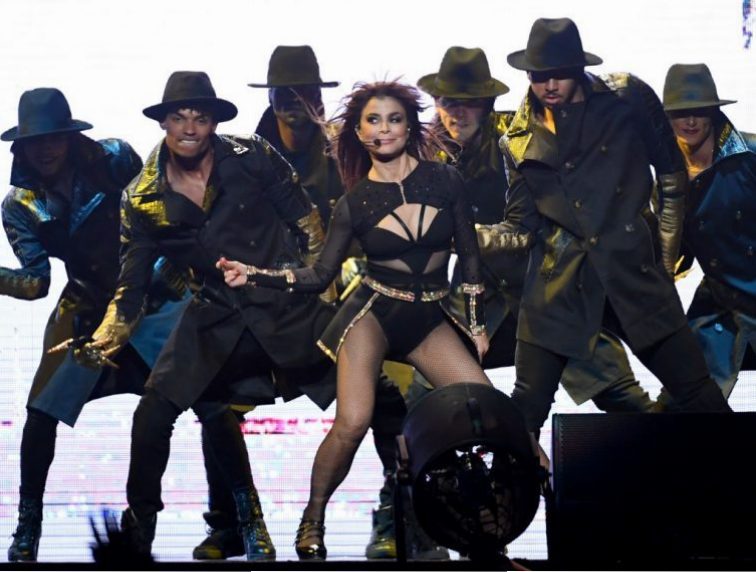 In 2017, the songstress toured with New Kids on the Block and Boyz II Men. She said that tour reminded her of how much she enjoyed being on the road and performing for her fans so she decided to embark on her own tour the following year. The Straight Up Paula! 2018 tour marks her first solo tour in 25 years.
In October, Abdul made headlines when video circulated online of her falling off the stage during one of her shows. While singing her hit "The Promise of a New Day" at Hard Rock Live in Biloxi, Mississippi, Abdul walked to the edge of the stage and leaned forward as if to greet her fans when she suddenly fell into the audience and out of view. Shrieks could be heard from the crowd but a concertgoer told Entertainment Tonight that Abdul was a total pro and just dusted herself off, got right back up, and continued her performance.
"After the fall, she got back up, never skipped a beat! [Abdul] stated, she has been a dancer for years so falls and drops she has gotten used to over the years," the fan said. "Other than the fall her show was absolutely amazing and she went on and finished like a champ!"
Read more: Betty White's Net Worth and How She Made Her Fortune
Check out The Cheat Sheet on Facebook!