What is RuPaul's Net Worth?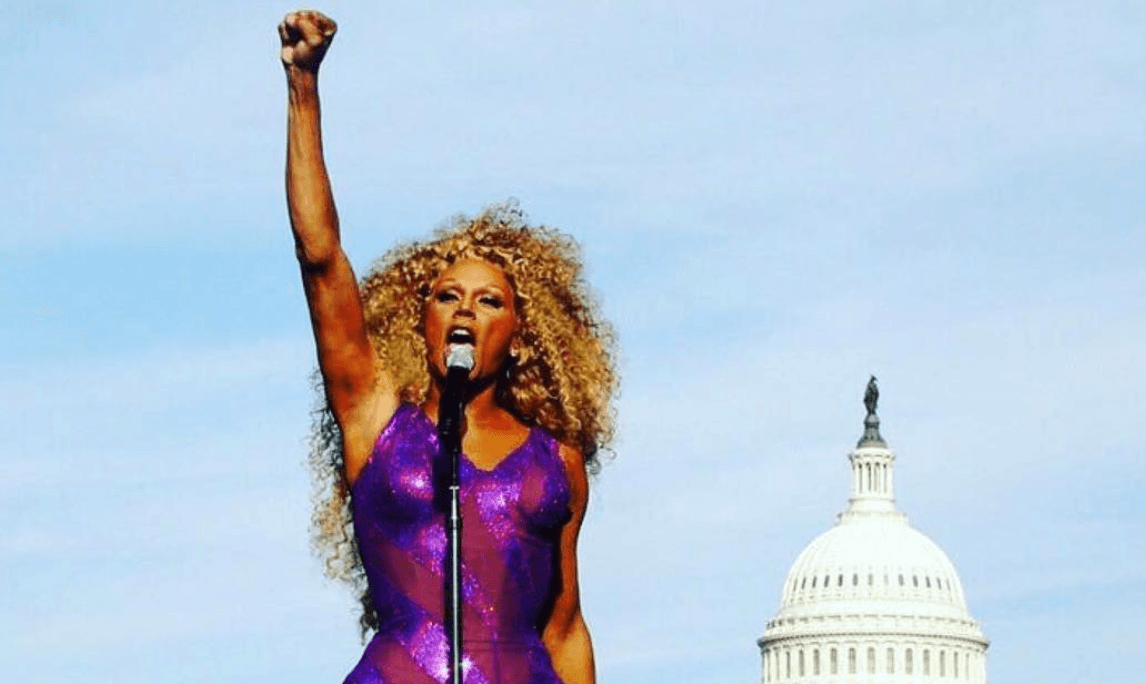 RuPaul Andre Charles transformed the drag profession into a fierce business thanks to his Emmy award-winning show, RuPaul's Drag Race. The drag pioneer was instrumental in launching the careers of dozens of performers like Latrice Royale, Trixie Mattel, Sharon Needles, Aquaria and more.
RuPaul's Drag Race took drag performance from the clubs to the living room as the show is part of mainstream media. RuPaul serves as the show's host but also the executive producer. Between film roles, music, record deals, and the show, RuPaul has amassed a serious fortune. He is currently worth about $7 million, Coed reports. So how did he start his career?
This is where he got his start
https://www.instagram.com/p/BpPGtJQFgFf/
RuPaul was born and raised in San Diego California, Coed reports. But instead of following the glow of Hollywood, he started his career in Atlanta, Georgia. The 1980s were a time of experimentation and exploration. His original career goals were to become a musician and filmmaker, starting with RuPaul Is: Starbooty!, released in 1987. He turned his sights to the 80s club scene as a performer, eventually taking his act to New York City.
But it was 'Love Shack' that got him noticed
He may have gotten his first big break appearing in the B-52s 1989 video Love Shack. Cindy Wilson from the B-52s explains what it was like working with RuPaul on the iconic video.
"Ru was a drag queen in Atlanta, and a bunch of people came up to New York and we all started hanging out," she told Billboard. "That was a cool era for us, as well as a really hard time: the AIDS crisis, and losing so many friends back in the mid-'80s, in the early days of New York. It was really wonderful, because it was love and friends, and there was a wonderful sense of coming together, being silly and hoping for the future. It was really special."
Then came (a lot) of films
https://www.instagram.com/p/BpNaYZsFlwH/
RuPaul's star was likely launched after the video but he had to "werk" to get to the top. He appeared in films like Spike Lee's Crooklyn to The Brady Bunch Movie (and the sequel). In addition to film, RuPaul appeared in television shows like Veronica's Closet, Sabrina the Teenage Witch, and Walker, Texas Ranger to name a few.
While most film appearances were in the 1990s, RuPaul continues to make more recent cameos. Including Two Broke Girls, Last Week Tonight with John Oliver, and The Simpsons.
Let's not forget about music
RuPaul has 33 soundtrack credits under his belt. In addition to music for RPDR, he performed in The Brady Bunch Movie, But I'm a Cheerleader and Beauty Shop. Additionally, he's released 32 singles, 11 studio albums, two soundtrack albums, and more. His hit song, Supermodel (You Better Work) hit number 45 on the Billboard Hot 100 chart and was number five on the Hot Dance Club Play chart in 1993.
And the show
Before RPDR was The RuPaul Show. The initial show was a talk show format, which had two seasons on VH-1, according to Coed. But RuPaul's true genius was revealed in 2009 when RuPaul's Drag Race debuted. The show allowed professional drag performers to showcase their talent on a weekly basis. Contestants promote their multi-dimensional talents and one lucky queen takes home the $100,000 grand prize.
Through the years the show only grew in popularity. Celebrity guest judges are often featured and the original show now has a spin-off. RuPaul's Drag Race All-Stars beckons the talents of previous fan favorite queens to re-compete.
RuPaul is an Emmy-award winner
https://www.instagram.com/p/Bn4Yclll3UT/
Not only is RPDR a fan favorite it is also industry recognized. The show has been nominated six times for an Emmy. And RuPaul sashayed away with the award at least three times. Additionally, RuPaul won the Broadcast Film Critics Association Awards, Best Reality Show Host in 2018. Plus he was nominated four times for a Critics Choice Award. RuPaul received the Vito Russo Award at the GLAAD Media Awards. Not to mention two Gold Derby Awards.