What Is Scarlett Johansson and Colin Jost's Net Worth?
Marvel Cinematic Universe star Scarlett Johansson married Saturday Night Live head writer and "Weekend Update" anchor Colin Jost in 2020. The celebrity couple didn't throw a big soiree, but they likely shelled out a decent amount of cash, given their status. Discover Scarlett Johansson and Colin Jost's net worth.
Scarlett Johansson and Colin Jost met via 'SNL'
Johansson got her start in show business long before Jost. She began acting as a child, first appearing in the 1994 film North. Johansson rose the ranks in Hollywood with movies such as Eight Legged Freaks and Lost in Translation. It wasn't until she was established as a star that she met Jost.
Jost started as a writer on Saturday Night Live in 2005. That season, Johansson hosted for the first time. While he remembers her, she doesn't recall interacting with him until her third stint in 2010. "He was in there partly directing this segment we had to do," she told The Hollywood Reporter. "He seemed very confident at the time."
They got engaged in 2019
Johansson returned to host SNL again in 2015. But it was her fifth time, in March 2017, where sparks flew between her and Jost. A couple of months later, they were seen spending time together in public. Johansson and Jost walked their first red carpet together later that year.
While attending major 2018 events like the Emmys (where Jost was nominated for SNL) and the Avengers: Infinity War premiere, Johansson and Jost's relationship remained strong. In May 2019, not long after Avengers: Endgame premiered, Jost and Johansson went public with their engagement.
Johansson and Jost married in 2020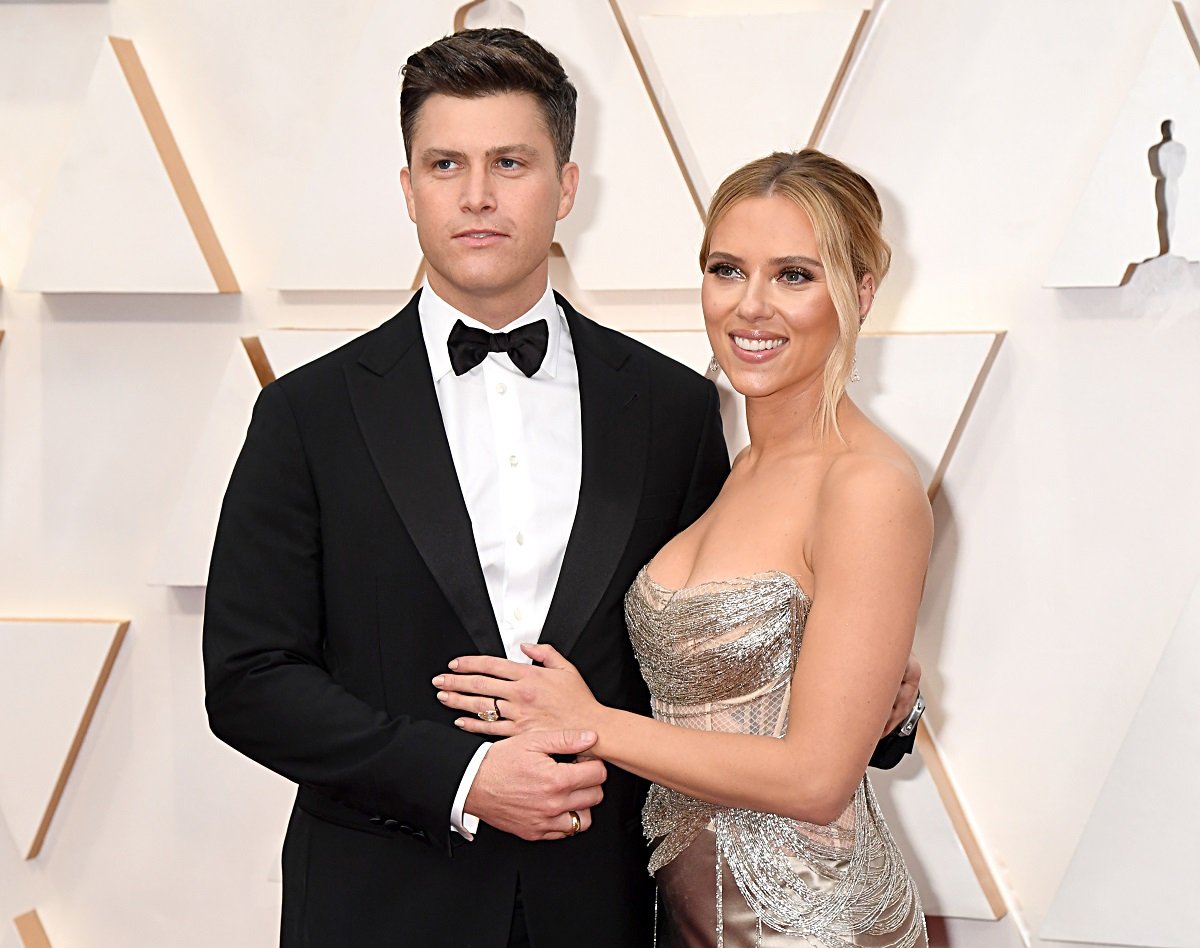 Less than a year after getting engaged, the coronavirus (COVID-19) pandemic struck. "We don't know when we really can [have the wedding]," Jost said on WTF with Marc Maron in July 2020. "Who knows when we really want to get people together for a large gathering."
Their eventual surprise wedding was small. So small, in fact, that the paparazzi didn't know about it. Rather than announce the news via their publicists, a social media post from Meals on Wheels revealed their October wedding, comprised of "an intimate ceremony with their immediate family and loved ones."
Scarlett Johansson and Colin Jost's net worth
Scarlett Johansson and Colin's net worth is high — that shouldn't come as a surprise to anyone. "Money is a taboo topic of conversation," she told THR regarding her Black Widow salary. "But I will say that, yes, I'm on an equal playing field with my male cohorts."
Naturally, the action star makes a bit more than her husband. When she hosted SNL in 2019, she joked, "If the show's bad, what are they going to do: Fire my fiance? Oh no, what will we do without his paycheck?" After all, as one of the highest-paid actors in the world, she's worth around $165 million. Paired with Jost's $6 million (according to Celebrity Net Worth), that brings them to $171 million between them.