What Is Stephen King's Best-Selling Book of All Time?
Stephen King has been one of the most prolific writers in the world for decades. He's earned a reputation as one of the indisputable masters of the horror genre. Though his earliest works remain the top-selling books of King's nearly 50-year career, a steady stream of popular TV and big-screen adaptations only add to his legendary status.
So which of King's books is the best-selling of all time? How did he overcome intense personal issues to get back on course? For one of the most famous authors, it's been a long, often strange trip since he burst onto the scene in the '70s.
'The Shining' remains Stephen King's best-selling novel
Released in 1977, King's The Shining has become nothing shy of a cultural phenomenon. Not only is it his top-rated book on Goodreads, but it's also by far the best-selling book of his career. Although finding reliable sales info is surprisingly difficult, Writing Beginner estimates that it has sold close to 700,000 copies — more than double the sales of runner-up Carrie.
The Shining's legacy is much more complicated, however. Telling the frightening tale of Overlook Hotel caretaker, Jack Torrance, the novel seemed like a natural fit for the big screen — until King realized what iconic director Stanley Kubrick intended to do with the material. Although Kubrick's version starring Jack Nicholson and Shelley Duvall has achieved its own legendary status, King openly disliked Kubrick's overly cold interpretation. He's remained critical of it ever since.
Far Out Magazine detailed a story about King and Kubrick arguing over the phone about the nature of evil and hell, a philosophical difference they never overcame. As IndieWire reports, King even took a swing at Kubrick in his 2018 novel, The Outsider, although he's also said he likes all of Kubrick's other films. Animosity aside, the awkward creative marriage worked: The Shining remains a gargantuan success for both King and Kubrick.
From 'Carrie' to 'Misery': King's other smash hits
Because King's books tend to have a long shelf life, his earliest books still rank at the top in sales. Behind The Shining, Carrie, and Salem's Lot rank No. 2 and No. 3 for King, followed by Misery and Pet Sematary. Unsurprisingly, all five of King's top-selling books also appear near the top of his Goodreads list, according to Become a Writer Today, which ranks books based on the number of five-star reviews.
The one notable exception is It. The clown thriller is seventh on his best-selling list but has the second-most five-star reviews on Goodreads. It fans also helped to turn King's tale of a twisted clown into an enormous success on the big screen.
According to The Numbers, It ended up taking in more than $300 million at the domestic box office and $700 million worldwide — more than doubling the inflation-adjusted totals of either The Shining or Carrie. It: Chapter Two was also a major hit in 2019, finishing with around $470 million in international box office receipts. Despite admitting it has structural flaws, King even names It as one of his personal favorites alongside time-traveling thriller 11/22/1963 and horror-romance Lisey's Story.
Overcoming his own demons: Stephen King's intervention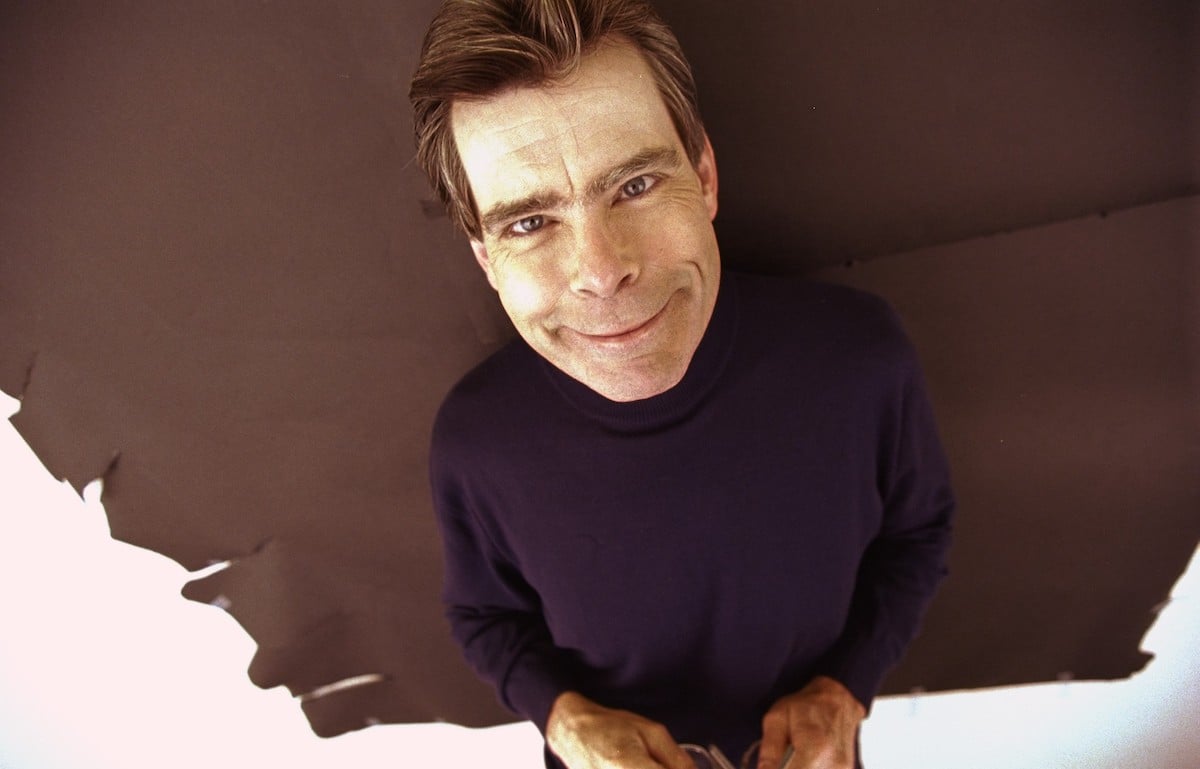 After the career-changing success of Carrie, Salem's Lot, and The Shining in the '70s, King went down a dark path while dreaming up nightmarish tales like Cujo in the early '80s. At the time, King was so locked into alcohol and cocaine that he hardly remembers writing the book. Thankfully, his wife, Tabitha, stepped in to give him an ultimatum: head to rehab or leave.
The intervention worked. King was able to embrace the sober life while cranking out new books nearly every single year for decades. After fully kicking alcohol and drug habits by the late '80s, King pieced together an inspirational 2000 memoir, On Writing: A Memoir of the Craft. He's even been able to revisit his troubling past in other works as well.
In 2013, King explained to The Guardian that he dug deep into his experience with Alcoholics Anonymous to write Doctor Sleep. The Shining sequel deals with drug abuse through the eyes of a grown-up Danny Torrance.
His earliest works continue to be rediscovered by new generations of readers. But Doctor Sleep is just one of his newer books to break new ground while remolding past themes. Although King has been a nearly ubiquitous presence in fiction, TV, and movies for almost half a century, the literary giant shows no signs of slowing down.
RELATED: The Best Stephen King Books That Haven't Been Made Into Movies