What Is 'Superstore' Star America Ferrera's Net Worth?
Since the premiere of NBC series Superstore in 2015, America Ferrera has been lighting up people's nights with her starring role as floor supervisor Amy Dubanowski. Before then, she was known for her work as the title character in ABC's Ugly Betty.
With such a great TV career under her belt, many fans might be curious to know how much money America Ferrera has made over the years. So what exactly is her net worth? We have the answer below.
America Ferrera did not have much money growing up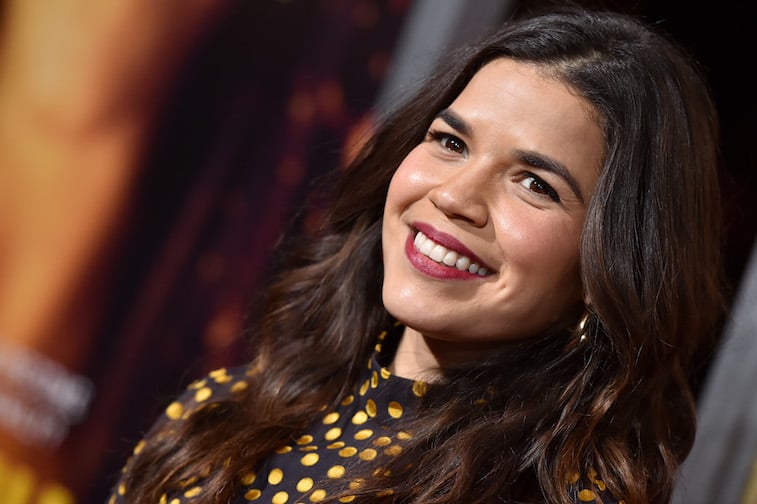 America Ferrera was born on April 18, 1984, in Los Angeles, California, to immigrant parents from Honduras. Her parents divorced when she was seven and her father went back to Central America.
America Ferrera and her siblings ended up mostly being raised by their mother in a family that often struggled financially.
"I was raised by a single mother who was raising six kids on her own single salary, so money was always really, really tight, hard to come by, and gone really quickly," Ferrera once shared with InStyle.
However, ever since she was a child, she had always wanted to act. So America Ferrera focused on participating in many school plays and even took acting lessons when she was a teenager. She went to college at the University of Southern California and studied theatre and international relations.
She became a TV icon with 'Ugly Betty'
America Ferrera started her professional acting career in the early 2000's with notable roles in a few movies such as Real Women Have Curves, Gotta Kick It Up!, and The Sisterhood of the Traveling Pants.
They eventually led up to her breakout role in the ABC comedy series Ugly Betty, which premiered in 2006. On Ugly Betty, America Ferrera played Betty Suarez, a girl with a unique style who ends up working at a high-end fashion magazine.
The show resonated with viewers everywhere and became a huge hit all over the world. It won dozens of awards and lasted for four years until the series finale came in 2010.
'Superstore' gave America Ferrera another popular role
After Ugly Betty, America Ferrera's face was not seen regularly on TV for another five years. However, she eventually returned in 2015 as Amy Dubanowski on NBC's Superstore, a show about a group of workers at a retail store.
Her new character is the total opposite of Betty Suarez, but viewers enjoy Amy Dubanowski and America Ferrera enjoy playing her as well.
"It was so appealing to me to get to explore what it's like to work through the world as a woman without trying to make people like you," she said. "I feel like Amy's definitely brought the cynic out of me for sure. It's fun, I like it."
What is America Ferrera's net worth today?
As a well-known TV star, of course, America Ferrera has a decent net worth to match. Celebrity Net Worth estimates that she is worth $16 million.
When America Ferrera first started out as an actor, she considered her earning from the Disney Channel movie Gotta Kick It Up! to be her first big paycheck. With a large amount of money coming in, she decided to invest in a car.
"It was a 2000 Mitsubishi Mirage. It was used, and I think it cost me $12,000," she told InStyle. "The hardest thing about growing up in L.A. was getting a ride anywhere. I used to have to ride, like, three buses to get to an audition."
Today, America Ferrera is paid a lot more for her work on Superstore. It has been reported that she makes at least $125,000 per episode.
Even so, she will not be found making unnecessarily extravagant purchases anytime soon. America Ferrera often chooses to spend money where it matters most to her. "I love theater, I love good meals, I love travel, I love adventure, I love experiences. Experiences are probably what I splurge on the most, then practical things like my home," she said. "I'm not a shopper, which I'm grateful for. I hate it, mainly because it takes so much time."
America Ferrera currently is married to fellow actor Ryan Piers Williams. The couple has one son and is determined not to give their child a spoiled upbringing.
"It definitely crosses my mind that my child will have very different kinds of resources than I did or my husband did," she shared. "We're asking ourselves how to instill in our child the appreciation and the work ethic and the real value of what it means to earn your keep."