What Is the Age Difference Between 'Bachelor' Host Chris Harrison and 'Entertainment Tonight's' Lauren Zima?
Longtime host of The Bachelor, Chris Harrison, and Entertainment Tonight's, Lauren Zima, have become one of reality TV's most coveted couples. The power duo — often crossing paths when Harrison does Bachelor Nation promo — keeps audiences entertained with their easy-going relationship and witty banter.
The two are still a relatively new couple (at least publicly), but appear to have a great time together. What is the story on Harrison and Zima's romance and how far apart in age are they?
A closer look at Chris Harrison and Lauren Zima's TV love story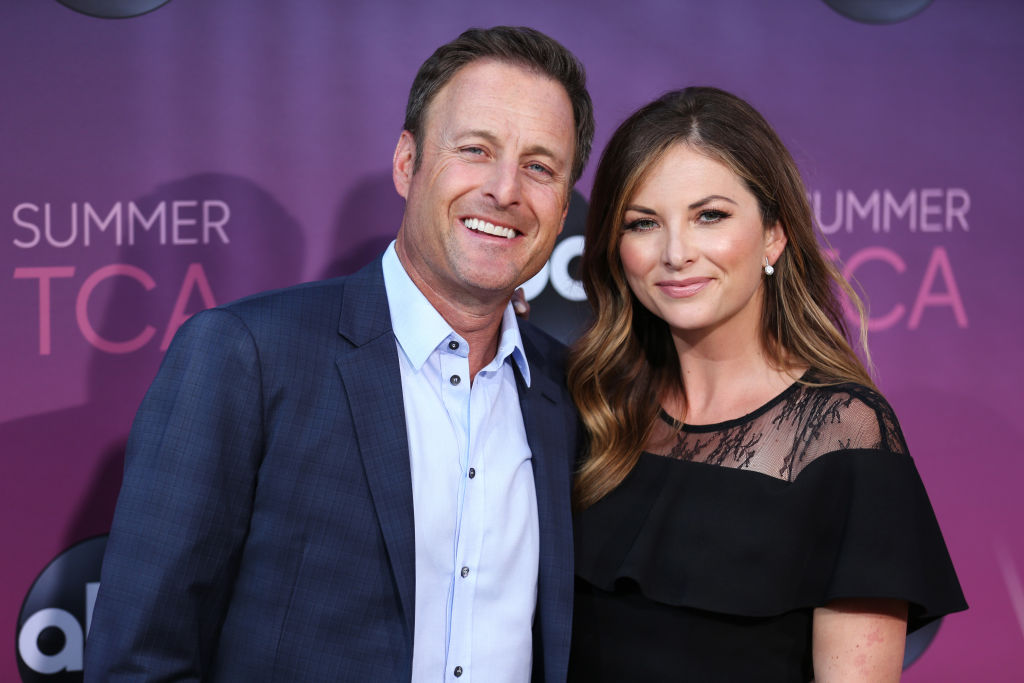 In Jan. 2019, Chris Harrison and Lauren Zima made their red carpet debut at Screen Actors Guild Awards pre-party in West Hollywood. The two had been dating for months, according to multiple reports, and said they were "very happy."
Zima, who started out on MTV's 2010 comedy, Disaster Date, began her Entertainment Tonight journey in 2015 after a brief time working for Newsy. Reality Steve deemed Zima ET's "No. 1 reporter for all things Bachelor Nation," which is how she and Harrison's love story began.
Harrison has been the face of the Bachelor franchise since its inception way back in 2002, though he remained married to his former wife, Gwen, until their split in 2012 — after 18 years of marriage. They had two children together and remain amicable.
Harrison and Zima's paths crossed in the most convenient and obvious way since the two interact often through Harrison's promotion for the Bachelor shows while Zima interviews. However, Harrison took a modern approach to ask her out — through an Instagram DM.
"I never looked at him and ever considered whether I found him attractive," Zima previously told Nick Viall via his podcast, The Viall Files.
"He just gave me a different vibe," she said. "It was fairly overt. He mentioned something about picking his kids up or something. He somehow brought up being single, I think. And then I said something like, 'I'm single now,' and he was like,' Oh.' But I said it in a more eloquent way."
Zima messaged Harrison about bumping into him.
"I didn't say, 'Hey, I couldn't be more single and I know how darkly alone you are," she added. "It all worked out really well and it was also the perfect amount of time. We had a little bit of messaging and he said let's grab a drink and have real person talk."
The rest, as they say, is history.
How much older is Harrison than Zima?
Harrison is 48 years old, and Zima is 33, making the Bachelor host a firm 15 years older than his girlfriend. 15 years might seem a little extreme, but in the world of entertainment, it's nothing. Harrison is a very young 48 and Zima appears to be on the same page.
The happy couple not only keeps things lively in the Bachelor universe, but also on the red carpet and other Hollywood events. They don't have any children together, and so far, no engagement is on tap. But who knows? It could be a matter of time before Zima receives Harrison's final rose.
Zima and Harrison will always have all things 'Bachelor'
As ET's host of the "Roses and Rosé" segment, which recaps Bachelor franchise episodes, Zima is a pro at keeping things professional on the set.
"I sort of feel like I'm reaping the benefits of someone who's worked on this show and learned how to talk to women for so long," Zima added in the same Viall Files podcast.
"He is so communicative. He's so thoughtful. He's so clear with his feelings and a good listener…I don't expect Bachelor dates from him, but I will tell you he has taken me on a helicopter."
She also revealed their romance is mostly low-key.
"I could have fun with him anywhere," she continued adding she always has "a great time with him."
She continued, "I'm so happy with him if we're scanning through movies to find something to watch on TV or if we were in the helicopter."
We'll have to wait and see where this relationship goes from here. Regardless, Bachelor Nation is behind them all the way.