What Is the Age Difference Between Michael Douglas and Catherine Zeta-Jones?
Michael Douglas and Catherine Zeta-Jones have been married 20 years. What is the age difference between the two and does it ever affect their relationship?
Michael Douglas and Catherine Zeta-Jones married in November 2000. Theirs is a love story that inspires many. Before Zeta-Jones, Douglas spent 18 years married to Diandra Luker, the daughter of an Austrian diplomat. She was 19 to Douglas' 32 at the time. While the two had one son together, Cameron, Luker filed for divorce and won a $45 million settlement.
A few years later, Douglas met and fell in love with his next bride-to-be, Zeta-Jones. Here's a little insight into one of Hollywood's leading couples.
A brief look at Michael Douglas and Catherine Zeta-Jones' love story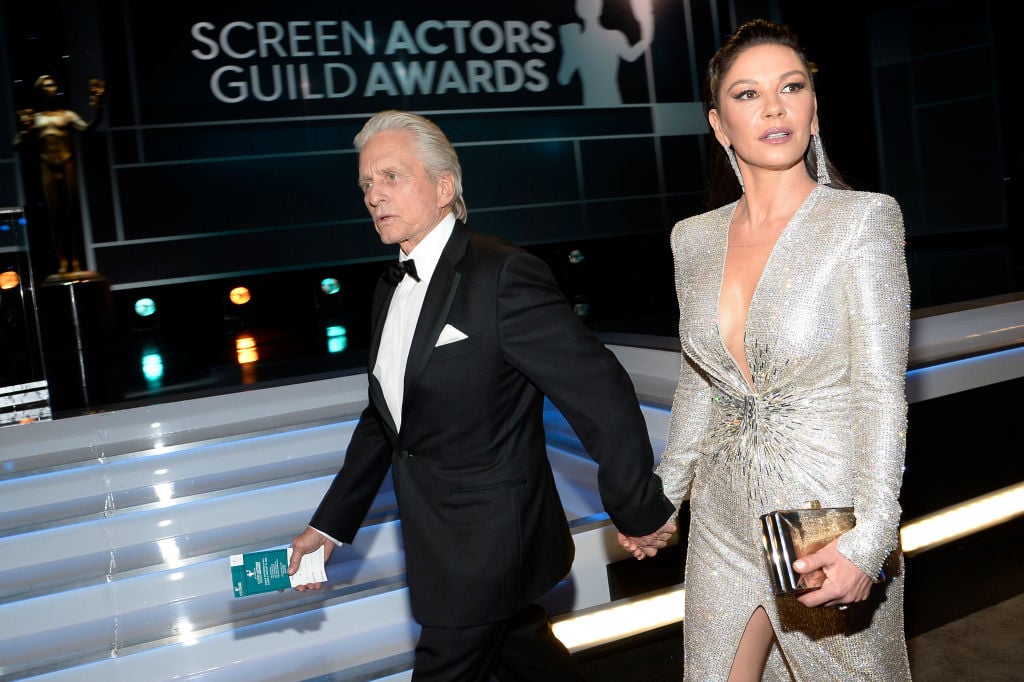 Michael Douglas and Catherine Zeta-Jones met at the Deauville Film Festival in 1996. They crossed paths again while having dinner with famous mutual friends, Antonio Banderas and Melanie Griffith.
Douglas said, "I want to father your children," which is definitely one opener to go with. Apparently, it worked. The two have been inseparable ever since.
At the time, Douglas already had a string of hit movies like Romancing the Stone, Fatal Attraction, Basic Instinct, and Disclosure. Zeta-Jones was not quite as well-known, as her bigger roles came in 1998 and after with The Mask of Zorro, Entrapment, Traffic, and more.
Douglas was technically still married to Luker when he and Zeta-Jones got together. They married in 2000 — just five months after Douglas' divorce to Luker finalized.
This November, Douglas, and Zeta-Jones celebrate their 20th wedding anniversary which is quite the feat for Hollywood.
How much older is Douglas than Zeta-Jones?
Douglas filmed Hail, Hero! the year Zeta-Jones was born. In 1969, as Zeta-Jones came into the world as her parents' only child in Swansea, Wales, Douglas played Carl Dixon and also appeared on the series CBS Playhouse.
To put things into perspective, Douglas was born on September 25, 1944, while Zeta-Jones was born on September 25, 1969. It's amazing they share a birthday. They're separated by 25 years in total — to the day. That's actually quite a feat.
The couple has been through a lot together, including having two children
Douglas and Zeta-Jones have two children together. Dylan was born three months after the two married in 2000, and Carys followed three years later. In 2010, Douglas's son with Luker received a five-year sentence for heroin possession, then another two for smuggling drugs into prison. He was released in 2016.
Following his son's initial arrest, Douglas was diagnosed with advanced-stage tongue cancer in which he underwent radiation and chemotherapy. That aside, Zeta-Jones had an incredibly close connection with the patriarch Douglas, Kirk, who just passed away at age 103. Despite all of that, Douglas and Zeta-Jones haven't lost that loving feeling.
"She does still give me butterflies," Douglas told Us Weekly ahead of the 2019 Emmy Awards. "She cleans up pretty good."