What Is the Cast of 'Psych' Worth Today?
Get to know the cast of the USA series, Psych, and see what they've been up to since the show wrapped.

About the show

Psych, USA's comedy show is about Shawn Spencer (James Roday) a man who pretends to be a psychic detective using the observation skills taught to him by his father, Henry Spencer (Corbin Bernsen), a retired cop.
Shawn and his best friend, Burton "Gus" Guster, help their local police department solve crimes.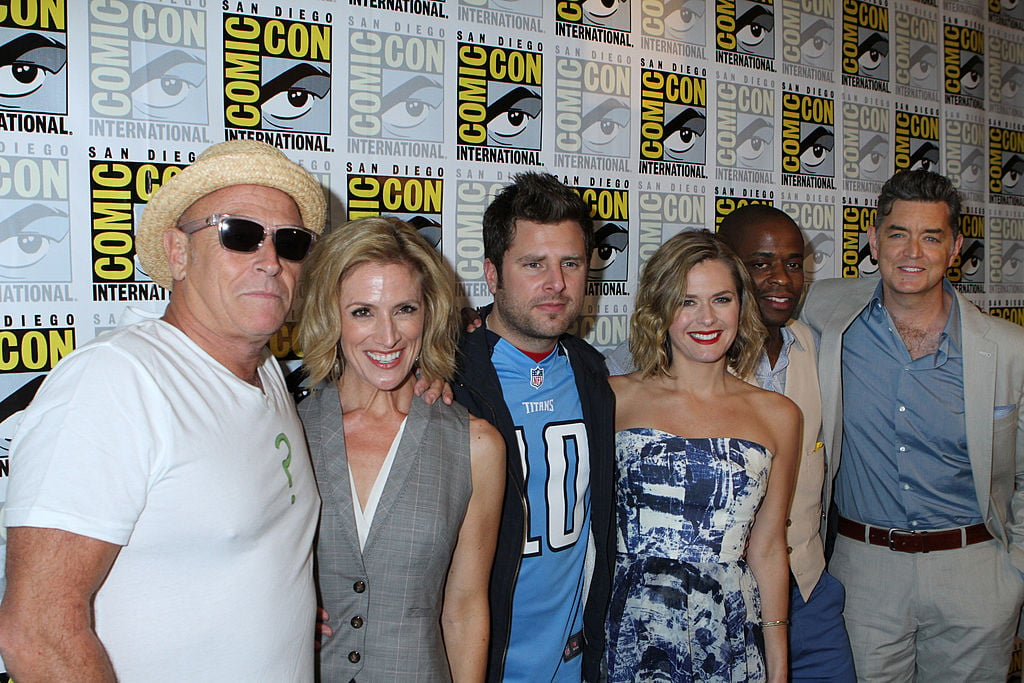 The show ran for eight seasons and returned to USA in 2017 with Psych: The Movie. The movie proved to be so successful, a second movie special is set to be released "later this year," according to USA.

James Roday

Roday is a Texas native who used his comedy skills on Psych. In the pilot episode, his character makes a joke about taking a pineapple for the road, a line that Roday himself improvised. From then on a pineapple would be hidden somewhere in every episode becoming a fun game for fans. Roday made $60,000 per episode on Psych, according to TV Guide.

He is now playing Gary Mendez on the ABC drama, A Million Little Things, a show about friends coping with losing another friend from suicide. His previous acting credits include Repli-Kate, Get Real, Showtime, Providence, Miss Match, Rolling Kansas, The Dukes of Hazzard, Don't Come Knocking, and Skinwalkers, according to Celebs Net Worth Today.

Roday's estimated net worth is said to be $3 million. He occasionally announces for the WWE, according to Celebrity Net Worth.

Dulé Hill

Dulé Hill played Gus on Psych and previously played the character of Charlie Young on the hit series, The West Wing. He has also starred in another USA show, Suits. Most recently, Hill went back to his theater roots. He starred in a Geffen Playhouse production of Lights Out: Nat "King" Cole.

He got married in 2018 to Jazmyn Simon and the two are expecting their first child together. Celebrity Net Worth and The Richest both estimate Hill's personal fortune to be $6 million.

Maggie Lawson
Maggie Lawson played Juliet O'Hara on Psych. Her character fell in love with Shawn Spencer and so did the actors. Lawson and Roday were together for seven years, according to IMDb.

Her acting credits include Lethal Weapon, The Story of Us, The Ranch, Santa Clarita Diet, and Two and a Half Men among others.

Lawson's estimated net worth is $2 million, according to Celebrity Net Worth.

Timothy Omundson

Actor Timothy Omundson played the uptight and very serious detective, Carlton Lassiter, on Psych. Omundson is originally from Missouri but grew up in Seattle, Washington, according to IMDb.

Prior to Psych, he had a recurring role on Deadwood. He also had a small part in an episode of Seinfeld in 1992. After Psych wrapped, Omundson played King Richard on the TV series, Galavant.

His net worth is said to be $3 million, according to Celebrity Net Worth. Heightline also estimates Omundson's net worth to be $3 million as he's participated in film, stage, and television roles.

Corbin Bernsen

Corbin Bernsen played the part of Henry Spencer, Shawn's disapproving father, on Psych.
In real life, Bernsen is an accomplished writer, producer, and director. He has his own production and distribution company, Home Theater Films, according to USA.
L.A. Law catapulted Bernsen to stardom in the 1990s. He too appeared on Seinfeld like his Psych co-star Omundson. He has an extensive amount of acting credits ranging from TV roles and film all the way to theater.

Reports on Bernsen's net worth vary. The lowest estimate being $6 million (Celebrity Net Worth) and the highest being $12 million (RealtyToday).

Kirsten Nelson

Actress Kristen Nelson played Karen Vick, the chief of police in Santa Barbara, where Psych took place. Nelson's acting credits include but aren't limited to Everwood, Buffy the Vampire Slayer, The Ghost Whisperer, The West Wing, Frasier, and Malcolm in the Middle.

She also had a role in the Steven Spielberg film War of the Worlds and the HBO film Mrs. Harris.

In addition to being an actor, Nelson is now a director. She directed the film 8 Minutes, according to USA.

As with her co-stars, Nelson's net worth is difficult to pin down. Estimates vary anywhere from $1 million all the way up to $15 million.