What Is the Oscar-Winning Film 'Parasite' About?
Parasite had a big night at the 92nd Academy Awards on Sunday, Feb. 9. The black comedy thriller won a trove of awards at the show, sweeping the major categories and beating mega films such as Joker and The Irishman. But what is it actually about? Here's what to know about the Oscar-winning film.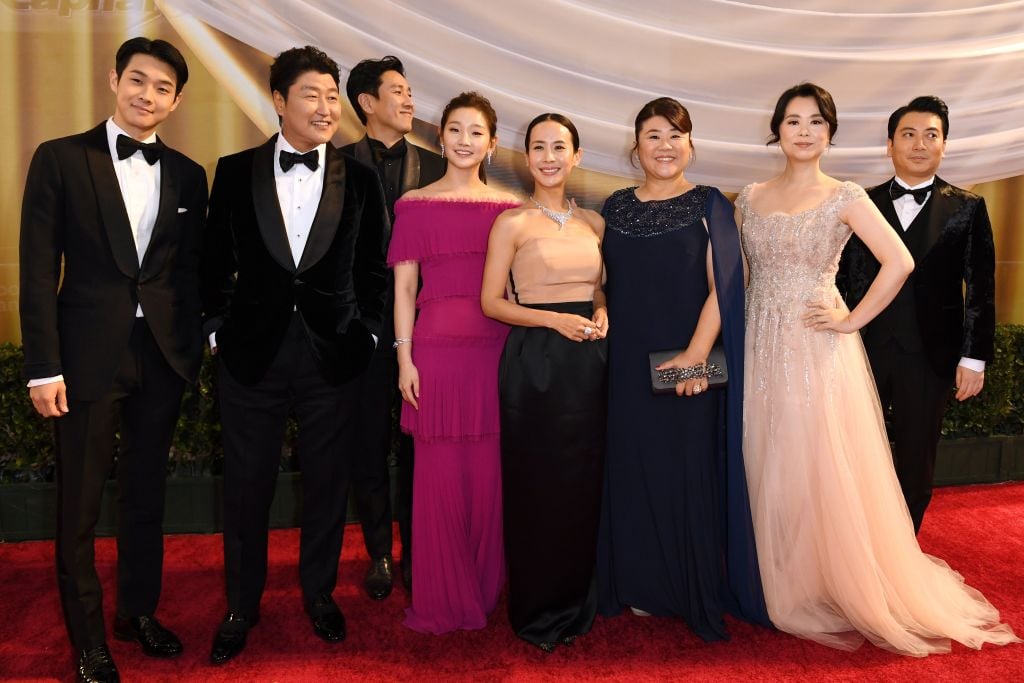 More information on 'Parasite'
Parasite is a South Korean film. It focuses on a poor family that hatches a plot to become employed by a rich family. It begins with the son beefing up his resume in order to get hired as a tutor for the family's daughter. Once he gets the job, he helps his sister secure a role as an art teacher. The dad is also brought on as a chauffeur, and the mom finds work as a housekeeper. It's based on a true story.
Beyond the storyline, the film is about the economic gap between the poor and the wealthy and the implications of it. Parasite was written and directed by Bong Joon-Ho, who has been tied to many critically acclaimed films including 2013's Snowpiercer, which features Chris Evans, and the 2017 Netflix movie Okja.
The film met universal acclaim upon its release. Outlets such as Rotten Tomatoes and Metacritic gave it nearly a 100% rating, describing it as "brilliantly layered" and a "miracle of a film." Websites such as Refinery29 described it as "laugh-out-loud funny and edge-of-your-seat thrilling."
How many Oscars did 'Parasite' win?
Parasite won a total of four Oscars at the show. Its biggest win came when it earned an award for best picture, becoming the first non-English film and the first South Korean film to do so. It competed against eight other movies: Once Upon a Time… in Hollywood, 1917, Marriage Story, Little Women, Jojo Rabbit, Joker, The Irishman, and Ford V Ferrari.
The movie also won trophies for best director, best original screenplay and best international feature film.
Fans react to the Oscar wins
As the awards rolled in, many fans took to social media to share their excitement and talk about what the wins mean for Koreans.
South Korean President Moon Jae-in took to Twitter, writing, "Parasite moved the minds of the world with a story that is truly Korean. The film is funny and sad. It's also refreshing and superb as a social message. It makes us rethink about inspiration and strength — in a single film. The Korean government will support to create an environment where film professionals can freely express their imagination and produce a film without any worries."   
The Democratic Party of Korea called the honors "a historical event which illustrates that Korean film has reached a world-class standard, and it shows the strength of Koreans and Korean culture to the world."
Those messages were among thousands that appeared on social media after the wins.
As the cast and crew move forward with new projects, we'd like to wish them a lot more joy and success.
Read more: Has Anyone Named Oscar Ever Won An Oscar?
Check out Showbiz Cheat Sheet on Facebook!