What is Timothée Chalamet's Net Worth?
There might be a lot of arguments about whether Timothée Chalamet is one of America's greatest actors. He may have more to prove, despite an Oscar nomination at age 22 for Call Me By Your Name in 2017. Since then, he's been giving consistently excellent performances, if still waiting for an Oscar breakthrough moment.
All of this has probably made his paychecks higher than when starting out. These roles likely pay more than his early ones, such as Tom Cooper in Christopher Nolan's Interstellar. Even then, he wasn't 18 yet, setting a long path ahead of possibly becoming the youngest future Oscar winner in a while.
With three big movies coming out this year, plus a role as Bob Dylan on the horizon, it's worth looking at what Chalamet is worth now.
Believe it or not, Chalamet started on the stage
At the ripe age of 15, Chalamet won a major stage role just before he soared while acting on television. It seems all the greatest actors start on the stage where they can hone their craft.
His stage role as Nicholas Clarke in off-Broadway's The Talls was his only stage performance before acting on television. His first major performance in front of a camera was for Law & Order: SVU, which couldn't have been a better place to showcase his acting ability.
Following his stage role in The Talls, he acted on the sitcom Royal Pains, then pivoted to doing eight episodes of Homeland during its first season. One could say this was what really kicked his acting career into fast-forward, leading to his 2014 movie debut in Jason Reitman's Men, Women & Children.
Starting one's adult years as a movie actor is not an easy adjustment. At least it took him a couple of years to find his footing and acting style. He achieved this between 2015-2017, when making half-a-dozen dramas displaying his on-screen intensity and intelligence.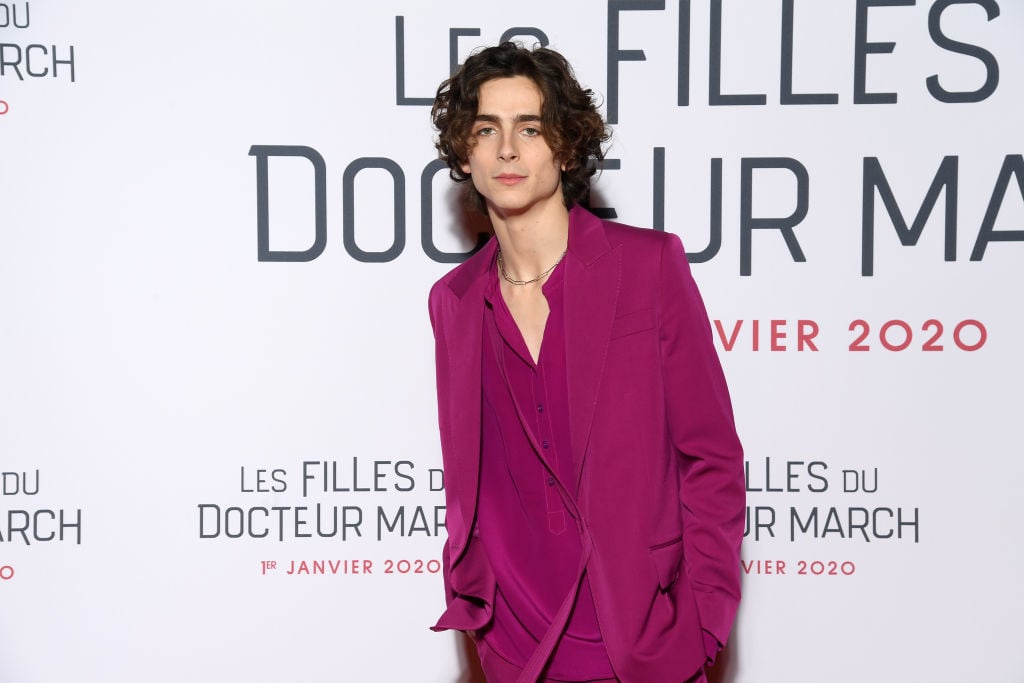 An Oscar nomination always means a bump in pay
After Chalamet's Oscar nomination for Call Me By Your Name, his pay grade shot into the stratosphere. He's been in demand ever since, considering he's one of the youngest actors to be nominated for an Oscar.
He's made eight films in just the last couple of years. Part of this involved becoming a successful part of the regular repertory in Greta Gerwig's films. This started in Gerwig's Lady Bird, then again with recent Little Women. Saoirse Ronan has become Chalamet's best co-actor, something about to continue in upcoming The French Dispatch from Wes Anderson.
As Chalamet's paychecks keep rising, he's also doing some endorsements for fashion lines. Having this and doing about three to four films per year has pushed his net worth up to $6 million, reportedly.
What happens after his upcoming films like the reboot of Dune and his Bob Dylan biopic release over the next year or two?
Chalamet could be one of the wealthiest actors in another five years
While he hasn't recently been nominated for an Oscar, there shouldn't be any worry. He's only 24 now and has plenty of time to win an Academy Award.
No matter if it doesn't happen with upcoming Dune or The French Dispatch. Starring in Going Electric, a biopic about Bob Dylan seems almost a shoo-in as his major peak.
When considering Chalamet already somewhat resembles a young Dylan, the chances of this being one of the greatest biopics are certainly in place. Once he does win an Oscar, he's slated to be this generation's new James Dean, Brando, or De Niro. As much burden as that might bring, expect his $6 million to look more like $60 million before the decade's even out.