What Is Travis Scott's McDonald's Order?
Now, fans can eat like their favorite artist. Here's what we know about Travis Scott and his recent collaboration with McDonald's.
If "Cactus Jack" sent you to McDonald's, chances are, you're after one thing — the Travel Scott meal. For just $6 fans of this artist can try all of his favorites from the fast-food restaurant. Here's our look into this unique (and delicious) collaboration. 
What is Travis Scott's McDonald's order?
Cactus Jack fans can finally eat like this performer. If you're ordering the Travis Scott meal at McDonald's, you're diving headfirst into a classic-turned go-to favorite of the artist — a Quarter Pounder with Cheese stacked with bacon and lettuce. 
The side this meal comes with is a medium fry but instead of ketchup, diners will be dipping into tangy barbecue sauce. The meal also comes with a Sprite on the side, the rapper's favorite soda. The McDonald's website also tells fans to ask for "extra ice."
According to USA Today, their partnership didn't end there. A line of exclusive merchandise went on sale on Scott's website that includes clothes, hats, a lunch box and even a $90 nugget body pillow.
Why did Travis Scott and McDonald's collaborate for this meal?
It's lit. For fans of Scott, this collaboration just makes sense. The cartoon character of this rapper even appeared in a commercial for McDonald's, giving a look into the fast food he's been enjoying since Houston. (The commercial on YouTube earned over 2 million views.) 
"From featuring Travis's favorite McDonald's meal in our restaurants, to his new score for our TV spot, to Cactus Jack x McDonald's merch, this has been a true partnership from start to finish," McDonald's U.S. Chief Marketing Officer Morgan Flatley said in a news release.
For only $6, this is an affordable deal for a number of fans of the artist. Some even took to social media, posting videos of them asking for the meal in the drive-thru. This wouldn't be the first collaboration of Travis Scott, though, as the artist recently partnered with Nike and even the streaming event with the video game, Fortnite.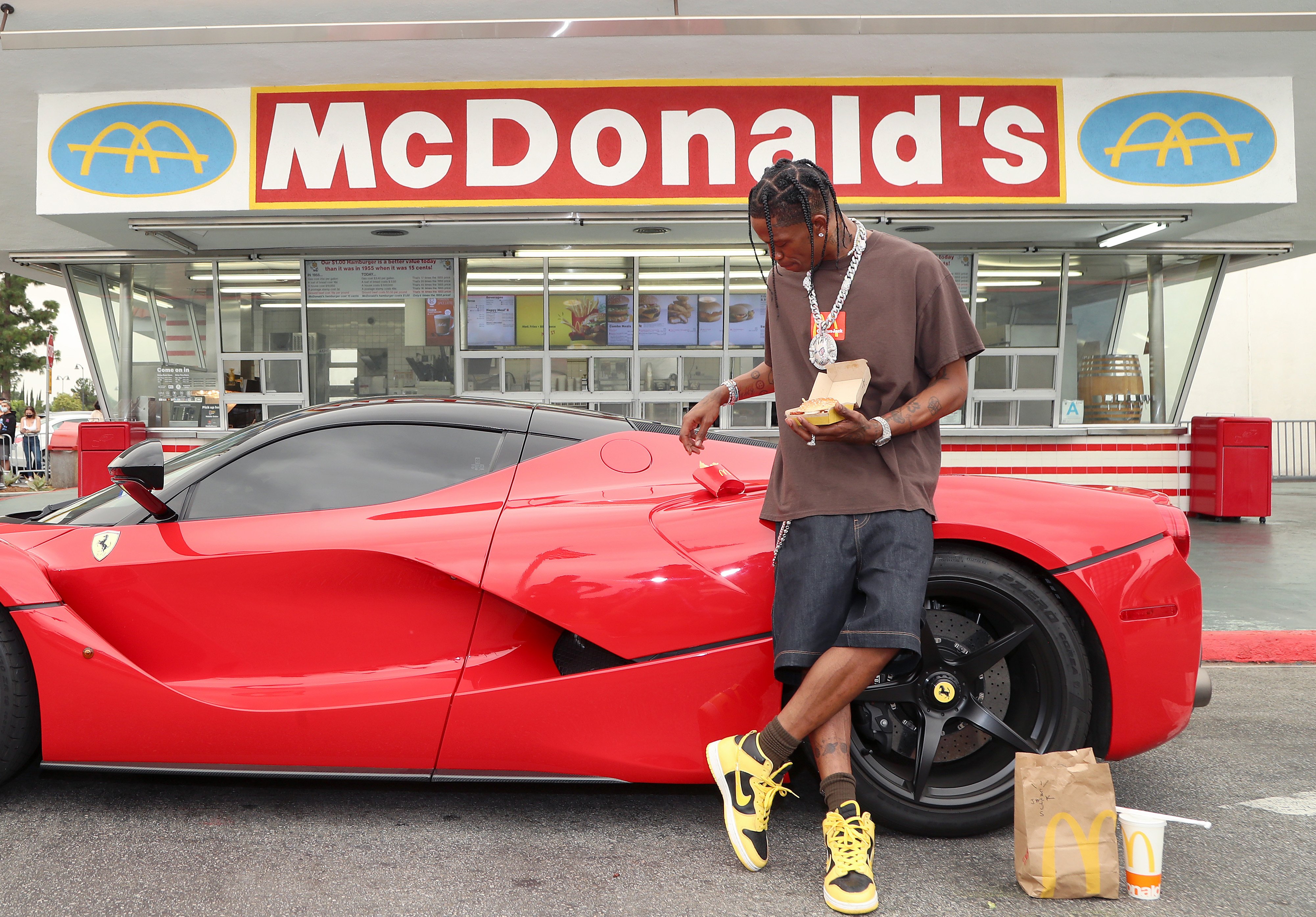 Other celebrities collaborated with fast food restaurants, including Charli D'Amelio 
Travis Scott wouldn't be the first artist to collaborate with this restaurant. In 1992, McDonald's had a "Michael Jordan" meal, in conjunction with the basketball superstar. Even Dunkin Donuts reached out to a celebrity to collaborate on an order.
The TikTok star Charli D'Amelio took her love of Dunkin Donuts to new levels, having her go-to order be available to fans at the chain restaurant. (That's a cold brew with whole milk and three pumps of caramel swirl.)
Music by Travis Scott, including his song "The Plan" from the motion picture Tenet, is available on Spotify, Apple Music, and most major streaming platforms. The Travis Scott meal is available at most McDonalds for a limited time.