What Is Trent Reznor's Net Worth?
Golden Globe winner, Trent Reznor has built a sizeable net worth thanks to a lengthy career that emerged during the industrial grunge era and his continued involvement in scoring films like Soul.
Reznor walked away with the Golden Globe for Best Original Score for Soul, which he shared with Atticus Ross and Jon Batiste. "This is the first work of art I've ever made that I can show to my kids," Reznor said in his acceptance speech at the 2021 ceremony mainly filmed virtually. As the frontman of Nine Inch Nails, Reznor has been on a touring hiatus due to the pandemic. But he's worked steadily, writing music for more than one film in 2020. In fact, the band was also up for the same category but for Mank.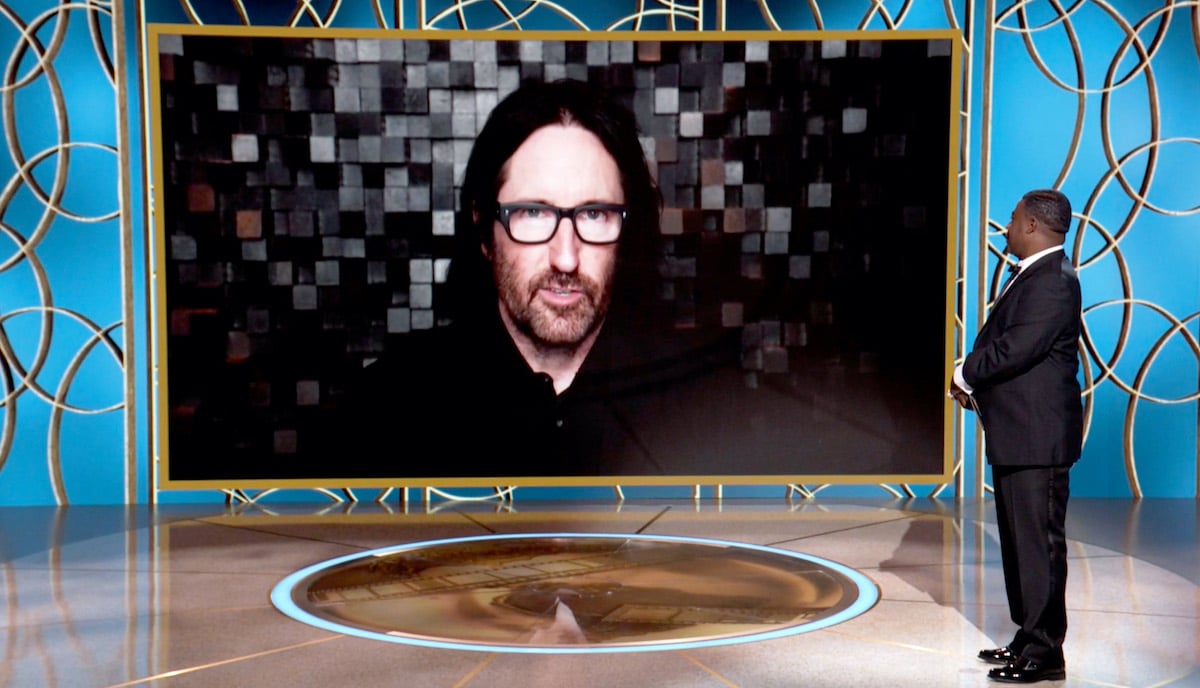 Trent Reznor wanted Nine Inch Nails to start small and grow from there
Reznor's reported net worth is $80 million, which he has amassed over three decades of work. He revealed in a 1992 interview that when he started Nine Inch Nails, he didn't want to grow the band so fast that he would make bad decisions. "I was working at a studio as a kind of a programmer/assistant engineer, basically for nothing so I could work at night on my own stuff, which I did for about a year and got some demos done," he told Chaos Control.
"Instead of starting with the biggest labels in the world, seeing if anybody wants you and then trickling down, I started at the very bottom and went up a few levels," he continued.
"Because Nine Inch Nails was very valuable at that time, I didn't want to get into a big deal where I had to make big decisions that would possibly affect the way Nine Inch Nails would come out by making bad choices initially," Reznor said. "I sent it out to a few labels, including Nettwerk, who eventually became interested and then dropped the ball because they didn't have any money. They sent us on tour with Skinny Puppy for a few dates, which we totally, totally sucked. A label in New York saw us and signed us up, TVT, and we did the record end everything got sh*tty.
Nine Inch Nails has released 14 albums (so far)
Of course the TVT deal went south, but Reznor stands by his decision to go with an independent label. "I think that was the exception to the rule," he told Chaos Control. "The most important thing is if you get a label interested in you, don't–and I repeat don't–jump at the first thing they throw at you. Because labels realize that most bands are desperate to get a contract, so it's not in them to automatically offer you the best thing, and that doesn't always equal a lot of money."
Nine Inch Nails quickly became an icon during the late 1980s and 1990s. The band has logged 14 albums thus far, beginning with "Pretty Hate Machine" which started it all.
Since the first release, the band's albums have been extremely profitable with the 2008 release "Ghosts I-IV" generating $1.6 million in sales during the first week, Wired reports.
Reznor has also composed a slew of film scores including The Social Network, Watchmen, and The Girl with the Dragon Tattoo amongst others.
Trent Reznor shares what the media hasn't gotten right
Reznor told NPR he believes that the media hasn't always gotten right when it comes to his art.
"Well, there's always been a need to put things in boxes — understandable little headings so you know what the thing is. What were we called in the '90s — industrial? What does that mean?" he said.
"Well, we don't know. It's not alternative like grunge, and it has synthesizers — let's call it industrial. That was never me out there, waving that banner around. I think in Europe we got called metal at some point, and so we'd wind up in this kind of metal heading as if we're brethren with whoever's considered a metal band."