What Kelly Ripa Considers A Key Part of Her Job on 'Live'
Kelly Ripa of Live with Kelly and Ryan has a full plate as co-host on the daily talk show and her full family life with husband Mark Consuelos and their three kids. Despite turning 50 years old this October, Ripa still appears ageless thanks to her rigorous workout routine and commitment to healthy living.
Despite balancing such a busy schedule, the talk show host makes a priority of bringing her very best to viewers each morning, where she finds special meaning in trying to brighten someone's day.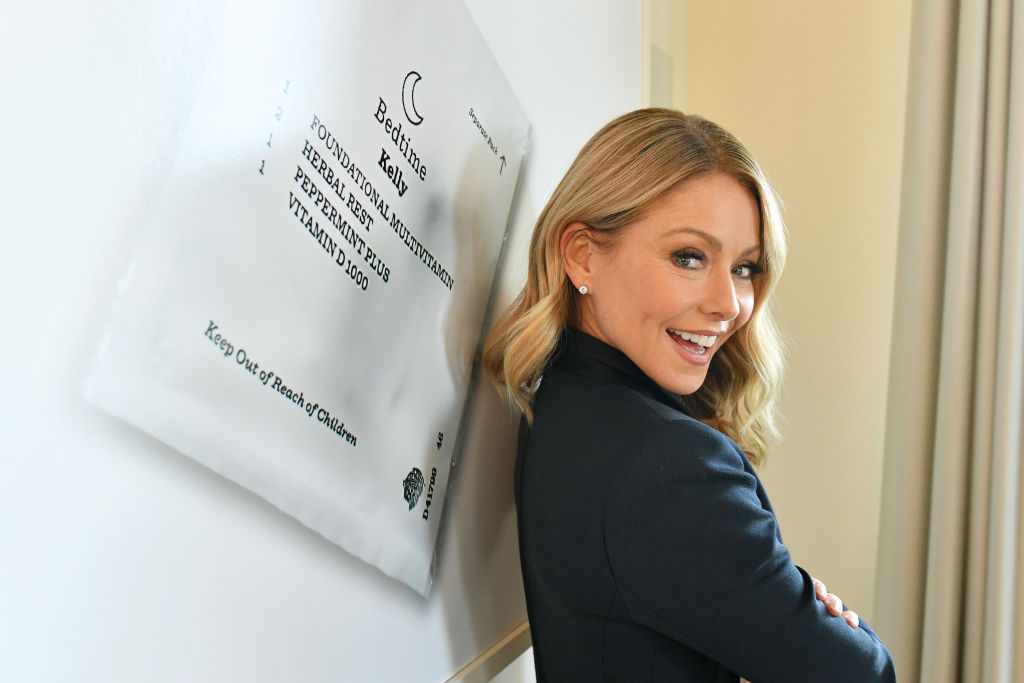 Ripa rises early
The television personality is dedicated to living a healthy lifestyle which includes getting up at the crack of dawn. Starting her day at 5 a.m., Ripa just sees it as part of her daily routine.
"It's not bad," Ripa said of waking at the early hour. "I have friends who are on the air at 5 a.m., and I always feel like I'm getting up at 5 a.m. anyway because I have kids."
By setting her alarm clock on the early side, Ripa has the time to devote to her own personal wellness. "All of my life has been work and raising my family, and making sure my kids had everything they needed, and making sure they were set," Ripa told Women's Day. "And then when it came to me, the more I started researching what I needed as an older woman, as a woman 45 plus, what do I need in my life? And it turns out you need quite a lot."
Ripa's regimen
While it's evident that Ripa is dedicated to a rigorous workout schedule, the former soap opera actress also devotes time to skin care each morning by dry brushing her skin and using a chilled jade roller on her face, according to Woman's Day. Ripa also uses daily supplements to fill up on essential vitamins as well as receive digestive help from Persona, a vitamin program for which Ripa now serves as a celebrity brand ambassador.
"My stomach was always upset and I never slept, and I would go on and on about these things," the Live star said. "Persona quickly identified that I just needed some ginger and peppermint. These are herbal supplements, but it would never occur to me to investigate that."
Ripa also sticks to eating 'clean', recently sharing her continued commitment an alkaline diet. While she's able to give certain areas of her life some focused attention, Ripa realizes that she needs to keep a proper amount of shuteye as a priority.
"I'm a morning show host; sleep is critical for me, waking up early is critical for me, and being alive and awake," Ripa explained.
Kelly's commitment to viewers
Just like in her personal life, Ripa gives her all to her job and is always mindful of what viewers may need early in the day. "A lot of people watch our show when they're in the middle of something," Ripa said. "So I always approach my job like somebody right now is in an emergency room somewhere and they need something light, they need something happy, they need something joyful… if you can make that person happy or smile or even chuckle for a second, then you've done your job."
Ripa's commitment to her personal wellness and self-care is also for the benefit of the audience who tune into Live every morning, where she wants to do the best job possible for loyal fans.
"Even if I haven't had the best day or even if I woke up in a bad mood for whatever reason, you say 'OK, my job today is to make somebody else feel better,'" the talk show host shared. "And usually what happens is if you're trying to make somebody else feel better, you'll feel better in return, so it pays in dividends."
Watch Live with Kelly and Ryan weekday mornings!