What 'Love & Marriage Huntsville' Star Martell Holt's Alleged Mistress, Arionne Curry, Revealed In Her First Interview
Viewers of OWN's reality series Love & Marriage Huntsville have watched Martell and Melody Holt struggle to keep their marriage together after Martell's longtime affair. After two years of silence, Martell's alleged mistress, Arionne Curry, is speaking out.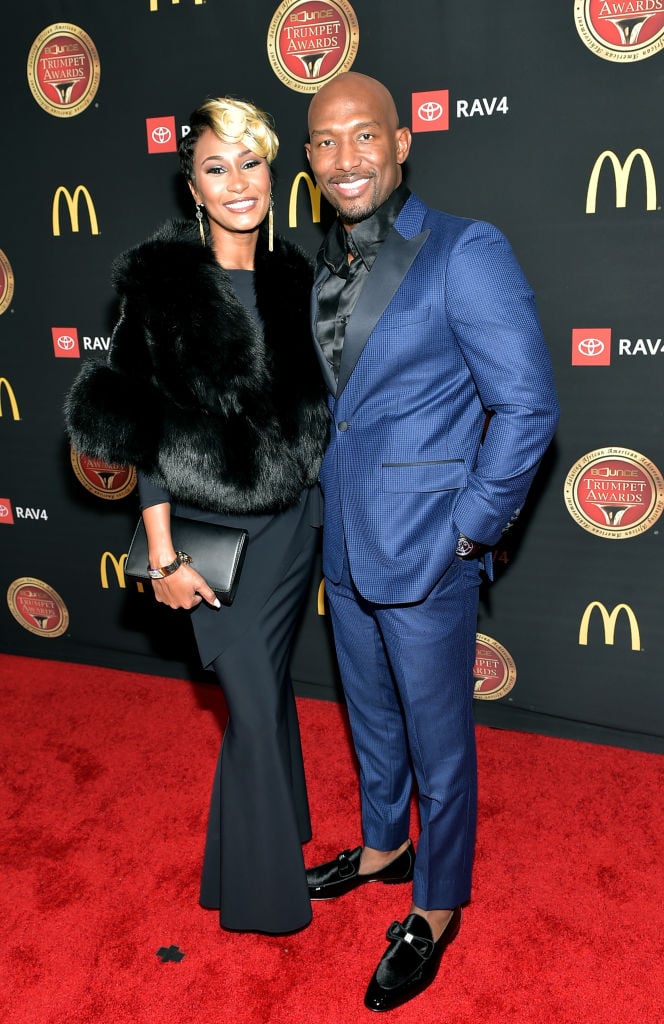 The 28-year-old gave YouTube vlogger Tasha K an exclusive phone interview that was released on Tasha's show, Unwine With Tasha K, on Jan. 7. Curry spoke openly about her five-year affair with Martell, her relationship with Melody, and the current status of her and Martell's relationship.
How Arionne Curry and Martell Holt met
Curry says she and Martell met in Huntsville, Alabama through mutual friends in 2015. Martell's cousin threw a house party that Curry attended with her friend. Curry's friend was also a friend of Martell's cousin. Martell asked Curry for her number and from there, they were in constant contact. At one point, Curry moved from Huntsville to a city in Ohio and their relationship continued. They traveled the distance to see one another.
Arionne Curry and Martell Holt's relationship was never a secret
Curry claims that her relationship with Martell was not unknown. Instead, they went out on dates, met each other's family and friends and they traveled together. Martell also allegedly financially supported Curry by buying her a BMW and paying her rent from time to time. She told Tasha K that the most money she ever received from Martell at one time was $5,000.
Melody Holt was well aware of Martell's affair with Arionne Curry
Curry claims that she and Melody had several run-ins, both in person and over the phone. Melody allegedly showed up to Curry's home on multiple occasions. Curry says one of Melody's house visits resulted in a sit-down conversation where she showed Melody the phone records of communication between her and Martell – including a call log of the amount of times Martell contacted her. She also said that Melody came to her home in search of Martell before. Curry says that Melody once told her that Martell was "obsessed" with her.
Martell Holt allegedly blocked Arionne Curry from appearing on 'Love & Marriage Huntsville'
Once Curry's identity became public and she began receiving backlash from viewers, she wanted to tell her side of the story. Blogs began contacting her but she hesitated to share. She grew frustrated and started speaking despite Martell's wishes for her to remain silent. She also claimed that Martell wouldn't allow her on the show out of fear from Melody. "He told me that Melody would try and kill him if she knew everything," she said. "She [Melody] would never give me that platform." The Holts are executive producers of the show.
Arionne Curry broke off the relationship with Martell Holt several times
Curry says she fell in love with Martell because of the amount of time they spent together. "We know each other well, he took great care of me," she said. But as time moved on and the show began airing, it became too much. She broke off the relationship several times but claims Martell always found his way back. "He always told me I'll find you. He's created fake social media pages to contact me when I blocked him. We are both in love with one another despite what he puts on TV," she declared. Curry said that she became tired of the drama and didn't trust Martell because of him cheating on Melody with her. She also accused him of sleeping with at least one other woman during their affair.
Arionne Curry says the marriage between the Holts is fake
According to Curry, Martell revealed to her that when producers approached them about doing the show, the Holts informed production that they were headed for divorce. Melody wasn't living with Martell at the time and moved out of their marital home into an apartment. Producers allegedly told the Holts to fake it.
Arionne Curry says she and Martell Holt were a family
Around the same time Melody became pregnant with her and Martell's fourth child, Curry discovered she was pregnant and opted to terminate her pregnancy because she felt the situation was messy. Curry also revealed that Martell became a father figure to her seven-year-old daughter during their relationship. Furthermore, Curry says Melody and Martell have had two children during her and Martell's five-year affair.
Curry says that she and Martell are currently not in contact and she's moved and changed her number. As of now, she has no desire to rekindle any type of relationship with Martell and wants to move on with her life. Ironically, the audio was released on Martell Holt's 38th birthday.