What 'Modern Family's' Sarah Hyland Says About Working with Julie Bowen and Sofia Vergara
ABC's hit show Modern Family aired its series finale last night, with viewers having to say goodbye to the multi-generational group of quirky characters. Sarah Hyland, who portrayed Haley Dunphy since the sitcom's premiere, was just 18 years old when she began her role on the now infamous show.
The young actress recently shared and her thoughts on her journey through the series and the actresses she worked with who made an impact on her life.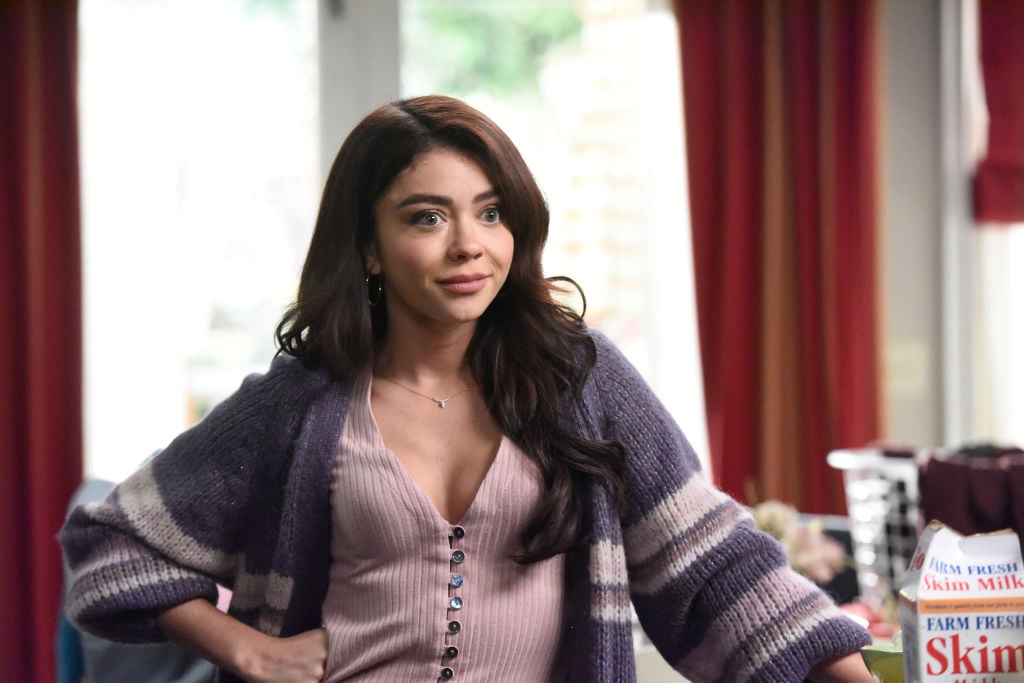 Hyland heads west
Born and raised in New York, Hyland had gotten some acting gigs before her breakthrough role came along. Despite her mother's protests, the actress decided to head to Los Angeles at an early age.
"I booked Modern Family in February 2009 after the show I was on, Lipstick Jungle, had gotten canceled," Hyland told Glamour. "A few months prior, I'd decided to move to L.A., but my mom said, 'No, you're not. You don't even have a driver's license.' I was determined, though."
The sitcom star knew that there were more opportunities for her on the West Coast, prompting her to make the move and become a resident.
"I was always told that the reason I didn't book roles in L.A. every pilot season was because I wasn't a local hire," she explained. "So in the span of a couple months, I learned how to drive, got my driver's license, and moved to California."
Mama Bowen
Playing the part of a self-centered teenager who enters college, the business world, then gets married and has twins, Hyland had her work cut out for her in portraying her character's evolvement. With Julie Bowen playing her mother Claire and Sofia Vergara portraying her grandfather's wife, the young actress shared her gratitude for the significant roles they played in her real life.
"The show is a male-dominant cast, really, so the female relationships have meant so much to me," Hyland said. "It's been amazing to have Julie Bowen and Sofia Vergara to look up to as role models because they're so funny, smart, talented, and kind."
Though Bowen played Hyland's on-screen mom, the Modern Family star revealed that the actress's maternal demeanor would continue even when the cameras stopped rolling.
"Julie has been like a mother to me over the past 11 years. She is one of the strongest, smartest, most opinionated women I've ever met," Hyland gushed. "But she is smart about being opinionated. There's a time and a place for things, and I'm still learning how to master that because I have no filter. She's taught me how to keep, at times, my mouth shut."
Hyland clearly admires Bowen for her tenacity and intellect. "Watching her in interviews, in work settings—really just in life—her brain is the most fascinating thing to me," she said.
Beauty tips from Vergara and a shout out to 'sis'
Hyland also got close with Vergara over the years, where she praised her co-star for giving her some vital glamour tips.
"Sofia taught me how to overdraw my lips with liner. It works! You get a good nude lip liner… and Chapstick over it," she shared. "It looks so natural."
Portraying her on-screen sister Alex Dunphy, Ariel Winter also grew up on the show.
"It's also been amazing to see Ariel Winter turn into a beautiful, strong, opinionated, smart woman as well," Hyland raved of her 'sister.' "Ariel has taught me a lot of lingo and what the hip new thing is to say, so I rely on her to keep me young. Now that I don't see her every week, I'm turning into my mother. It's already happened."
Though Modern Family has ended filming, fans can still get their fix thanks to streaming services and syndication.