What Prince Harry Really Whispered to Meghan Markle in Church, According to Lip-Reading Experts
The Fab Four no more.
Prince Harry and Meghan, Duchess of Sussex have completed their royal duties in the U.K. ahead of Megxit but their frosty reunion with Prince William and Catherine, Duchess of Cambridge is still the talk of the town. And now, several publications have enlisted the help of lip-reading and body language experts to reveal what the royals said to each other in church. Here's what Harry whispered to Meghan, what William whispered to Kate, and what the future king said to his brother before he sat down.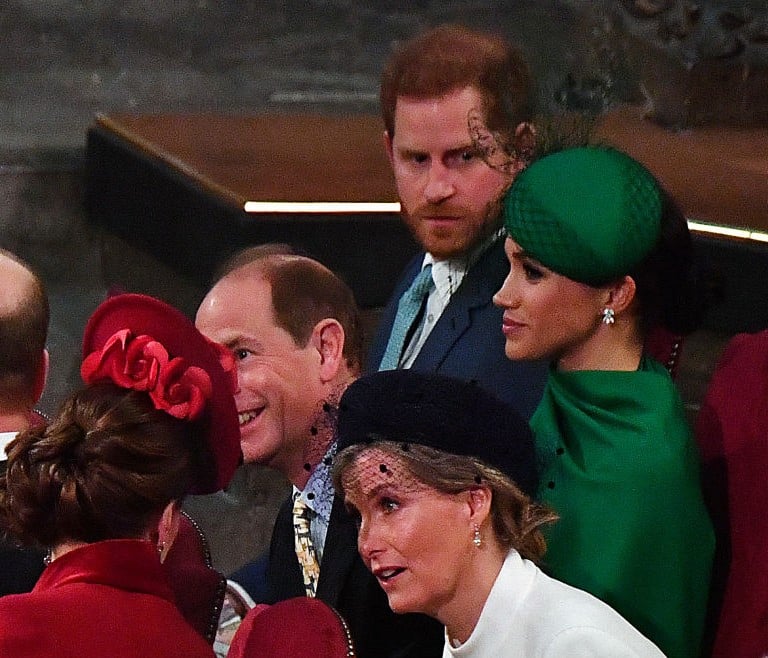 What Prince William whispered to Kate
The Duke and Duchess of Cambridge arrived at Westminster Abbey on March 9, Commonwealth Day, after the Duke and Duchess of Sussex were already seated. Before sitting down William looked at Harry and Meghan and said a brief "hello." The couple smiled and offered pleasantries to him as well. Meghan even appeared to give a slight wave. Kate, however, did not make eye contact with the Sussexes.
Just about everyone in the church refrained from shaking hands due to the coronavirus outbreak. The Daily Telegraph's lip-reader claimed William spoke about how strange that was to his wife.
According to Royal commentator Camilla Tominey, the lip-reader revealed that the second-in-line to the throne said to Kate, "We can't shake hands and we have to hold back. We will have to put loads of hand gel on afterwards. I am not used to it, it feels weird."
What Prince Harry said to Meghan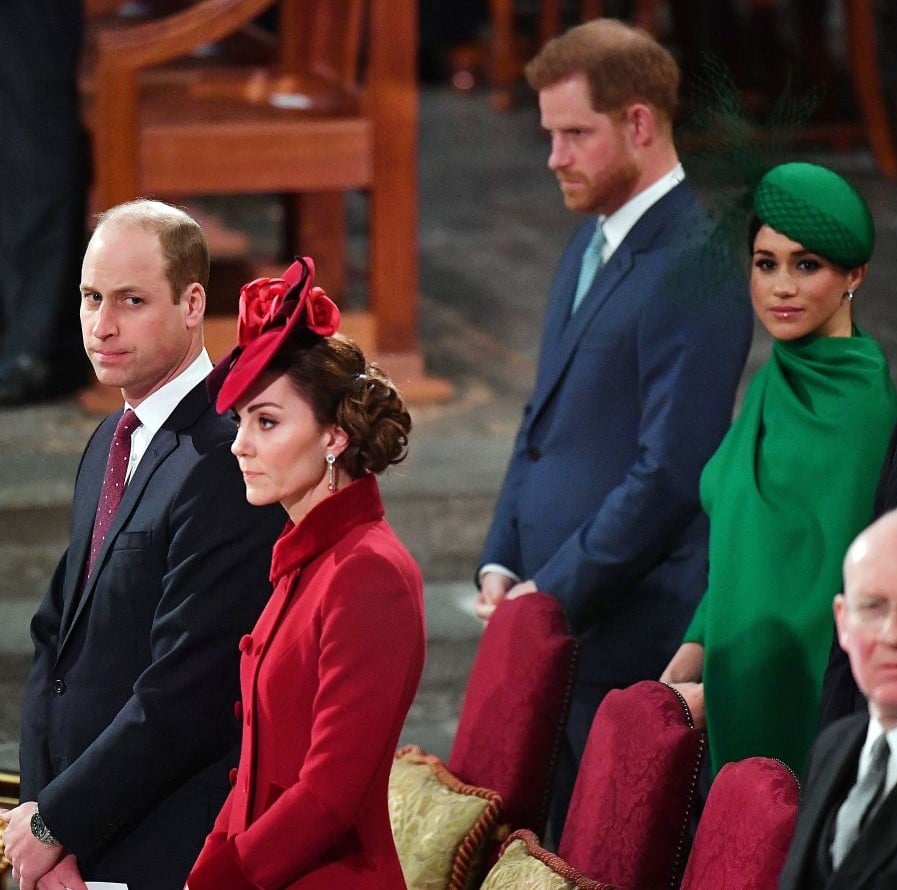 The Express also sought the expertise of a lip-reader to decipher what Harry whispered to his wife after William's greeting.
Body language and lip-reading expert Nick Davies admitted that quality of the video made it difficult to read Harry's lips but he told the publication, "What I can see and the gesture he makes with his head is likely to be a quip, something like 'Well, this is awkward…shall we go!,' (moves head to gesture towards exit)."
Tominey disagreed and claimed the Duke of Sussex just relayed to Meghan what his brother said to him. According to Tominey, "He literally said, 'Hello, Harry' and that was it and he didn't say anything more than that."
As for their body language, Davies was more clear on that.
"Meghan's knees are still pointed towards Harry as that's where she feels safe. When she says hello to William and Kate, this shows real inner conflict from her duty to be nice to them, when inside she feels completely disengaged to them," Davies opined.
When the Duke and Duchess of Sussex officially step down
Although they announced back in January that they would be "stepping down as senior royals," a lot needed to be worked out and all parties agreed that the duke and duchess would officially be relieved of their duties on March 31.
It hasn't been revealed how much the prince and former actress will actually be in the U.K. after that. Since their initial announcement, Harry and Meghan have spent the majority of their time at a residence on Vancouver Island.
A friend of the duchess' told People that they are really happy there and have traded in the royal spotlight for plenty of downtime and nature walks.
"They are enjoying living a quiet life," the insider said, adding, "They go for long walks, they do yoga, and Meghan cooks. They are real homebodies who love to chill out with Archie and the dogs. They both love to be outside and have been loving it there."
Read more: Meghan Markle is Playing a 'Dangerous Game' and the Royal Family 'Will Only Take So Much,' Senior Royal Advisor Claims