What to Expect From the 'Schitt's Creek' Documentary That Will Air After the Series Finale
In 2015, the world was introduced to the Rose family on Schitt's Creek.
Video store mogul Johnny Rose (Eugene Levy), his soap-opera star wife Moira (Catherine O'Hara), and their two children, David (Dan Levy) and Alexis (Annie Murphy) suddenly found themselves penniless and forced to move to their only remaining asset — the town of Schitt's Creek.
Fans enjoyed watching the Rose family slowly come to terms with their new reality and discover the value of friends and family along the way. Sadly, April 7 will mark the conclusion of the Canadian sitcom.
But immediately after the show concludes, a documentary lovingly titled Best Wishes, Warmest Regards: A Schitt's Creek Farewell will air. Here's what you can expect from the Schitt's Creek documentary.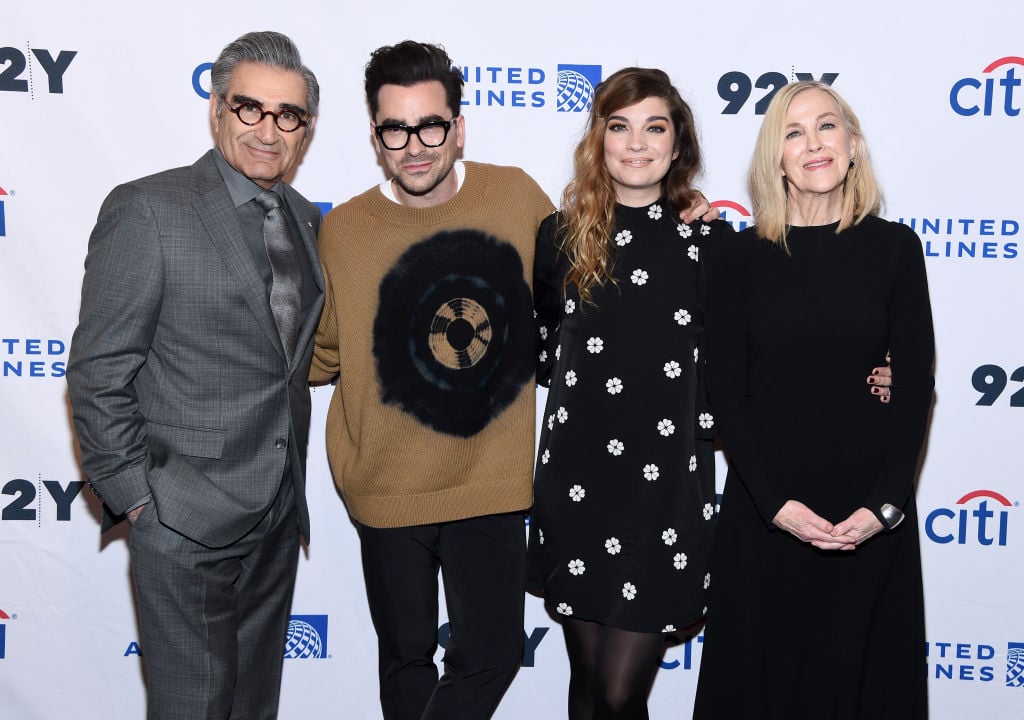 Where to watch the 'Schitt's Creek' documentary 
The documentary will air immediately after the finale of Schitt's Creek on Tuesday, April 7. Tune in to Pop TV at 8:30 p.m. EST.  Best Wishes, Warmest Regards: A Schitt's Creek Farewell will also be simulcast on Comedy Central and Logo at 8 p.m. EST. 
What will 'Best Wishes, Warmest Regards: A Schitt's Creek Farewell' include?
Series co-creator and star Dan Levy announced the documentary on Twitter, explaining that it will celebrate six years of the show and "the fandom that has lifted this show to heights we never dreamed possible."
According to Paste Magazine, the documentary will feature "never-before-seen footage of stars Dan Levy, Eugene Levy, Catherine O'Hara, and Annie Murphy, as well as audition tapes, wardrobe fittings, and an emotional final script reading."
"It's really hard to tell the story of a love story that in the end is still a love story," Levy points out in the teaser trailer. He goes on: "It didn't end because they stopped loving each other. It ended because circumstance stood in their way, and that circumstance was their own growth, and that's a wonderful thing."
Interviews with some of Schitt's Creek celebrity fans will also be included in the hour-long documentary. Paula Abdul, Carol Burnett, Amy Sedaris, and Cameron Crowe are all expected to be featured.
'Schitt's Creek' success
Since Schitt's Creek aired on the Pop TV network in 2015, the show has experienced increased success with fans and ratings over the years. Early on, critics loved the sitcom, which helped it to land a deal with Netflix in 2017. 
Shortly after the conclusion of the series was announced, Schitt's Creek was nominated for four Emmy awards, including best comedy. But despite the show's increase in mainstream popularity, the stars and creators are confident now is the right time for it all to end. "Isn't that the perfect way to go?" Eugene Levy told The New York Times, continuing with: 
We're on an upward trajectory, and we will be still on an upward trajectory when this series actually wraps. From start to finish our show will be exactly what it was intended to be. The biggest mistake you can make in TV is shifting the focus away from characters and the storytelling to servicing audience expectations. The audience is there because you've done something right.

Eugene Levy, The New York Times
Watch Best Wishes, Warmest Regards: A Schitt's Creek Farewell after the finale of Schitt's Creek on April 7 at 8 p.m.