What Was Carrie Fisher's Net Worth When She Died and How Did Her Daughter Honor Her?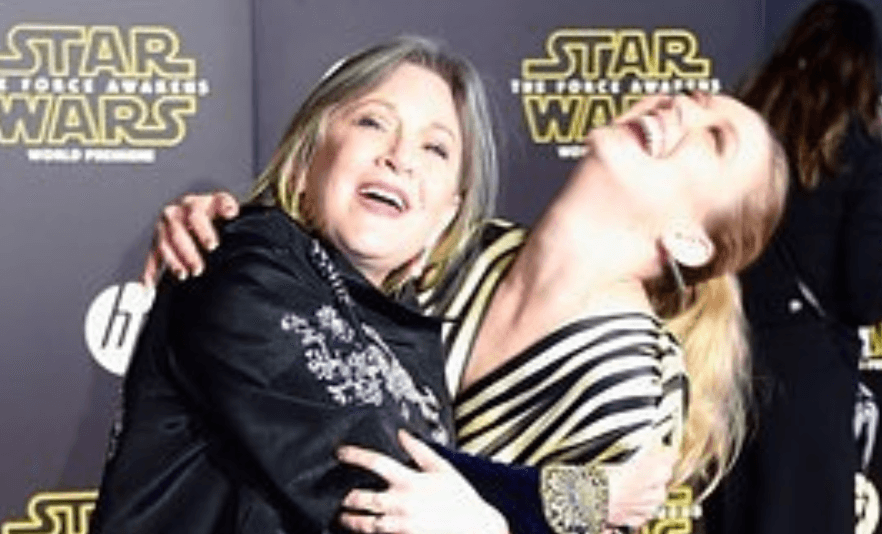 Megastar Carrie Fisher will always be known as Princess Leia from Star Wars. And at the time of her death on December 27, 2016, she had amassed quite a fortune as a result. Fisher came from a film dynasty. Her mother was famed actress Debbie Reynolds and her father was crooner Eddie Fisher.
During a transatlantic flight, Fisher suffered a heart attack. And passed away a few days later at age 60. Tragically, her mother followed, dying the next day at age 84. Sue Cameron, Reynold's longtime friend told People Reynolds had a premonition of her daughter's untimely death. "She said 'I don't know what will happen to Carrie if I go and that is my only worry,' " she said. "The day Carrie got on the plane from London, Debbie told her assistant and caretaker … that she did not believe Carrie was coming home. She did not say 'Carrie is going to die today,' but she said 'Carrie is not coming home.'"
With both her mother and grandmother gone, Fisher's daughter Billie Lourd posted about the grim day on Instagram. So what kind of fortune did Fisher leave behind and how did Lourd honor her mom?
Fisher's career spanned 40 years
She got her first acting break in 1969 and never looked back. Fisher made her big splash on Hollywood in 1977 with the Star Wars series as Princess Leia. She admitted later in her autobiography she was supposed to lose weight for the role. Unfortunately, she hadn't so she compromised with director George Lucas. And permitted the "bagel bun" hairstyle to become part of the character. However, she was not a fan of the style.
Following Star Wars, Fisher took roles in films like The Blues Brothers, Hannah and her Sisters, and When Harry Met Sally… Fisher also won a Grammy Award for The Princess Diaries and was nominated three times for a Primetime Emmy Award. She also had 11 writing credits to her name, plus 13 soundtrack nods.
At the time of her death, Fisher was worth $25 million, according to Celebrity Net Worth. Her daughter was the recipient of the majority of her fortune. Details included the sale of Reynolds and Fisher's Beverly Hills estate, which amounted to $18 million. However, some assets were donated to charities, like The Jed Foundation. Lourd chose the foundation because it is designed to prevent teen suicide.
Lourd is alone at her piano
Now Lourd is alone and wanted to mark this difficult time with an amazing song. She uploaded a video to Instagram, playing the piano and singing.
She wrote "It has been two years since my Momby's death and I still don't know what the 'right' thing to do on a death anniversary is (I'm sure a lot of you feel the same way about your loved ones). So I decided to do something a little vulnerable for me, but something we both loved to do together – sing."
Lourd says she's going to keep moving forward. "This is the piano her father gave her and this was one of her favorite songs. And as the song says, we must 'keep on moving.' I've found that what keeps me moving is doing things that make me happy, working hard on the things that I'm passionate about and surrounding myself with people I love and making them smile. I hope this encourages anyone feeling a little low or lost to 'keep on moving.'  As my Momby once said, 'take your broken heart and turn it into art' – whatever that art may be for you."