What Was Tupac's Relationship Really Like With Biggie's Former Wife, Faith Evans?
It's been more than two decades since we lost rap greats Tupac Shakur and Notorious B.I.G. But today their legacies live on and so do the rumors about each of their personal relationships including what really happened between Faith Evans, who was married to Biggie from 1994 to 1997, and Tupac.
Here's more on the nature of their relationship, plus Evans' scathing assessment of the Lifetime's documentary about it.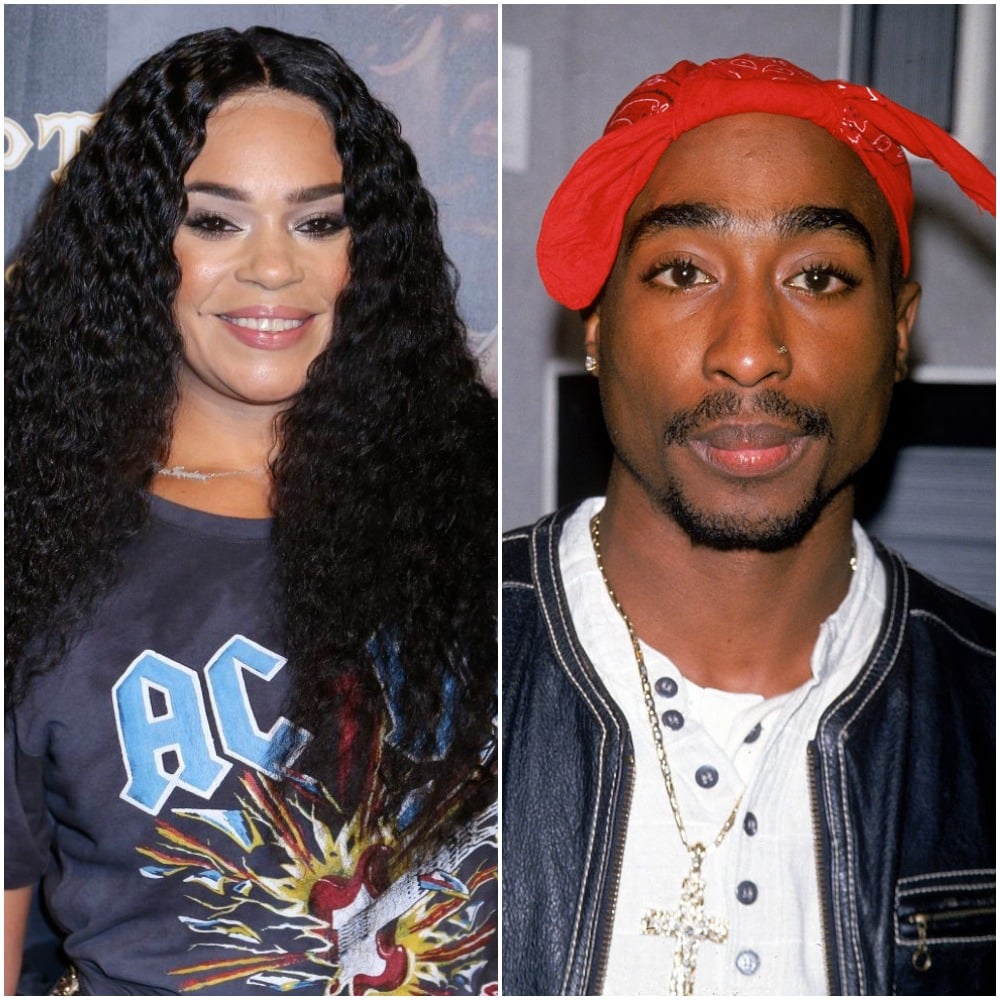 Did Tupac and Evans have a sexual relationship?
We know that Evans met Biggie Smalls in August 1994 and just a few days after that, they got hitched. The timeline of when the songstress met Tupac, however, is less clear as there have been inconsistencies in when that occurred.
Some reports suggest that it was on Nov. 18, 1995, in Los Angeles, California. The R&B songbird has stated that she was introduced to Pac by Treach of Naughty By Nature. But producer Delray Richardson disputes that they were introduced by Treach and says they met sometime prior to Oct. 18, 1995.
The question on everyone's mind though isn't whether or not Treach introduced them it's: Did Pac and Evans have a sexual relationship while the songstress was married to Biggie?
According to Tupac's diss track "Hit Em Up," they did. But according to Evans' memoir Keep the Faith, they did not.
In 2014, Biggie's ex-wife did make a claim that the "Dear Mama" rapper asked her for oral sex. She told VladTV that she went to Pac's hotel room after they recorded "Wonda Why They Call U B**ch" together in 1996 to collect the $25,000 he owed her for her contribution to the track. It was there Evans claimed that he asked her to perform a sex act.
"[He asked] in a very surprising and offensive way for sure. By that time it was pretty clear to me, it seemed to me that that was kind of like a plan," she explained.
In an interview with Art of Dialogue, Tupac's ex-girlfriend, Desiree Smith, agreed that Evans was a part of a revenge plan Pac had against Biggie. Smith said the "Keep Ya Head Up" artist told her that he recorded music with Evans and then slept with her.
Evans slams Lifetime's 'Hopelessly In Love' documentary
In 2020, Evans gave her thoughts on Lifetime's Hopelessly In Love: Biggie and Faith Evans documentary, which detailed her and Big's marriage including a few extramarital affairs.
"The Tupac stuff, the different women — how many times are people going to talk about that? It was supposed to be a love story, and it turns into cheating and [Lil'] Kim," she told Page Six. "We've come so far past that. [Lifetime's] all about drama." 
"I feel upset that I'm attached to it," Evans said of her disappointment with the project. "I was told that it would be a positive piece with a little more of my personal background. It wasn't pitched to me as a story rehashing the sensationalized events that took place."
She added, "I am beyond that and have no need to open old wounds, damage repaired relationships and, above all, soil the legacy of Christopher Wallace a.k.a the Notorious B.I.G."
Evans and Biggie have one son, Christopher Wallace Jr., together. Today, she is married to music producer Stevie J.
Read more: Why Did Tupac Shakur and Madonna Break Up?