What We Know About JAY-Z and Solange's Elevator Fight 6 Years Later
Six years later, we're diving into the infamous elevator fight between JAY-Z and Solange.
About six years ago, Beyoncé, Solange, and JAY-Z were on an elevator leaving an after-party for the 2014 Met Gala when a huge fight broke out between Solange and her brother-in-law. The surveillance footage was eventually leaked to the public, sparking questions about what exactly they were fighting about. Although the trio has refused to say much on the subject, they have dropped hints that have helped fans put pieces of the puzzle together.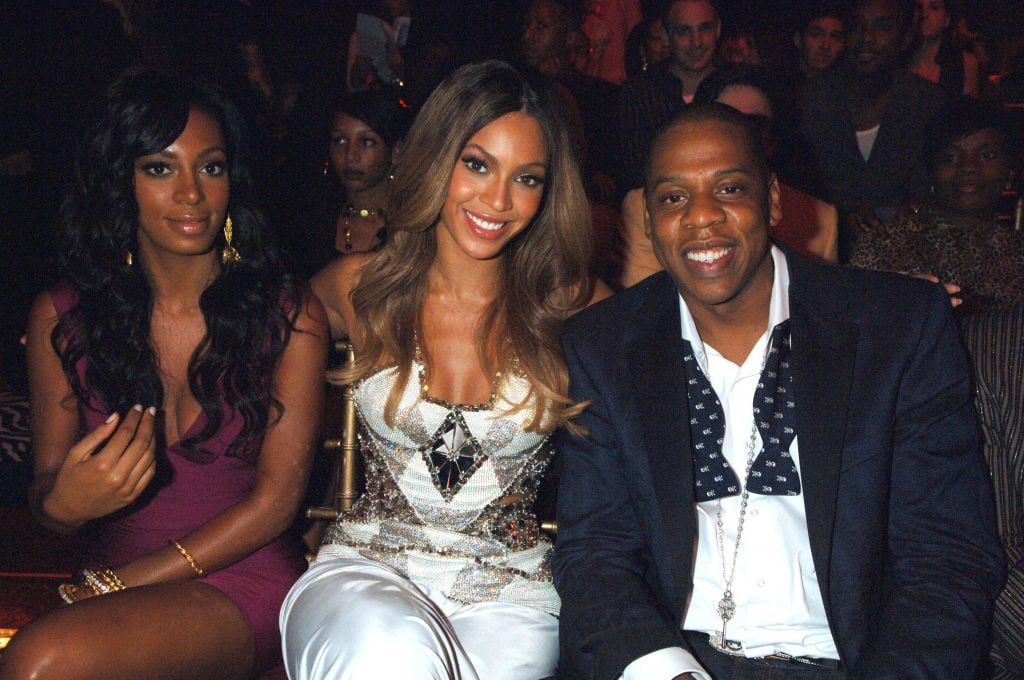 Looking back at the fight between Solange and JAY-Z
Given how private they are, we knew it was only a matter of time before a scandal surrounded the Knowles-Carter family. But no one expected that it would be something like this. Surveillance footage obtained and released by TMZ showed Solange violently beating and kicking JAY-Z while Beyoncé mostly stood and watched from the sidelines.
It was immediately believed that Solange had been taking up for Beyoncé for something, as she is known to be really protective of her big sister.
"You cannot f*ck with my sister… I might try to beat your a**," Solange said in a 2008 interview on Angela Yee's Lip Service podcast.
Although nothing has been confirmed, sources told E! News and People that the fight was the result of some alleged drama involving fashion designer Rachel Roy.
The E! News source claimed that Roy — who used to work at JAY-Z's company Rocawear — had allegedly gotten a little too flirty with the rapper earlier in the evening, causing "Beyoncé [to approach] Rachel to let her know the behavior was disrespectful and she wanted her out of their lives for good."
"Solange came over to have her sister's back, and things got heated with her and Rachel," the source went on. "Jay said some disrespectful things to Beyoncé and Solange as the confrontation was going down. That's why all hell broke loose in the elevator and why Beyoncé just stood back and let Solange hit Jay."
The trio addressed the fight in a joint statement
A little over a week after the fight, the trio spoke out in a statement shared with the Associated Press. It read in part (via Pitchfork):
"As a result of the public release of the elevator security footage from Monday, May 5th, there has been a great deal of speculation about what triggered the unfortunate incident. But the most important thing is that our family has worked through it. Jay and Solange each assume their share of responsibility for what has occurred. They both acknowledge their role in this private matter that has played out in the public. They both have apologized to each other and we have moved forward as a united family."
Speaking to the now-shuttered Lucky Magazine, Solange made it clear that they would not be saying anything beyond what they said in the statement. "What's important is that my family and I are all good," said the singer (via People). "What we had to say collectively was in the statement that we put out, and we all feel at peace with that."
Beyoncé did, however, reference the fight in her 2014 song "Flawless," in which she sang: "Of course sometimes sh*t goes down when there's a billion dollars on an elevator."
Both Beyoncé and JAY-Z confirmed that infidelity had been a problem in their relationship
Beyoncé suggested that JAY-Z had been unfaithful in her critically-acclaimed 2016 album Lemonade, on which she sang about an unnamed mistress she referred to as "Becky With the Good Hair." (Roy denied it was her.)
In 2017's 4:44, JAY-Z confirmed that he had indeed cheated on Beyoncé, whom he married in a secret ceremony in 2008. He also admitted that he had "egged" Solange on prior to the fight instead of saying he was "wrong."
Fortunately, as they said in the statement, they were able to put the drama behind them and move on. In an August 2017 interview with Rap Radar hosts Elliott Wilson and Brian "B.Dot" Miller, JAY-Z claimed the 2014 incident was actually the only time they'd ever had a disagreement.
"We've always had a great relationship… We had one disagreement ever. Before and after we've been cool," he said of the "Almeda" singer. "She's like my sister. I will protect her. That's my sister, not my sister-in-law. My sister. Period."
Read more: How Mathew Knowles Reacted to Jay-Z and Solange's Elevator Fight