What Went Wrong During the 'Below Deck' Accident?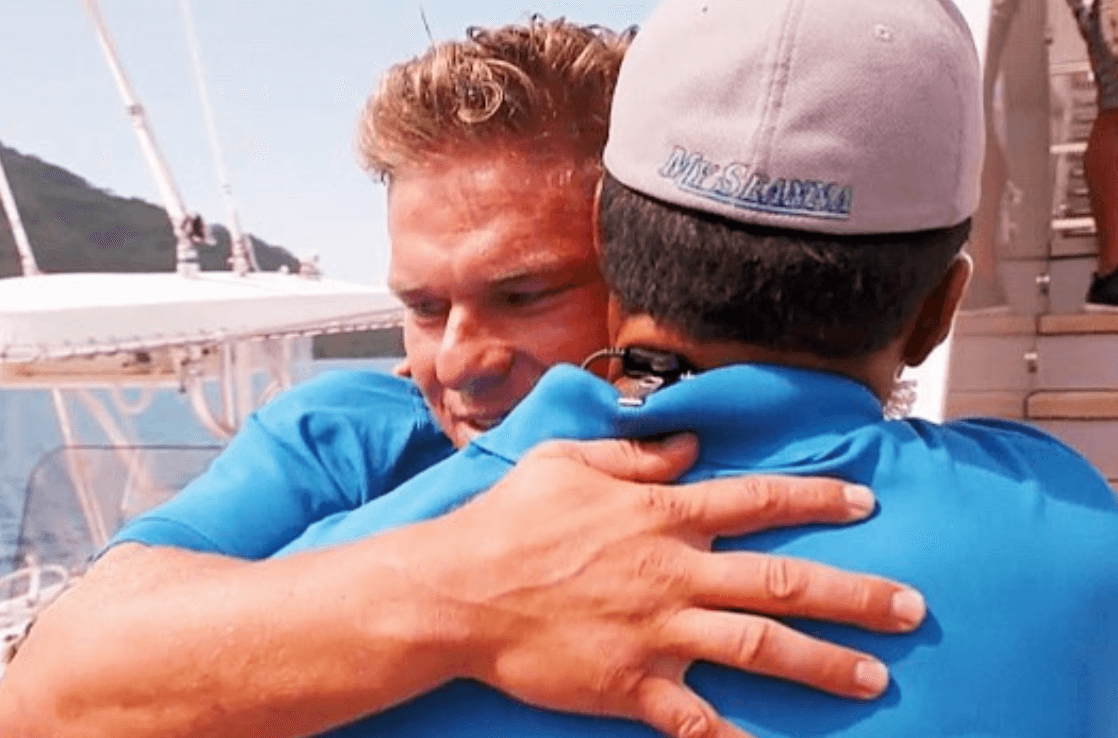 If the situation weren't so grave and serious, Captain Lee Rosbach from Below Deck may have said the crew "screwed the pooch." A crew member nearly died when deckhand Ashton Pienaar was yanked off the swim deck by ropes attached to a tender.
And while Pienaar was saved thanks to a fast-acting cameraman, everyone on deck was completely rattled. This included Rosbach, who typically maintains a tough as nails exterior. In a side interview with Bravo, Rosbach says, "We weren't from 30 seconds of him dying and I have to call his parents and tell them their son is dead," Rosbach, who is a father says to the camera. "And I'm responsible. I don't know how I'd deal with that. I have kids. And I don't know how I'd make that call."
Rosbach is clearly overwhelmed with emotion and has to excuse himself from the interview. And as the episode unfolds, cracks begin to show as to what went wrong and how this could have been avoided.
Pienaar was in the wrong place at the wrong time
During the episode, Pienaar recalls where he went wrong and got in trouble. "I should have never been on the water side of that line," he says. "And I know that. These are things I've been trained not to do."
When Rosbach appeared on Watch What Happens Live last week, he told host Andy Cohen what occurred. "What he actually did was he stepped into the byte," Rosbach says. "The byte is the coil of the line that's controlling the toll line." Deckhand Rhylee Gerber tweeted, "Knowing the ropes is precisely why my ass wasn't the one going overboard."
Rosbach knows errors occurred
Later this charter I was up in the wheelhouse making copies and saw the official incident report. Seeing it in writing made me realize how lucky we all were #BelowDeck pic.twitter.com/8YjscYvP1E

— Kate Chastain (@Kate_Chastain) December 12, 2018
After reviewing the accident and issuing a report, Rosbach knows the crew needs to understand where they went wrong. In fact, he told bosun Ross Inia that no one should be on the swim deck. But sees Gerber there at one point and is angry.
Once the charter guests depart the vessel, Rosbach calls an all-crew meeting in the wheelhouse. He has the accident video to show the crew, in order to reinforce what went wrong. And how a "man overboard" call should be deployed.
This was the biggest error
Rosbach promises the meeting would be sobering and he certainly delivered. He wanted to show the crew the footage so they understood the severity. The crew appears pained as they re-live the hideous accident on a large screen television.
When Gerber is filmed making the "man overboard" call, Rosbach points out she made one call that was barely audible. "At that point, someone should have said three times 'man overboard, man overboard, man overboard.' Because I'm still going forward at this point in time," Rosbach says. He reminds the crew the vessel is 500 tons rolling forward and another boat that is two and a half tons sitting in the back. "As soon as that tender draws tight, it'is going to sever his foot and he's' going to bleed out."
The crew speaks out on the 'After Show'
Several crew members discussed what went wrong on the After Show. Gerber says she never experienced a man overboard scenario in her career. New third stew, Laura Betancourt said, "I remember Rylee saying very casually as well, man overboard." While new deckhand Tyler Rowland agrees.
Second stew Josiah Carter says, "When you hear something like that over the radio it is something you never wish to hear." Chief stew Kate Chastain adds, "I didn't believe it." Chef Adrian Martin recalls, "The three of us just looked at each other in kind of bewilderment not really knowing what was going on," he said. "I thought he'd just fallen off the back and just chilling in the water about to go on the tender. I didn't realize the gravity of the situation or how far it had gone."
During the episode, Rosbach sums it up. "Its hard to watch," he says. "But these are mistakes we made collectively." He beings to break down and dismisses the crew.
Check out The Cheat Sheet on Facebook!