What Will Kate Middleton's Title Be When Prince George Is King?
There will come a day in the not-too-distant future when Kate Middleton will sit by Prince William's side at the head of the United Kingdom's monarchy. When that happens, Kate will take on the title of Queen Consort and will have similar duties as Prince Philip does as consort to Queen Elizabeth. But what would Kate's title be in the event that Prince George becomes the King of the United Kingdom while she is still alive?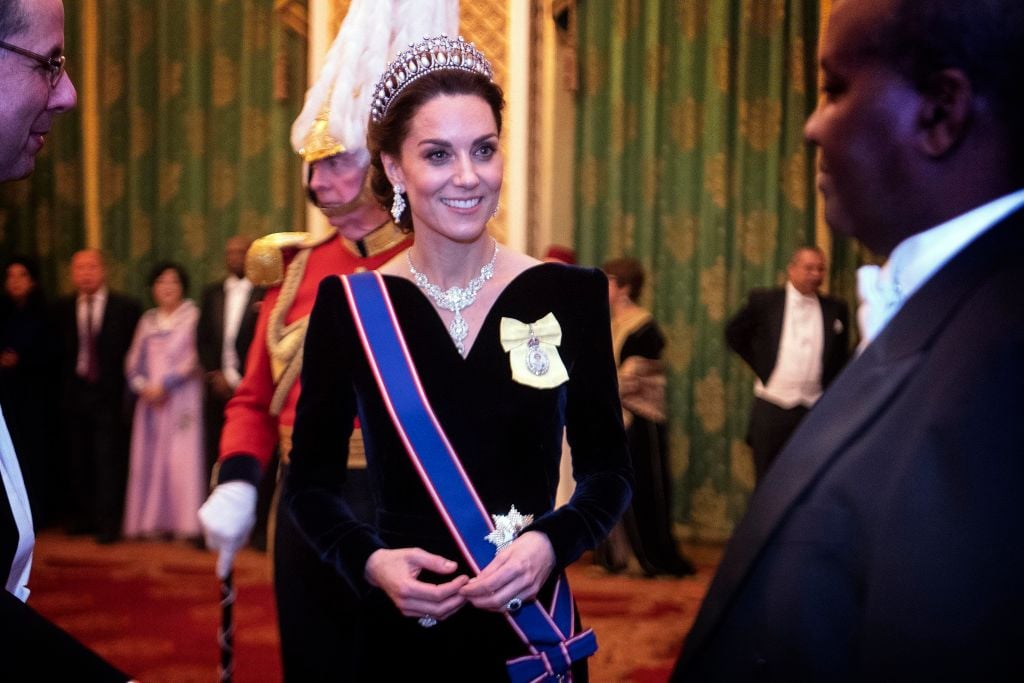 A look at Kate Middleton's titles
William and Kate's romance started when they were attending classes at the University of St. Andrews in the early 2000s. The pair continued dating after their graduation, though they did not get engaged until 2010.
They officially tied the knot in 2011 and now share three children: Prince George, Princess Charlotte, and Prince Louis. George is third in line to the throne, followed by Charlotte and then Louis.
When she became a member of the royal family, Kate Middleton was given several new titles. According to Express, this includes Her Royal Highness The Duchess of Cambridge, Lady Carrickfergus (in Northern Ireland), and the Countess of Strathearn (Scotland).
Once William inherits the crown, Kate will likely be called Queen Consort, a title that is given to the King's wife. Kate will then enjoy her own coronation and will be considered on the same social level as William.
"Unless decided otherwise, a Queen Consort is crowned with the King, in a similar but simpler ceremony," the royal family's website reads.
This will happen when Prince George sits on the throne
As Queen Consort, Kate Middleton will support Prince William as he carries out his duties to the crown. Although she will be on the same level as William in social situations, she will not have equal political powers.
In the event that William passes on before Kate, George would take over as the new King of the United Kingdom. At that time, Kate will receive a new title that reflects George's position on the throne.
Kate Middleton will be named the Queen Mother, but there is a catch to this rule. The Duchess of Cambridge can only receive this title if she is a widow.
Although she would be referred to as Queen Mother instead of Queen Consort, many of her royal duties would not change. She would still remain a senior member of the family and would support her son's endeavors on the throne.
The most recent person to receive the title of Queen Mother was Queen Elizabeth's mom, who remained in the position for a staggering 50 years. She was previously married to the Queen's father, King George VI, who passed away in 1952.
The Duchess of Cambridge gets ready for her new role
While Kate will likely become Queen Consort someday, it will probably be a few years before William takes the throne. Prince Charles is first in line to the crown and will be taking over once Queen Elizabeth is gone.
Although Kate Middleton has years to prepare for her new role, royal expert Jennie Bond believes Queen Elizabeth is impressed by how far she has come over the years.
"She has a quiet dignity about her which I think the public is growing to love and she works behind the scenes," Bond shared.
Bond added that Queen Elizabeth's favorite person is probably Sophie, the countess of Wessex. The two are often spotted together and Her Majesty seems to be very fond of her.
That said, Bond thinks that Queen Elizabeth is developing a closer bond with Kate Middleton, who has been adapting very well to her role in the family. This includes taking on more responsibilities in the family and increasing her charitable endeavors.
Prince William and Kate Middleton make a new announcement
As part of their new initiatives in 2020, Prince William and Kate Middleton announced plans to address the growing problem of climate change. To that end, the Duke and Duchess of Cambridge will be handing out an annual award called the Earthshot prize.
Winners of the award will need to give 50 answers to the biggest environmental problems facing the planet over the next decade. The prize was been met with praise by royal watchers, and there is little doubt that Charles approved of it as well.
The Prince of Wales has been a huge advocate of environmental programs, something that he clearly passed on to his eldest son.
The royal family has not commented on the reports surrounding Kate Middleton's titles.