What Year Is 'Hocus Pocus' Set?
It's just a bunch of hocus pocus. This iconic Disney film features the quirky and musical Sanderson Sisters, three witches out for revenge in Salem, Mass. How old are these three witches? What year is this movie set? Where can fans watch Hocus Pocus this Halloween? Here's what we know about Disney's Halloween-themed film, Hocus Pocus.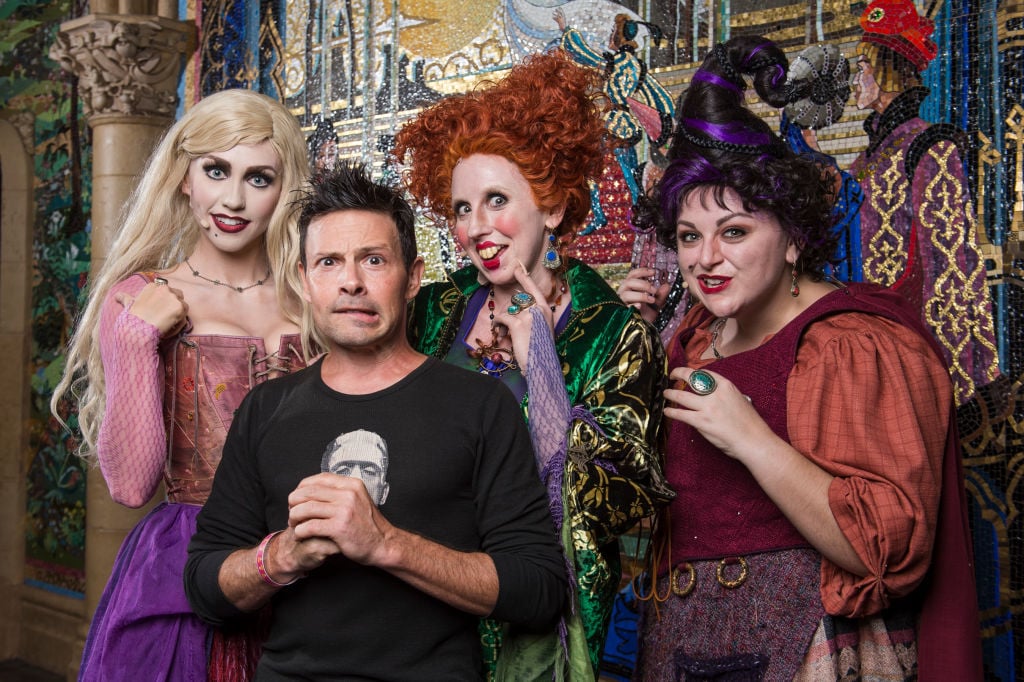 'Hocus Pocus' takes place in the 1990s, the same era that the movie premiered
It's been over 25 years since Disney premiered its iconic Halloween-inspired movie. Decades later, it's looked at as a Halloween classic, putting a spell on children of all ages. Mick Garris said, "David Kirschner, who [was one of the writers of] An American Tail for Steven Spielberg, had this great idea about children in Salem, Massachusetts, coming up against the three Sanderson sisters, who were resurrected from the Salem of 1692, and he'd sold it to Disney."
This Disney film premiered in 1993, and the story is set right in Salem around the 1990s. In fact, exactly three hundred years since the Sanderson Sisters were first defeated during the Salem witch trials. They first awaken when the protagonist, Max, lights the black flame candle. There's a talking cat, a dead man brought back to life, and the beloved musical number entitled "I Put a Spell On You." Technically, however, the story begins way before the 1990s.
When were the Sanderson Sisters from 'Hocus Pocus' born?
Hocus Pocus really begins in the 1600s, with the Sanderson Sisters causing trouble in Salem, Mass. In 1693, a boy named Thackery Binx goes to the Sanderson Sisters home in search of his sister, Emily. There, Mary, Sarah, and Winifred are already brewing a potion that will enable them to suck the life force out of young children and make themselves live forever. After the witches transform Binx into a cat and suck the life from dear Emily, the townspeople enter their cottage.
According to Hocus Pocus Fandom, "before they die, Winifred casts one last spell that on Halloween night when the moon is full, a virgin will summon them back from the dead so that they can claim the lives of all the children in Salem."
Fans can watch 'Hocus Pocus' this Halloween season on Freeform
Unfortunately, Hocus Pocus will not be available for streaming on Netflix this year. This could be partly due to Disney's own streaming platform, Disney Plus, which launches in November. Don't worry, though, the Disney Plus Instagram account assured spooky fans that Hocus Pocus, Halloweentown, and Twitches will be available for subscribers to binge-watch. However, we have good news for Hocus Pocus fans, thanks to Freeform.
This October, fans can watch this Halloween-themed movie on the television network, Freeform. They're celebrating this month with the "31 Nights of Halloween," a movie schedule that plays everything from The Nightmare Before Christmas to Hocus Pocus to Toy Story of Terror. October 31st even features a Hocus Pocus marathon from 12:30 p.m. EDT to 8:50 p.m. EDT.
Disney's streaming platform, Disney Plus, launches in the United States on Nov. 12, 2019. Until then, Hocus Pocus will be playing on Freeform periodically. To learn more and to see the "31 Nights of Halloween" movie schedule, visit their website.