'What's Wrong With Secretary Kim ?': 3 Tropes the K-Drama Uses Successfully
In the extensive world of Korean dramas, What's Wrong with Secretary Kim? is on the list of favorites for many fans. The 2018 webtoon K-drama was a success during its initial run but skyrocketed to international success well after. It is now available on Netflix for a worldwide audience. The hook to many K-dramas is its effective use of tropes.
Tropes are storyline elements and plot points that are often used in many television dramas. K-dramas are renowned for their constant love triangles, bad-boy characters, traumatic pasts, meddling family members, and extreme jealousy. What's Wrong with Secretary Kim? is a fan favorite because it checks off many tropes that add a level of intrigue and drama.
[Spoiler alert: This article contains spoilers about What's Wrong with Secretary Kim?]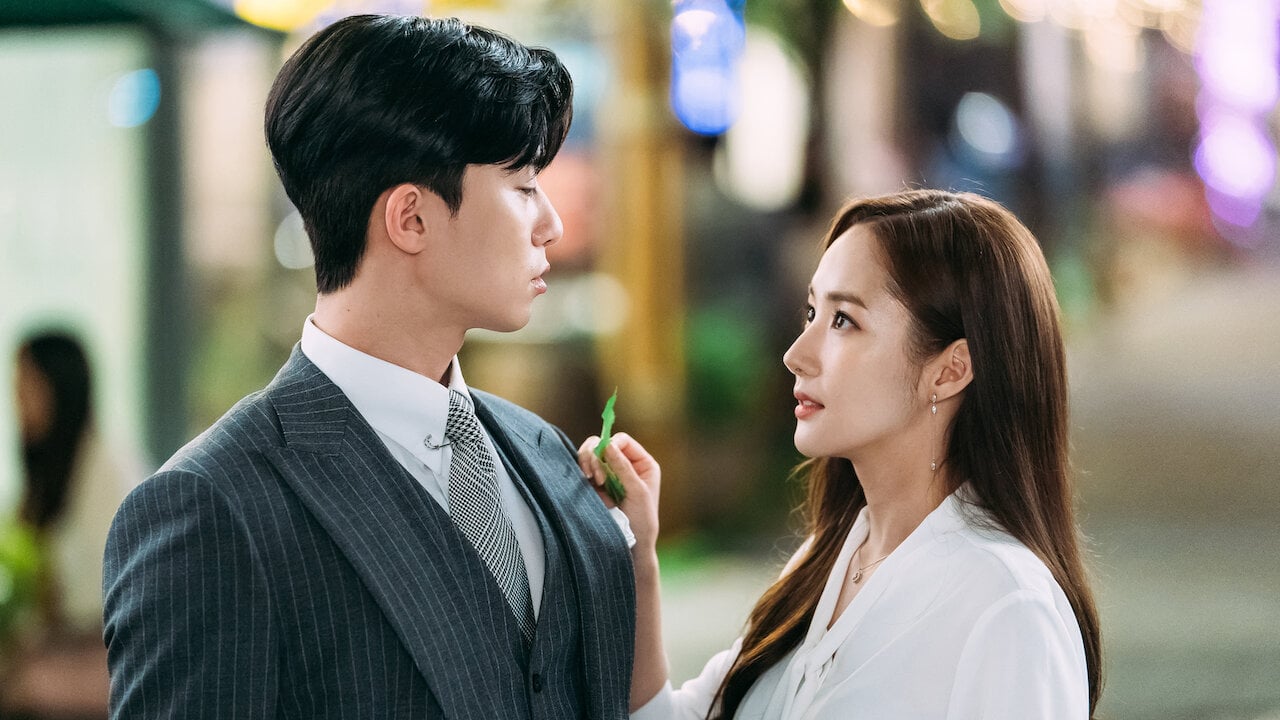 The boss-employee relationship turns into a romance
What's Wrong with Secretary Kim? is about a company boss whose life is turned upside down when his long-term secretary decides to resign. While trying to get her to stay, the two characters fall in love. Lee Young-Joon (Park Seo-Joon) tries to become the man of Kim Mi-So's (Park Min-Young) dream by fulfilling her perfect date requirements. But, Mi-So is dead set on leaving so she can live her own life. After spending so many years together, Young-Joon realizes he took Mi-So for granted and starts to realize her true beauty.
Mi-So also realizes her sometimes oblivious boss has a kind heart and falls in love as well. The boss-employee romance trope works wonders as fans get to see their evolving relationship in What's Wrong with Secretary Kim? The characters are hesitant to give in to their feelings beyond a professional capacity and try to keep their love a secret from the office. It just so happens that Park Seo-Joon was the lead in another K-drama involving a boss-employee relationship.
The childhood acquaintances
RELATED: 'Hospital Playlist 2': K-Drama Returns From Hiatus With New Romantic Relationships
Another trope fans often spot is when the main characters knew each other years prior or during childhood. The trope acts as a "meant to be" or "destined fate" element in the overall story. What's Wrong with Secretary Kim? used the trope well, and it added a bit of suspense and shock value that fans wanted answers to.
When the K-drama originally aired, according to Soompi, fans were in dire need of answers on whether or not Young-Joon and Mi-So had a history together. It was revealed to be true as Mi-So notices small parallels between Young-Joon and a boy she met as a child. The boy she knew had a different name, and she promised to one day marry him. It is normal for the "childhood acquaintances" trope to indicate how the K-drama can end. The boy that left a lasting impact on Mi-So's life really was Young-Joon all along, and she came to remeet him by chance in adulthood. Having a shared childhood led them to fall further in love and marry.
The main characters in 'What's Wrong with Secretary Kim?' have a troubling past
RELATED: K-drama Actor Song Kang Called 'The Son of Netflix' and Here's Why
It is unlikely that a die-hard or new K-drama fan will find a drama that does not capitalize on the "troubled past" trope. The trope is infamously used in various genres of K-dramas from historical, fantasy, and romance. A character with a troubled past gives them a level of depth that needs to be unearthed and understood by the other characters and viewers. The trope also alludes to why a lead character acts a certain way. In What's Wrong with Secretary Kim?, Young-Joon can not be near zip ties as it forces him to remember his troubling childhood.
The K-drama reveals Young-Joon and Mi-So were both kidnapped by the same woman when they were children. While Mi-So was able to escape, Young-Joon's experience left him scarred into adulthood. Young-Joon's past is interwoven into his family's turmoil and his bad relationship with his brother. The trope also allows Mi-So to help Young-Joon overcome his fears and face his past.
What's Wrong with Secretary Kim? gained popularity for its riveting use of tropes that are expected by many fans but still add differentiating layers of drama. Joan MacDonald, a Forbes contributor, told ABC News, "It's kind of an overall thing like pop is not really one sound. A lot of things fit into it. You will have something like a horror, rom-com that starts out as a gangster story, but it's really a black comedy that keeps changing genres all the way through."
What's Wrong with Secretary Kim? is available to stream on Netflix