When Did Demi Lovato Record 'Anyone'? Here's What She Said About the Song Long Before It Was Released
Singer-songwriter Demi Lovato has comeback in a big way with her new song "Anyone." Learn more about when it was recorded and what it means to her.
After her 2018 drug overdose, multi-talented performer Demi Lovato took some time before returning to the spotlight. Now, she's back with a new single, titled "Anyone." Read on to learn more about the song, when it was recorded, and what the track means to her.
Demi Lovato returned to music at the 2020 Grammy Awards
In 2019, we saw previews of Lovato's then-upcoming return. She shared behind-the-scenes photo from the set of Will & Grace, as well as a video confirming her upcoming role in the Netflix film Eurovision. But Lovatics were in the dark about her music — that is, until she made a very special announcement.
Lovato made her live return at the 2020 Grammy Awards with a performance of a never-before-heard track, "Anyone." In a night full of incredible music, it was one of the most powerful moments seen on that stage.
She then released her new single 'Anyone'
After her performance, Lovato took to social media. In addition to releasing the track on all platforms, she wrote, " What an unbelievable night. My first time back on stage in almost 2 years. So emotional for me. Thank you all for the love, support and for sharing this moment with me. I love you all."
This song — and her return — were important to the singer-songwriter. And it appears as though her fans are responding well. "Anyone" has earned Lovato a place on the Billboard Hot 100. It has also brought her her first No. 1 on the Digital Song Sales chart.
Lovato wrote the song before her relapse
The lyrics to "Anyone" are incredibly powerful, depicting Lovato as someone in crisis as she struggles with her addiction and her faith. In many ways, it feels like a continuation of her 2018 song "Sober," in which she revealed that she had relapsed after six years.
This actually makes a lot of sense, because, though it was just released, "Anyone" was recorded on July 20th, 2018, just four days before her overdose. Lovato explained that she chose to put out the "raw recording," saying, "I thought this was better to be left the way it is."
What did she say about 'Anyone' while recording it?
Lovato deleted everything on her Instagram from before her overdose, and uses it as her primary social media platform. However, her Twitter, which is now run by "Team Demi," still includes many of her old tweets. In fact, there are quite a few from when she recorded "Anyone."
First, she tweeted, "You make mistakes too." This could be about anything, but it seems to be pointed at those judging her for relapsing. Lovato later tweeted, "Recording my new album and I just hit a note so high I peed a little."
Finally, she wrote, "Never been more proud of a song in my life.." It's pretty clear that this is about recording "Anyone." Notably, this was Lovato's last tweet (aside from an ad) before her overdose.
Why 'Anyone' is so important to Lovato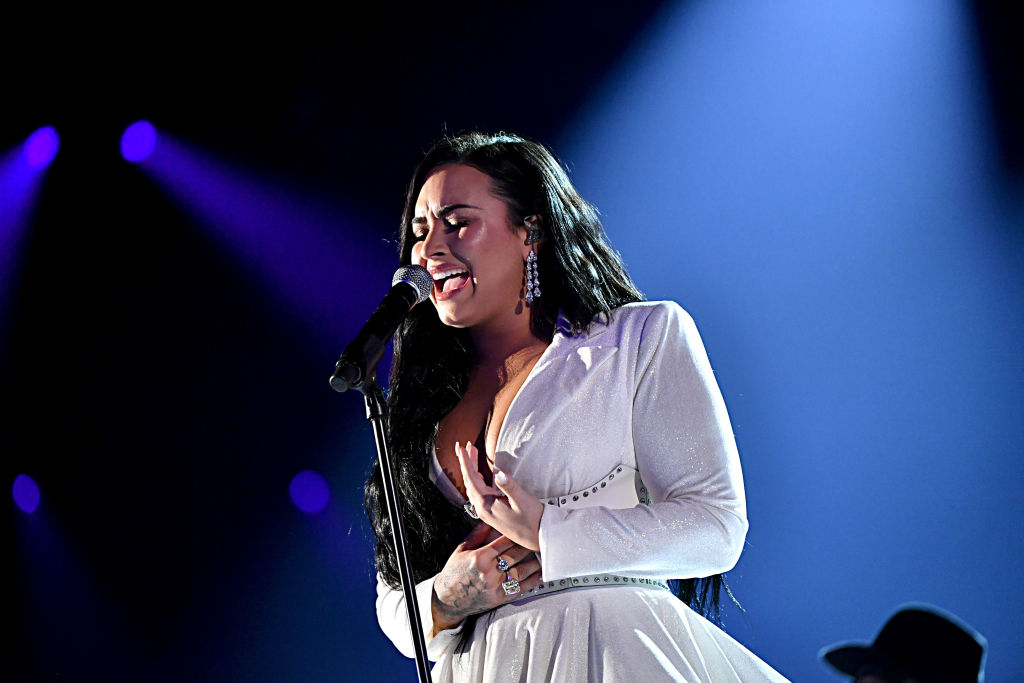 Now, more than a year and a half later, Lovato has had time to really think about what the track means to her. In an interview with Zane Lowe for Apple Music, she said she hears it as "a cry for help" looking back. But in the days after her overdose, she knew how it would factor into her return.
"It was about a week after I'd been in the hospital," she said. "And I just remember hearing back the songs I had just recorded and thinking if there's ever a moment where I get to come back from this, I want to sing this song." How amazing that she did just that?