When Jimmy Page Nearly Started Led Zeppelin With Keith Moon
If you like wondering how things might have gone differently with classic British rock bands, 1966 is a year worth exploring. That spring, every member of The Who considered leaving the band at one time or another. And the list included Pete Townshend, the band's primary songwriter.
Roger Daltrey was certainly on the hunt for a new group at the time. After beating up Keith Moon and getting temporarily ejected from the band in '65, Daltrey had reason to be looking for a backup plan.
The Who even performed without Daltrey in the first half of '66. (Townshend handled the lead vocals.) During that same tumultuous period, Moon approached Paul McCartney and offered his services in The Beatles.
Obviously, that offer didn't go anywhere, but Moon's networking did lead to a recording date led by London session star Jimmy Page and Jeff Beck (then of The Yardbirds). That explosive session got the primary players thinking about a band they might start together.
Page and Moon considered starting a group after cutting 'Beck's Bolero'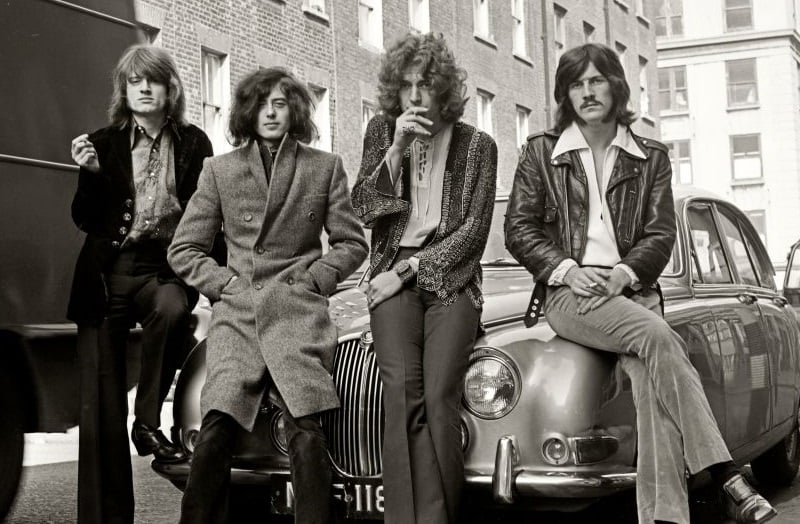 If Page, Beck, and Moon weren't enough firepower for you at the May '66 sessions in question, you can also add another two big studio guns of the era: John Paul Jones and Nicky Hopkins. You wouldn't be exaggerating if you called this five one of the greatest rock groups ever assembled.
In Pretend You're in a War, Mark Blake describes Moon showing up to the sessions in the "disguise" of dark glasses and a Cossack's hat. During two days at IBC Studios (booked by Yarbirds manager Simon Napier-Bell), the band cut the epic instrumental track, "Beck's Bolero."
According to Blake, these productive sessions led all parties to consider what it would be like starting a band together. At that point, all they needed was a singer. (The Small Faces' Steve Marriott was a front-runner.)
In Page's recollection, Moon was enthusiastic about getting the group together. But he mused that the band might very well go down "like a lead Zeppelin." And Moon thought that would make a great band name.
Page took Moon's suggestion and launched Led Zeppelin 2 years later
While the "Beck's Bolero" dates got everyone excited, the band idea didn't come to anything — at least as far as Moon, Beck, and Hopkins were concerned. Beck released the track as the B side to one of his 1967 singles and Moon went back to The Who. (Hopkins resumed his session work.)
But Page didn't let it go. Jones let Page know that he'd be ready to join a band whenever he got one together. After his own stint in The Yardbirds, Page indeed put together a group. He simply dropped "a" from "lead" to avoid any confusion about the pronunciation.
By 1968, he had Robert Plant as his lead vocalist and the thunderous John Bonham playing drums — Led Zeppelin was born. But what would a band with Keith Moon and Jimmy Page have been like?
We can only wonder, but The Who and Zeppelin both left enough great music to make it a moot point. And Bonham did his best to match or exceed Moon the Loon's capacity for practical jokes (and outright destruction).
Also see: Why 'Led Zeppelin III' Confused Fans and Critics Alike