When John Lennon Used a Beethoven Piece to Write a Classic Beatles Song
John Lennon got ideas for Beatles songs from all sorts of places. For this 'Abbey Road' track, he turned to Beethoven.
If you read about John Lennon's songwriting methods, you realize he got ideas from everywhere. For what became his least favorite Beatles song, John used a line from an Elvis hit as a jumping-off-point on "Run For Your Life."
In the Fab Four's psychedelic days, John said he used a drawing his son Julian wrote as the inspiration for "Lucy in the Sky With Diamonds." And on his Sgt. Pepper masterpiece "A Day in the Life," the song started just as John described. (He "read the news today, oh boy.")
Starting in 1968, you hear the influence of Yoko Ono on his Beatles work. Whether it's John's turn toward experimental music or the lyrics to "Yer Blues," it's clear Yoko's input had affected his writing.
It wasn't just conscious songwriting efforts. Even relaxing on a couch while listening to Yoko play classical piano could inspire a song. And that very thing happened with this Abbey Road track.
John based 'Because' on Beethoven's 'Moonlight Sonata'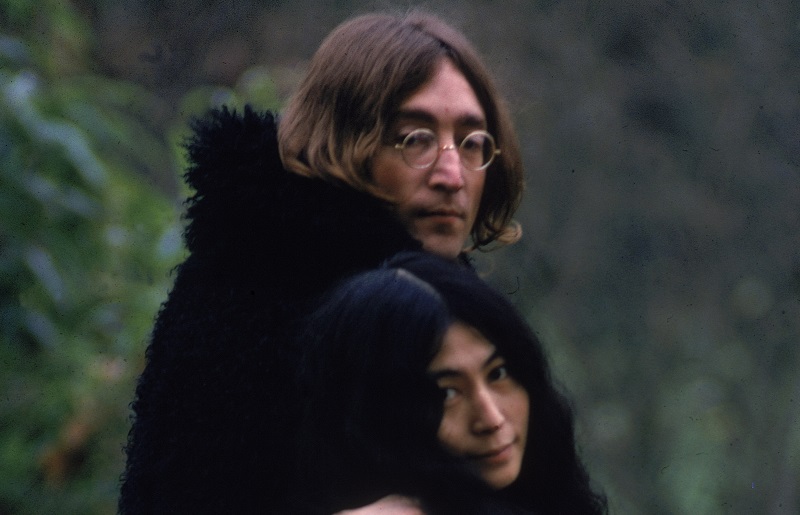 In his 1980 Playboy interviews with David Sheff, John said he started writing "Because" one day at home with Yoko. "I was lying on the sofa in our house, listening to Yoko play Beethoven's 'Moonlight Sonata' on the piano. Suddenly, I said, 'Can you play those chords backward?' She did, and I wrote 'Because' around them."
Certainly, the chords of the opening adagio of "Moonlight" sound like what became Abbey Road's "Because." But John didn't simply "play the chords backward" to get his own song. For starters, he worked in a different key and didn't use the arpeggio pattern Beethoven did.
Nonetheless, he got what he wanted with the song. "The song sounds like 'Moonlight Sonata,'" John said in 1980. To make the opening figure bigger (and get a classical feel), he agreed to producer George Martin's suggestion about playing a harpsichord line to match his guitar.
As was often the case with tricky keyboard parts, Martin handled those harpsichord duties. And Martin also wrote the three-part-harmony vocals John, George Harrison, and Paul McCartney sang so well.
Martin led the 3 Beatles through 20-30 takes of the 'Because' vocals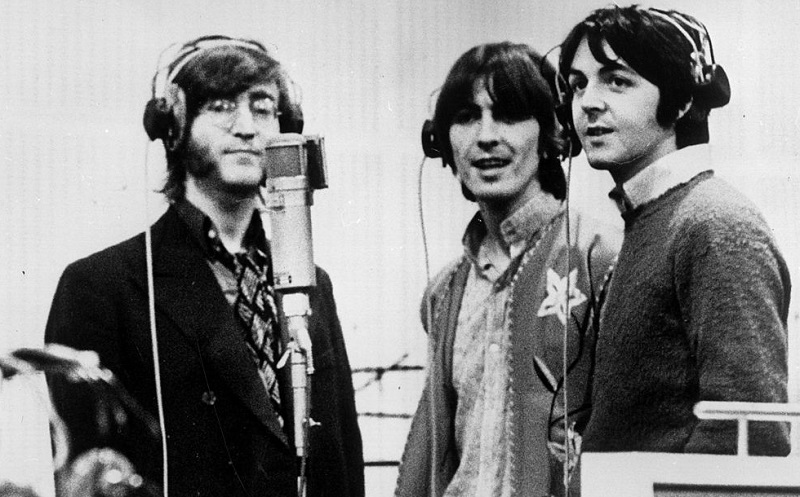 According to engineer Geoff Emerick, The Beatles were totally committed to getting the harmonies right on "Because." Despite the tendency to bicker and grow impatient at this point in their career, everyone participated in the sessions for this track without getting overheated.
After writing out the harmony parts, Martin had extensive rehearsals with John, Paul, and George. Then they spent a long time recording them. "It would take more than five hours to get those vocals done," Emerick wrote.  "Perfection was the goal, and nobody was prepared to accept anything less."
That perfection required somewhere between 20-30 takes. And both Paul and George counted it as a highlight once the record was finished. "I like John's 'Because,'" Paul said in 1969. "To say, 'Because the world is round it turns me on' is great. And 'Because the wind is high it blows my mind.'"
"'Because' is one of the most beautiful tunes," George agreed. "It's three-part harmony — John, Paul and George all sing it together. I think this is possibly my favorite one on the album." Considering George had "Something" on that same album, that was high praise indeed.
Also see: What Paul McCartney Really Loved About 'Happiness Is a Warm Gun'