When were Robert Downey Jr. and Sarah Jessica Parker a Couple?
Iron Man Robert Downey Jr. and Sex and the City's Sarah Jessica Parker were once an 'it' couple. As young up-and-coming superstars, the pair at one point were in a very committed relationship on the road toward marriage. They have both since gone on to wed other people, but have commented over the years on their past relationship.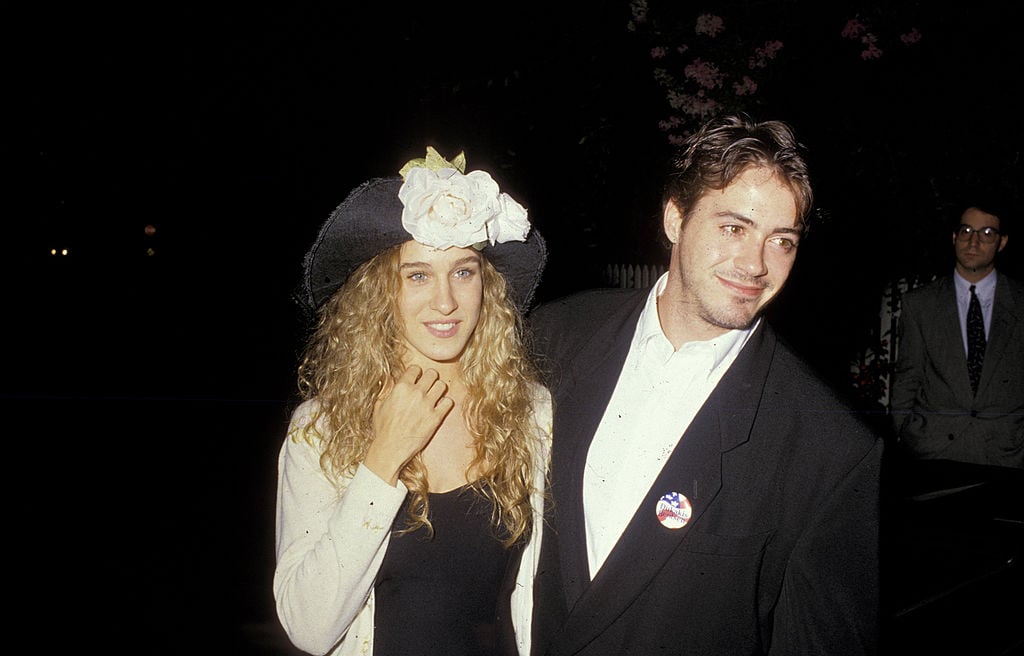 They met in 1984
Parker and Downey met in 1984 on the set of the film Firstborn. "I guess Sarah thought I looked scary enough to be interesting," Downey told People. Both were just 18 years old. Just after a few weeks of dating, the couple moved in together in Los Angeles.
At the time, they were thinking of marriage and hypothetical wedding options. "We want a Jewish wedding at Le Mondrian Hotel with flamenco dancers," Downey said, according to People. Parker added, "And a band that's not half as good as Lawrence Welk and lots of balloons and bubbles and a nice linoleum floor that looks like marble."
Kidding aside, the two were very serious about each other. "I'm really happy with Sarah, and I don't want to ruin it by planning too far ahead. But the way I feel now, marriage looks like where we're headed," Downey said.
Major addiction issues
Needless to say, the couple never made the walk down the aisle. In recent years, Downey has been very open about his past addiction to drugs and alcohol. His substance dependency got to the point where he was arrested in 1996 for possession of cocaine, heroin and a pistol when he was stopped by police for speeding, according to BBC. He was later sentenced to three years in a California state prison in 1999 after violating his probation.
Downey has previously commented on how his substance abuse issues affected his relationship with Parker. "I was so selfish. I liked to drink, and I had a drug problem, and that didn't jibe with Sarah Jessica, because it is the furthest thing from what she is. She provided me a home and understanding. She tried to help me. She was so miffed when I didn't get my act together," Downey said, according to the Huffington Post.
Yet even with Downey's partying ways, he was getting work. "I was making money. I was mercurial and recklessly undisciplined and, for the most part, I was happily anesthetized," he said. "I had very much this post-adolescent, faux nihilistic, punk-rock rebellious attitude. I thought my way was so much cooler than people who were actually building lives and careers. I was in love with Sarah Jessica, and love clearly was not enough."
Parker finally had to end the relationship and after seven years together, broke it off with Downey in 1991. "I learned how to take care of myself," Parker told People when asked about her relationship with Downey. "There was a huge amount of time spent making sure he was okay. At a certain point, I had the courage to say, 'I'm going to walk away and I'm just going to pray that you don't die.' I will say, I don't regret any of it. I don't resent the time spent."
They are both in long-lasting marriages
Downey turned his life around after prison and started his sobriety in 2002. He also got his career back on track, and became box office gold as Marvel's Iron Man. Downey credits his second wife, producer Susan Levin, to helping him get a new lease on life, according to the Huffington Post. "She told me, 'I'm not doing that [drug] dance with you. I'm drawing a line in the sand here.' She was absolutely clear about it," Downey said. "That doesn't mean that other women, business associates, movie directors, insurance companies, judges and law enforcement hadn't been clear about it too. It was that, before I met Mrs. Downey, I just didn't give a goddamn. What changed is that I cared." The two have been married since 2005 and have two children. He also has a son Indio from his first marriage to Deborah Falconer.
Parker married actor Matthew Broderick in 1997, according to People. The couple recently celebrated their 22nd wedding anniversary, with Parker posting on Instagram, "May 19th, 1997- May 19th, 2019," the post read. "22 years, 8,030 days. And a billion memories. Happy anniversary baby. X, SJ." The two have three children together.
Though Parker and Downey did not end up together as a couple, they obviously have no ill will toward each other and are clearly living their best lives.