When Will BTS Be Treated Like Artists?
On Dec. 31, BTS made history when they performed on Dick Clark's New Year's Rockin' Eve with Ryan Seacrest. The historic performance was broadcast on ABC to millions of viewers. On CNN, correspondents Andy Cohen and Anderson Cooper mocked the group. It was a sad reminder that no matter how big BTS makes it, there is a line of people already waiting to dismiss them.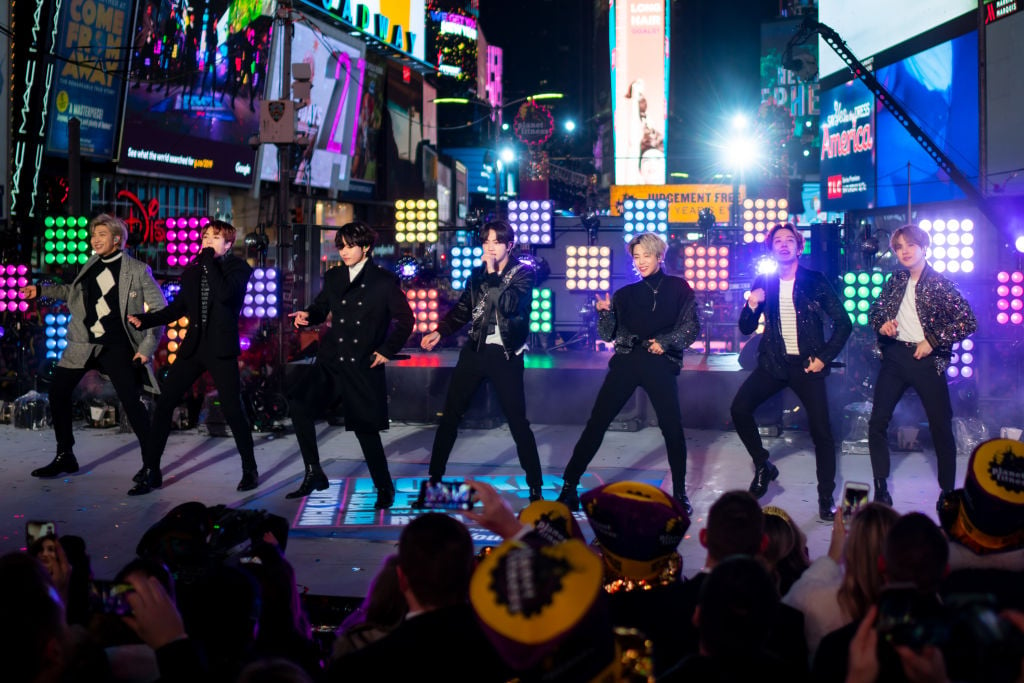 What Anderson Cooper and Andy Cohen said
On CNN, Cohen and Cooper hosted New Year's Eve Live on CNN. With their backs turned to the artists onstage below them, Cooper and Cohen mocked BTS. Cooper pointed out that while the two talked, BTS was performing their set behind them.
"We think they were phoning it in," Cohen said. "Is that bad? Oh."
"I think they look very nice," Anderson joked.
Cohen and Cooper proceeded to break out in laughter.
"Oh, that is not what you were saying during the break," Cohen said.
"I'd never heard of them before, I'm old," Cooper said.
"All right, well we found it lack luster," Cohen said with his back still turned to BTS's ongoing performance.
Why this is a problem
There is an objective experience and subjective experience in any art form. With the objective experience, one considers the talent behind the art and only the object of the art itself. When one has a subjective experience, one considers how they personally view the aesthetic of the art. Even if one subjectively does not like the art, one must still recognize it took talent to make and it is not necessarily bad just because they do not personally like it.
Because music can be so personal and therefore subjective, there is nothing wrong with finding certain genres or artists more appealing than others. However, what Cohen and Cooper did was more than having a subjective experience to music.
Without watching the full performance, the two co-hosts made a dismissive assumption and openly mocked a group of artists. In doing so, they completely ignored the objective experience, making them uninformed, and actively discredited BTS.
On top of that, Cooper claimed to have never heard of the group. This claim came after CNN has covered BTS and their impact numerous times. Combined with the unprecedented press coverage BTS received in the weeks leading up to their performance on Dick Clark's New Year's Rockin' Eve, it seems unusual that Cooper had not heard of BTS before.
BTS recently had their most successful year yet
BTS's performance on Dick Clark's New Year's Rockin' Eve was a fitting culmination to their 2019. According to Forbes, BTS's 2019 EP Map of the Soul: Persona was the No. 1 album in South Korea.
"The No. 1 title in South Korea in 2019 didn't just rule, it dominated. Map of the Soul: Persona outsold the next four titles, combined…and it still had almost one million units to spare," wrote Hugh McIntyre in Forbes.
Map of the Soul: Persona was also the first album to sell 4 million copies worldwide, making BTS the first artists to achieve that feat in 2019. BTS set a record for the most Daesangs in history after they swept every Daesang at the Melon Music Awards and Mnet Asian Music Awards.
In the U.S., BTS won two Billboard Music Awards and performed at the awards show, appeared on The Late Show with Stephen Colbert, performed on Saturday Night Live, won three American Music Awards, and were honored as Variety's Group of the Year.
In April 2019, BTS became the first group since The Beatles to earn three No. 1 albums on the Billboard 200 chart in less than a year with Map of the Soul: Persona. The Korean group also had the highest-grossing tour of May 2019.
BTS are still not treated like actual musicians
Despite BTS's success in South Korea and abroad, the group is rarely referenced as a group of musicians or artists. While there are some journalists and publications that are the exception, as a whole western media tends to focus on the sensationalist aspect of BTS.
The members of BTS are heavily involved with the creation of their own music. For Map of the Soul: Persona, RM said he wrote 80 or 90 percent of the lyrics on the album. BTS used Dr. Murray Stein's book Jung's Map of the Soul: An Introduction as a platform for the EP.
Stein's book covers Swiss psychiatrist Carl Jung's psychoanalytical theory about personality archetypes, and as a result the EP featured themes of love, self-worth, identity, hope, despair, and longing.
In some cases, journalists seem baffled at BTS's success, yet make no effort to investigate why their music resonates with fans so much. Earlier in 2019, a journalist for The Hollywood Reporter focused on BTS's wealth and stereotypes of the Korean entertainment industry in a particular xenophobic article instead of focusing on BTS's music and message.
Similarly, media often focuses on BTS's dedicated fandom, ARMY. Yet very few write about how fans across the world are able to mobilize at a moment's notice through social media despite living in different countries and speaking different languages. The fandom is able to coordinate charity projects in honor of the BTS members, and in November 2019 fans around the world charted BTS's entire discography on iTunes within a day.
BTS is expected to release a new album in the first few months of 2020. If their 2019 is any indication, the group will continue to break records and hopefully prove they are renowned artists in addition to being a phenomenon.