When Will Sarah Hyland and Wells Adams Get Married?
Sarah Hyland and Wells Adams are one of Hollywood's fan-favorite couples. She is an actress known for her work on Modern Family, while he is a former contestant on The Bachelorette and Bachelor in Paradise. Although their romance began in an unexpected way, they have continued to show that they have a love that could stand the test of time.
Hyland and Wells seem to be ready to settle down. They got engaged last year and now fans are dying to know when their much-anticipated wedding will take place. Here's what we know so far.
Sarah Hyland and Wells Adams' love started online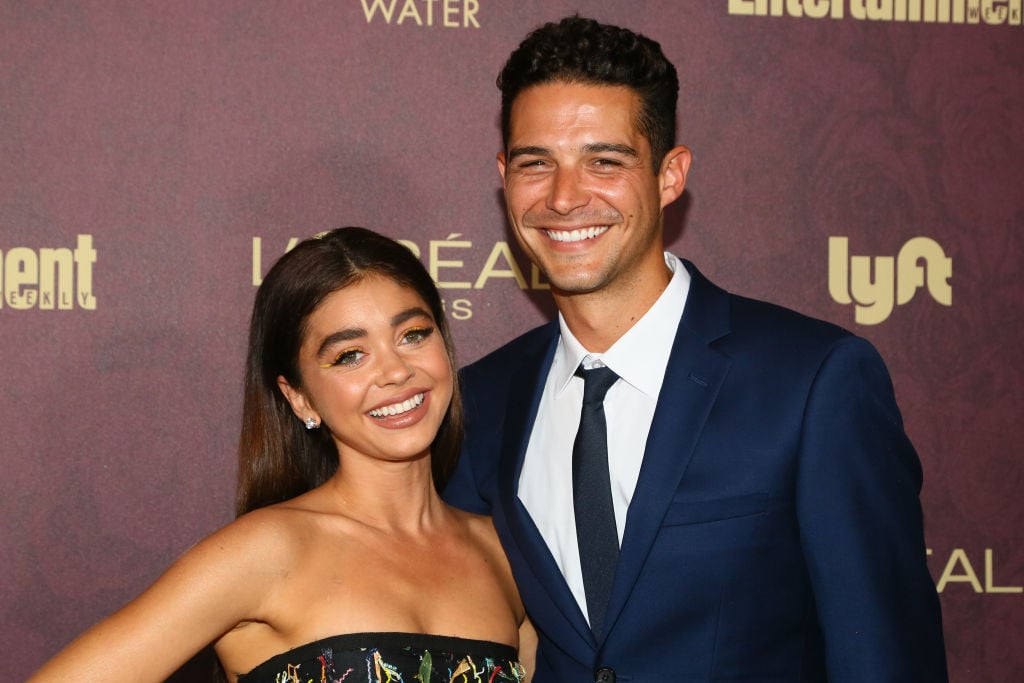 A large percentage of couples nowadays first started talking online before meeting in real life. Hyland and Adams' love story began this way as well. Their relationship actually started on Twitter.
Back in 2016, Hyland was watching season 12 of The Bachelorette and began tweeting about Adams, who was one of her top contestants. Hyland was especially impressed with his love for books, and it looks like Adams was interested in Hyland as well. The two of them began sending DMs to each other, which soon evolved into texts and FaceTime calls. Afterward, they went on their first date and the rest is history.
"It's the most millennial thing in the entire world. I kind of want to gag at it," Hyland said in a recent interview with Cosmopolitan.
Sarah Hyland and Wells Adams got engaged after two years of dating
In an industry where celebrities often rush into marriage, Hyland and Adams took their time getting to know each other.
The couple had their first relationship test early on when Hyland had to get a kidney transplant. Speaking to Self last year, Hyland shared that Adams was by her side when she was in the hospital despite the fact that they had only met a few days prior.
They eventually moved in together in August 2018. Then, they got engaged in July 2019 before having an engagement party a few months later filled with famous faces.
Although they took two years before making the commitment to walk down the aisle, both Hyland and Adams have shared that they knew they had found a special someone very early on.
On an Instagram post, Adams also shared that he "knew I was gonna marry her the 1st night I met her."
Meanwhile, Hyland shared with Cosmopolitan: "We were talking about what kinds of weddings we wanted four days after we made things official. I hate that typical cliché of 'when you know, you know,' but it's so f–king true. At least it was for me."
Sarah Hyland and Wells Adams have not revealed their wedding date yet
It's not clear when exactly Hyland and Adams will tie the knot, but in August 2019, Adams did hint that it could take place in 2020. Speaking to Brandi Cyrus, he said: "It will be, like, well over a year. I mean, we haven't figured out anything, you know? Phase one was just, like, get engaged. We're still in phase one."
However, Hyland has already revealed her "bride tribe," which will include actresses Vanessa Hudgens, Ashley Newbrough, and Ciara Robinson.
Adams has also confirmed that Chris Harrison will be a guest at the wedding. He told E! News: "Let's be fair: If it weren't for Chris and a couple of the other executive producers, I would've never even met Sarah. So, Harrison is an integral part of my happiness in general and I love him and now I get to hang out with him every summer, so I want him to be there.