When Will There Be a 'That '70s Show' Reboot?
Here's what we know about the possibility of a 'That '70s Show' reboot or movie involving the original cast.
Rumors regarding the reboot of That '70s Show have been discussed for a long time. Fans have been speculating that a reboot could happen soon. But the That '70s Show cast has also been teasing the idea for years. Here's what we know about the chance of a That '70s Show reboot in 2021.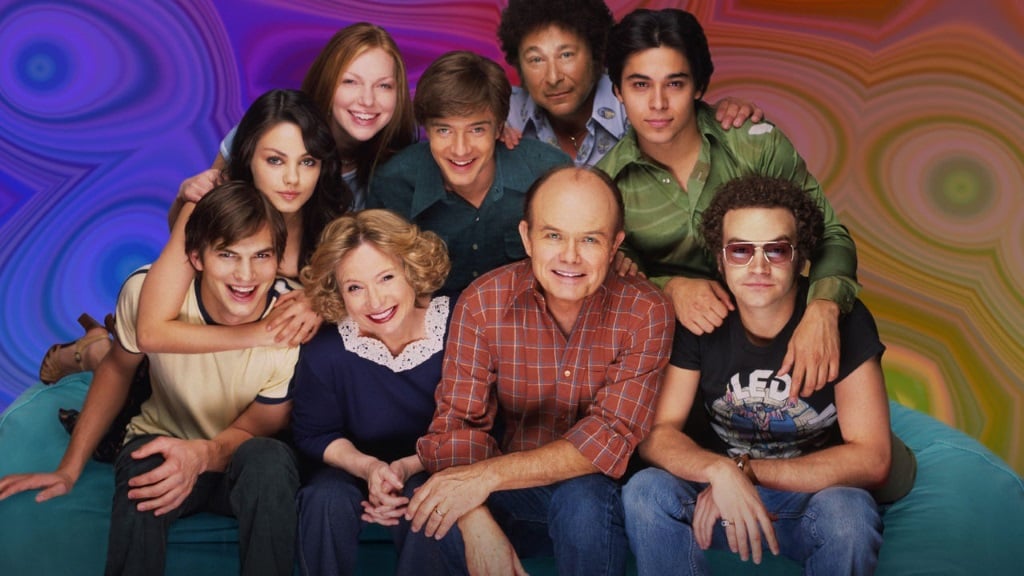 Will 'That '70s Show' reboot as a series or a movie? 
That 70s Show debuted in 1998 on FOX. The series focused on Eric Forman (Topher Grace), his group of friends, and their lives growing up in Kenosha, Wisconsin in the 1970s. The comedy also starred Mila Kunis, Ashton Kutcher, and Laura Prepon. That '70s Show ran for 200 episodes and ended in 2006.
In a 2017 interview with Steve Harvey, Fez's Wilmer Valderrama talked about the show's popularity in syndication and opened up about the possibility of the cast reuniting. 
"We've been having some conversations about [reuniting], but there's nothing official," Valderrama said. "I feel like the show is so alive in syndication." 
At the time, Valderrama said it might be "too premature" to have any type of conversation about a That '70s Show reboot. 
"I wouldn't keep That '70s Movie out of the conversation," he added. "Everyone seems pretty busy right now, [but] I think this would be an interesting segue to do something where all of us [could] come together and replay those characters again."  
Tommy Chong isn't close with the younger cast, but he would do a reboot of 'That '70s Show' 
In January 2020, Tommy Chong spoke with TV Web about the possibility of a That '70s Show reboot. When asked if he was interested in being part of the prospective project, Chong had this to say: 
Oh yeah! Totally. Totally interested. And you're the first to talk about it.

But yeah, it would be a great idea. Even to do another show would be appropriate.
He also mentioned not speaking to "the kids" in the cast as frequently as the older supporting cast, like Debra Jo Rupp and Kurtwood Smith. Despite his lack of a connection with the younger cast members, Chong said he "would love to do anything, especially with That '70s Show, because it was so iconic."
Laura Prepon isn't interested in a 'That '70s Show' reboot 
In April 2020, Prepon spoke with PopCulture.com about the possibility of a That '70s Show reboot. While she understands that fans are demanding more, she's not ready to go back in time. 
"I love that show," Prepon began. "That show was my first thing, and I did it for eight years. I love that cast. I loved the crew, and I learned so much from our director, David Trainer, who directed every episode except for the pilot. That show was so special to me, but it's kind of like in a time capsule."
Prepon likened her time on the series to someone having a great college experience. 
"I don't think you'd want to go back through college again and go through the stuff, but you really are like, 'Wow, what an experience that molded me in so many different ways.'" 
Despite her lack of a desire to participate in the rumored That '70s Show reboot, Prepon remains close with her castmates. 
Topher Grace and Mila Kunis would reunite for 'That '70s Show'
That '70s Show lead Grace is ready and willing to do a reboot or a movie.
"I would do it for sure because that was a very wonderful time for us," he told The Hollywood Reporter in 2018. Regardless of his desire for the That '70s Show cast to reunite, Grace doesn't think a reunion will happen. 
"It would be so hard to bring that crew together," he added. "For me, I'd do it [even] if no one ever saw it. Just [because] it would be great to hang out with them for a week." 
Kunis had similar sentiments regarding a reboot. She isn't sure about who would be interested in working on such a project, but she would consider being part of the reboot if it ever came to fruition. 
"You know, maybe," she told Entertainment Tonight. "I can't say 'no,' because we're all still very good friends, but we're all in such different places in our life." 
Will there be a 'That '70s Show reboot in 2021?
At this time, there is no official word about a That '70s Show reboot or movie. A movie would be much more realistic, but anything is possible. Stay tuned to Showbiz Cheat Sheet for updates.