'When You Finish Saving the World': Julianne Moore, Finn Wolfhard Reflect on Playing 'Rigid' Roles at Sundance 2022
Jesse Eisenberg's movie 'When You Finish Saving the World' has audiences and the cast alike thinking about their actions.
When You Finish Saving the World, Jesse Eisenberg's directorial debut, premiered at the 2022 Sundance Film Festival. Starring Julianne Moore and Finn Wolfhard, Eisenberg's movie follows a mother and son whose strained relationship worsens as they place value in strangers. Here's what Moore and Wolfhard had to say about playing such "rigid roles" in When You Finish Saving the World.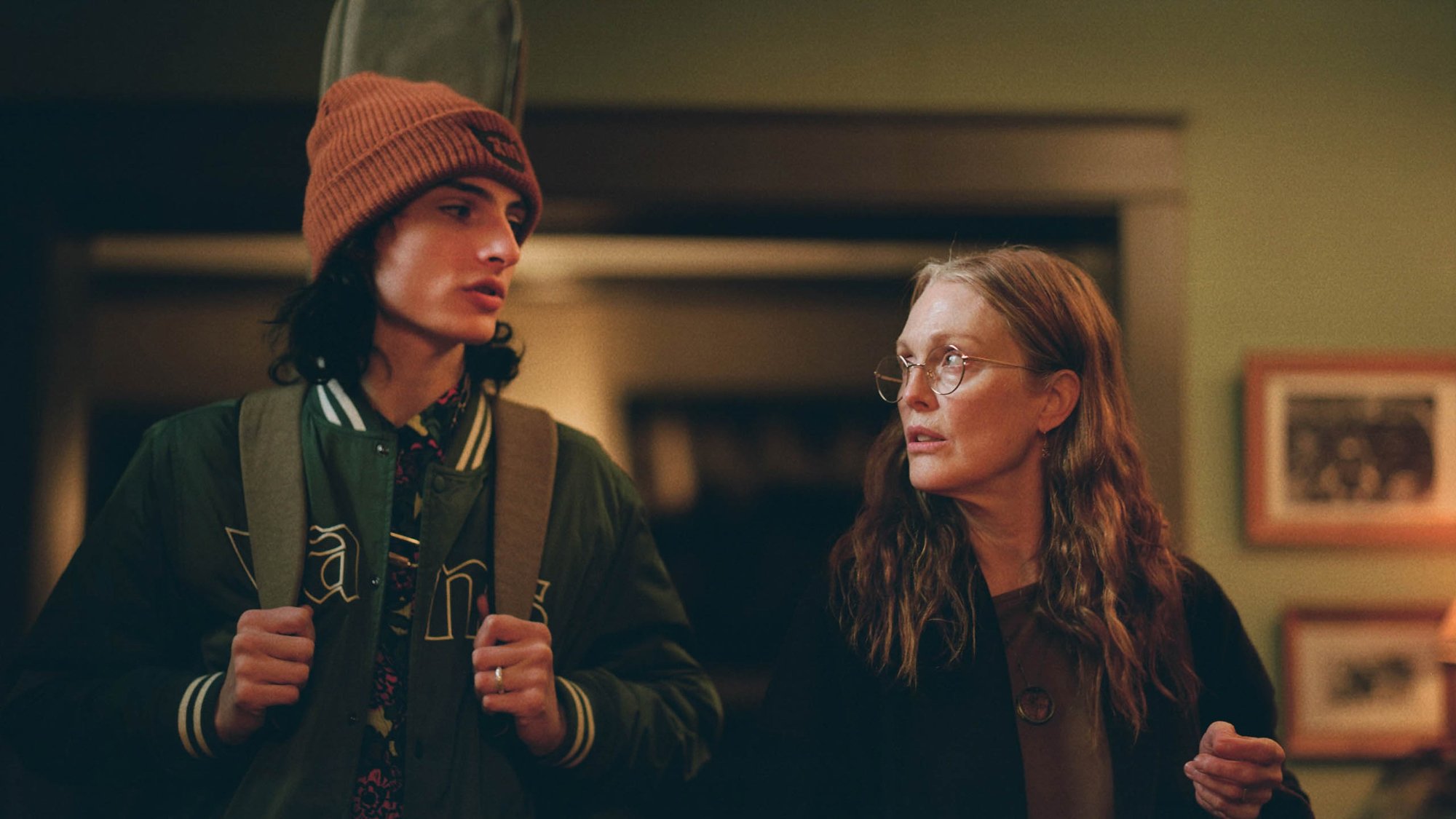 Julianne Moore's role made her think about the ways she goes wrong in life 
Ziggy (Wolfhard) is a self-absorbed teen musician obsessed with his following on the futuristic live-streaming platform Hi-Hat. His mother, Evelyn (Moore) runs a domestic abuse shelter in their small town. A local hero, Evelyn is a caretaker for battered women but struggles to be there for her husband (Jay O. Sanders) and son.
During the Q&A session after When You Finish Saving the World premiered at Sundance, Showbiz Cheat Sheet asked how playing Evelyn and Ziggy impacted Moore and Wolfhard personally. We also wondered if their roles made them reflect on their personal relationships. 
"We don't always do what we intend to do," Moore said of human beings. Still, she relished the opportunity to play a human who didn't get it right; someone who communicated better with someone outside of her family (Billy Bryk's Kyle in the film). 
Playing Evelyn also made Moore think about all the ways she goes wrong in life. After all, "we often do," said the actor. "I feel like this movie was rife with those moments in a way that was incredibly humane," Moore said, calling the characters "so rigid." 
Finn Wolfhard reflected on his relationship with family after 'When You Finish Saving the World'
Wolfhard agreed with Moore's assessment, adding: "These characters are incredibly nuanced." He described Ziggy as someone who was "constantly talking about himself, [which] could sound conceited or arrogant."
But in Ziggy's case, his arrogance was necessary because he didn't have anyone rooting for him — not his parents, nor his friends, nor the classmate he had a crush on, played by Alisha Boe. "It definitely has made me reflect on my relationship with my family," added Wolfhard. 
Jesse Eisenberg breaks down the meaning of 'When You Finish Saving the World' 
The title of Eisenberg's directorial debut lends itself to a superhero flick. However, the title is more of an invitation. Instead of solely considering your actions, start thinking about what other people have going on. 
"I think these people are strong-willed people struggling to make sense of their world, given a somewhat rigid sense of their value structure and how it reconciles or contrasts with the person that they're living with," Eisenberg explained during the Q&A. 
"At the end, I'm trying to say that when you finish saving the world — when you finish doing that thing that you excel so well in — look at your family member. Maybe watch their Internet videos and maybe go visit their shelter. When you're finished doing this amazing thing, pay attention to that other person and see the value in their specific pursuits."