Where Are the Jonas Brothers From and How Old Are They?
The Jonas Brothers rose to fame as teenagers nearly a decade ago. They were young, but they produced unbelievably catchy music and an adorable look that quickly drew millions of fans. However, the brothers still had a lot of growing up to do, and eventually, they decided to break up the band and find themselves. Despite all of the fame, though, the brothers never forgot where they came from. And now, they're back together. But how old are they and where are they from?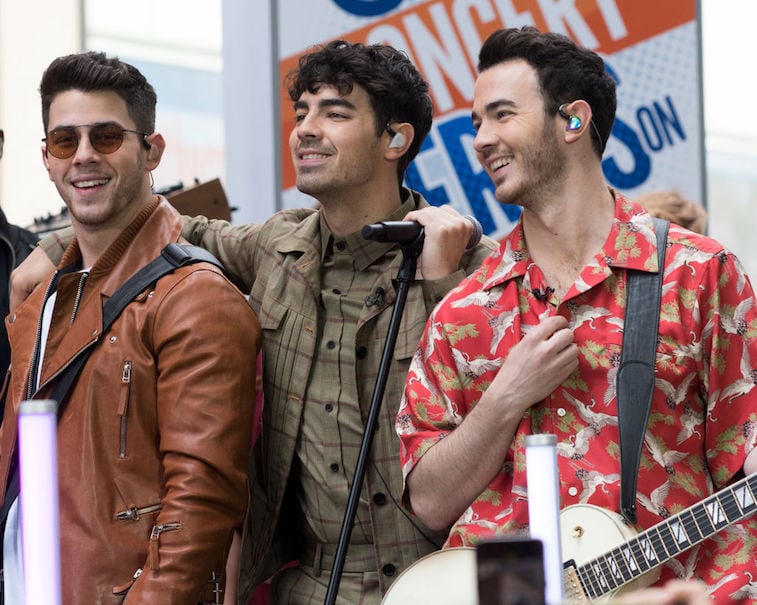 The Jonas brothers are Jersey boys at heart
Kevin was born in Teaneck, New Jersey, and his two brothers, Joe and Nick, were born in Arizona and Texas, respectively. However, the three boys, along with their youngest brother, Frankie, were raised in Wyckoff, New Jersey. Their mother is a former sign language teacher, while their father is a songwriter and musician as well as an ordained minister. The boys grew up going to church, and today, they're still very religious. When they first rose to fame, they each wore purity rings. Once the band broke up, Kevin settled down in New Jersey once more with his wife, Danielle Jonas, and the two had two daughters.
The brothers rose to fame through the Disney Channel
The Jonas Brothers clearly inherited their talents from their musically inclined father. And it didn't take long for the boys to form a band and get discovered. The brothers first signed with Columbia Records back in 2005, but they mostly have Disney Channel to thank for their unbelievable fame. The trio toured with artists such as Jesse McCartney and Kelly Clarkson before their music videos got picked up by Disney Channel. They also made appearances on MTV, and their biggest hit at the time, "Year 3000" was actually a cover song initially performed by the British band Busted. It's not common that a cover song leads a band to fame, but it worked for the JoBros.
They were only young teens when they became famous
When the trio released their first single, "Mandy," they were incredibly young. Nick Jonas was only 12, and Joe and Kevin Jonas were 15 and 17. For Nick especially, growing up in the spotlight probably wasn't his plan, but he had been homeschooled by his mother, so he would have missed out on the middle school and high school years regardless of whether he had been discovered. Their young age is what caused nearly every girl in the United States to fall in love with them. Young preteens and teens shelled out hundreds (or their parents did, rather) so they could see the band play live. The Jonas Brothers had taken the country by storm more than a decade ago.
Today, Kevin, Joe, and Nick are 31, 29, and 26 respectively
Although the Jonas Brothers seemed to have it all back in the 2000s, they needed to learn and grow as individuals, too. In 2013, the band officially broke up, and they all pursued their own paths. Kevin had two kids with his wife, Joe formed DNCE, and Nick went on to have the most successful solo career of the three. But now, they're back together. They're older, wiser, and all married (to the dismay of every teenage girl who was obsessed with them 10 years ago). They're thrilled to be back in the spotlight as a trio after spending so many years on their own. Their bond seems stronger than ever, and their music is catchier than ever.
Check out Showbiz Cheat Sheet on Facebook!