Where Did Kourtney Kardashian Get the Name for Her New Website 'Poosh'?
Get all the details on Kourtney Kardashian's new lifestyle site, Poosh. Discover the origin of the site's name and why Kardashian felt she needed to create the site.
The oldest child among the Kardashian-Jenner clan is back with a new website after shutting down her app. She, along with her sisters Kim Kardashian, Khloe Kardashian, and Kylie Jenner, announced they would no longer be updating their apps earlier this year. Kourtney Kardashian launched her new site, Poosh, today. Learn more about what she will cover on her site and where the site got its name ahead.

How did Kourtney Kardashian come up with the name 'Poosh'?

It turns out one of Kardashian's children is behind the name of her new site. According to WWD, the site is named after her daughter Penelope. "Poosh" is a nickname of Penelope's, who now gets the distinction of being the namesake of her mom's new venture.

Why Kardashian launched Poosh

"I felt that there was something missing in the healthy lifestyle space. Healthy living gets a bad rap; it's as though if you care about what you put in — or on — your body, then you're not sexy or cool," Kardashian wrote on her site's About page. "But this just isn't true, and Poosh is here to prove just that."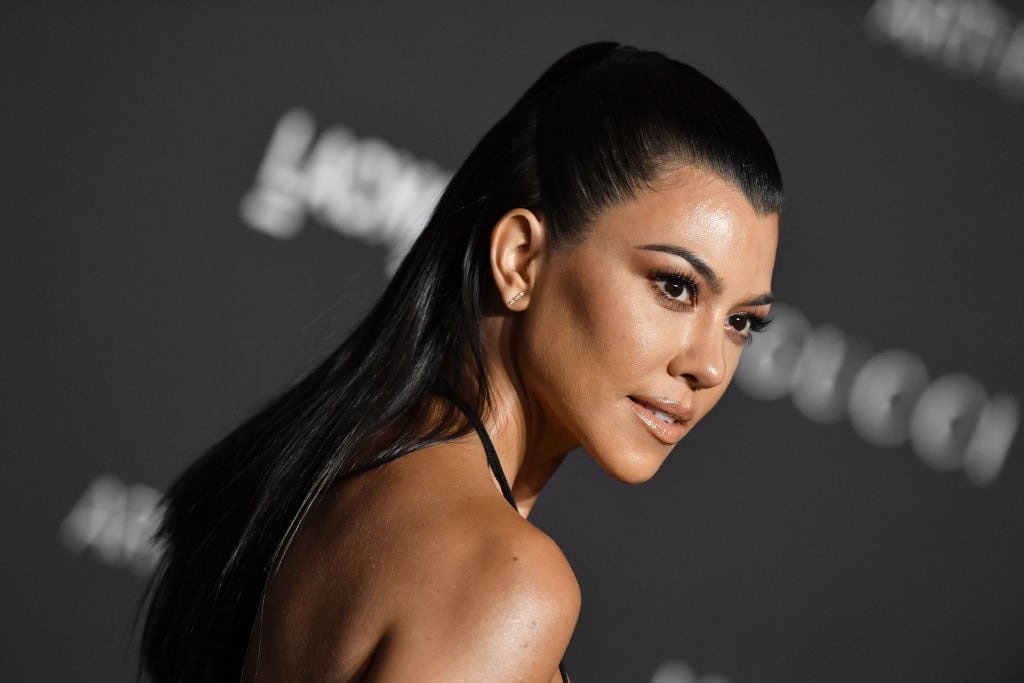 "People are constantly asking me how I do it all, from being a single mom to working full-time to still maintaining a social life. I get endless questions about food, kids, beauty, and fashion, so I decided to create Poosh, a curated experience and a destination for modern living," she added."

What is Poosh?

Also on the site's About page is an explanation of the identity of Poosh. The site is described as a platform that's all about balance and moderation.
"The very essence of healthy living is moderation. Healthy living is a mindset, and Poosh explores how the modern woman is able to achieve just this," the Who We Are section reads. "We're not about preaching or judging, we're about exploring and conversing. This isn't a monologue, it's a dialogue."
The site rejects the notion that life is black-and-white. Therefore, it's ok to live a healthy lifestyle but still own leather shoes or use eyeshadow that isn't made of all-natural ingredients.
Who is the Poosh reader?

"You're cool. You're confident. You're clever. You care," Poosh's Who You Are section says. And you're probably a fan of Kourtney Kardashian's as well as the rest of the Kardashian-Jenner family.
"You want it all, and you want a place that provides a little bit of everything, without being lectured or preached to (you already have a parent/ partner/ child/ sibling — we feel you)."
Visitors to the site can expect beauty tips from Kardashian, recipes, fitness tips, travel diaries, interviews, and more. The best part about Poosh is that unlike Kardashian's now-shutdown app, it's free.
The section ends with this: "Think of us as a really good friend…but way less judgy." There you have it. The details on Kardashian's new site, Poosh.
Kardashian fired back at comedian who made fun of her Poosh post
When Kardashian teased the launch of Poosh, she posted a naked photo of herself on Instagram with a laptop in front of her and a teacup in one hand.
People quickly began wondering about Poosh, which created instant buzz. Maybe the idea was Kris Jenner's or maybe that of Kardashian herself.
Following Kardashian's post, comedian Celeste Barber created her own version of the same photograph on Instagram. She captioned her post, "When you're flat out trying to keep the world interested in your talent," according to E! News.
"When you've got so much talent, might as well share it," Kardashian commented on Barber's post. She added a winking-face emoji for good measure.