Where Do Khloé Kardashian and Jordyn Woods Stand 1 Year After Tristan Thompson Cheating Scandal?
A lot has gone down between Kardashian and Woods this past year, which has caused us to wonder where exactly these two women stand today?
It's hard to believe that it's been a year since word got out that Khloé Kardashian's ex, Tristan Thompson, had allegedly cheated on her with Kylie Jenner's now-former BFF, Jordyn Woods.
Though this epic scandal happened 12 months ago, a lot has gone down between Kardashian and Woods this past year that has caused us to wonder where these two women stand today?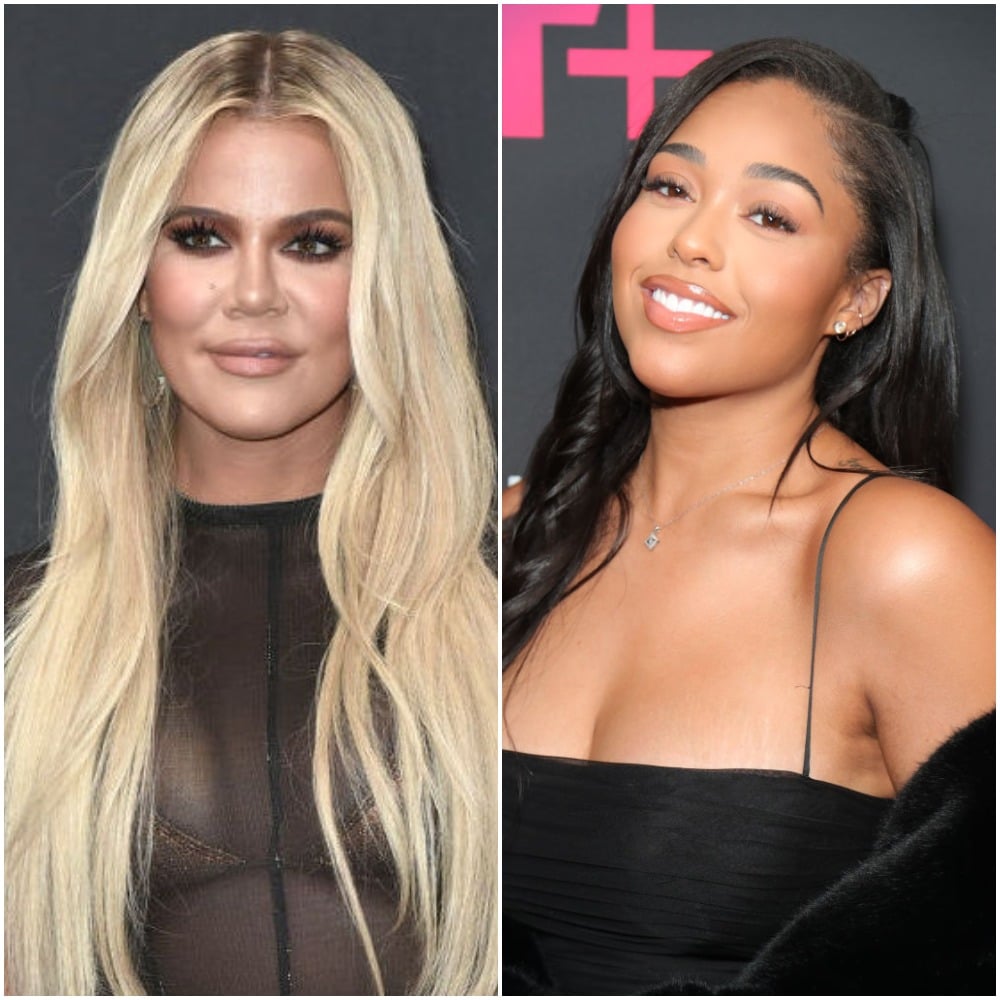 The Kardashians blacklisted Woods following the scandal
This time last year, Woods and Kardashian found their lives turned upside down following that epic cheating scandal that left the model blacklisted and the reality star brokenhearted.
In February 2019, news broke that Woods had allegedly hooked up with Thompson — the father of Kardashian's child — while attending a house party in L.A.
Though the model and the NBA player initially denied that anything happened, Woods soon revealed that she did kiss him but said it was just simple "peck."
Despite begging the Kardashian-Jenners for their forgiveness, the model still found herself ousted from the famous family's inner circle and plagued by the internet for committing the ultimate betrayal.
After that, Woods moved out of the Calabasas mansion she resided at with Jenner and back in with her family, where she maintained a low-profile for the next few weeks.
As for Kardashian, this scandal caused her to lose two people she once considered family. Not only did she effectively end her longtime friendship with Woods — who she once thought of as sister — Kardashian also ended her relationship with Thompson once and for all.
Kardashian took a while to come to grips with the scandal
In the months following the scandal, the Kardashians remained pretty tight-lipped on the situation, that is until Keeping Up with the Kardashians aired an episode detailing the aftermath of the event in June 2019.
During the two-part season 16 finale, viewers watched as Kardashian was still coming to terms with the alleged cheating scandal and expressed how hurt she was that two people she cared about went behind her back.
To try and help her take her mind off of the drama, Kim and Kourtney Kardashian, along with KoKo's BFF Malika Haqq, whisked the Good American founder away to Palm Springs for a girls trip.
There, Kardashian had a little too much to drink and full-out slammed Woods and Thompson for their previous actions.
"Liar! Liar! Tristan, f**k you if you can hear me!" Khloe screamed while on a FaceTime call with Tristan's best friend, Savas Oguz.
"They both admitted it to me. Both of them. Those both fat f**king a**holes. Don't f**king lie to me though about lying though," the reality star continued. "Don't f**king say… you didn't do something that you f**king did when you both f**king told me you f**king kissed, bitches! And you're a f**king liar."
Even before then, Kardashian had called Woods a liar after she appeared on an episode of Red Table Talk to open up about that night with Thompson.
While the model claimed she left immediately after Thompson kissed her, Kardashian took to Twitter to make it clear that she didn't believe a word her former friend said.
"Why are you lying @jordynwoods?? If you're going to try and save yourself by going public … at least be HONEST about your story." she tweeted. "BTW, you ARE the reason my family broke up!"
She recently admitted that she's forgiven Woods and Thompson
Though Woods claimed to have moved on from the scandal a few weeks after it happened, it took Kardashian a little while longer do the same.
It wasn't until December 2019 that the reality star took to Instagram to reveal that she had moved on from the situation and no longer holds grudges toward those who hurt her.
"I don't hold any negative or hateful feelings towards ANYONE! I mean that. Life is short! We are all humans trying to figure out this thing called life. Who am I to condemn anyone else?" she wrote in a lengthy Instagram Story. 
"Yes, I'm allowed to feel hurt and pain. It would be unnatural for me to pretend as if I don't," she added. "Personally, I don't want to be carrying around a hateful heart. I crave peace in my life. Me holding onto hate is only going to hurt me in the end." 
Kardashian hasn't brought up the scandal since, and from what we can tell, she no longer harbors ill-feelings toward Woods or Thompson.
The model just wants to leave the past behind her
While Kardashian made it clear that she wants to leave the past behind her, a source close to Woods recently revealed that she's been trying her best to do the same.
Exactly one year after the scandal, a Woods family friend told People that the model wants to continue moving forward and is done saying sorry for something she can't change.
"Jordyn's position now is she's going to just let it be what it is," a close family friend shared with the outlet. "She said what she had to say."
The source also revealed that Woods has been keeping busy and is only focused on her career nowadays.
"She's working. She had a stint on a T.V. show and she has a couple brand deals coming up," the insider continued. "She's not doing too, too much, but is staying busy."
Though Woods and Kardashian have both moved on from this cheating scandal, its hard to really tell where they stand today.
While Kardashian admitted to forgiving the model, we're pretty sure the two women are still not on speaking terms and probably never will be.
This scandal did a number on both of them, so it's probably best that they keep whatever feelings they once had toward each other in the past and just continue living their own lives.