Where Is the Cast of 'Friday Night Lights' In 2019?
If the phrase "Clear eyes. Full hearts. Can't lose." sends you spinning into an emotional spiral, then you probably know that it's the 13th anniversary of Friday Night Lights. The NBC drama premiered on Oct. 3, 2006, and ran for five seasons.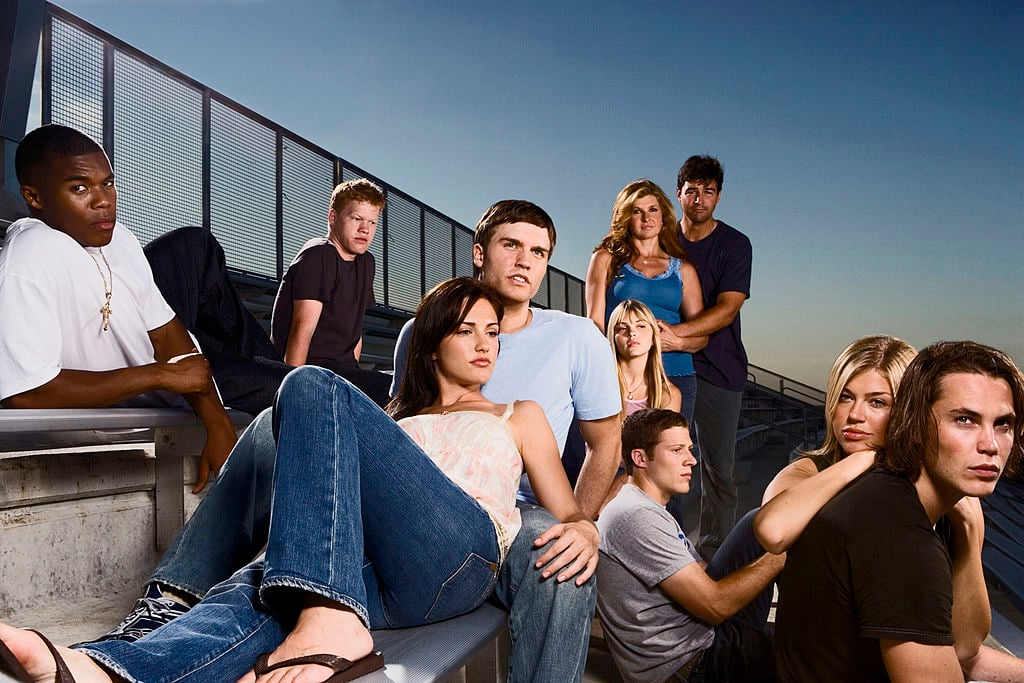 Because it had a lot of different stars over the years, we're just going to focus on those that were billed as main cast members in Season 1 (see above photo. Let's take a look at how far they've all come in their careers.
Kyle Chandler
Chandler portrayed Coach Eric Taylor, who becomes the new football coach of the Dillon High School Panthers. Throughout the series, he guides his team both on and off the field. Chandler was on the show for all five seasons.
After Friday Night Lights, Chandler starred in films like The Wolf of Wall Street and Manchester by the Sea. He also continued on TV in the Netflix show Bloodline. He's now a part of the major Godzilla franchise and starred in Catch-22 on Hulu.
Connie Britton
Britton starred as Tami Taylor, wife of Coach Taylor and school guidance counselor. Like her husband, she changed jobs within the school, and she was always there for the teenagers and young adults of the town. Britton was also on for all five seasons.
Britton went right from FNL to American Horror Story, starring in the first season. She then starred in several seasons of Nashville. Other recent series include 9-1-1, SMILF, and Dirty John. Britton has a few films in post-production, including Bombshell, about the Fox News scandal.
Aimee Teegarden
Teegarden played Julie Taylor in FNL. Julie is the eldest daughter of Tami and Eric, and begins to date one of the football players on her dad's team. She is widely regarded as one of the least-liked characters in the series, though she remained on until the end.
Like Britton, Teegarden has also stuck with TV for the most part, appearing in shows like Aim High, and Notorious. She also recurred in the Netflix series The Ranch. Teegarden has a few projects in the works right now.
Taylor Kitsch
Kitsch broke out as Tim Riggins in FNL. Riggins is a young athlete who is a bit troubled, and struggles to balance his personal life. Kitsch was a part of the show's main cast through Season 4 and recurred in Season 5.
The actor has done fairly well for himself since the series ended. He starred in Season 2 of True Detective, as well as in the miniseries Waco. Kitsch is set to star in the new thriller series Shadowplay in 2020.
Jesse Plemons
Plemons portrayed Landry Clarke, the music-loving nerd who later joins the football team. He starred in the first four seasons of FNL before returning as a guest star in Season 5.
Plemons has broken out as both a comedic actor and drama star in the years since the show ended. You may know him from Breaking Bad, Fargo, or Black Mirror, but he's also made us laugh in Drunk History and Game Night. Plemons has numerous projects in the works, including an upcoming adaptation of The Bell Jar.
Minka Kelly
Kelly portrayed Lyla Garrity, a cheerleader. She starred in the first three seasons of FNL before leaving, returning as a guest star in Season 4.
Kelly had a recurring role in Jason Katims' next series, Parenthood. She then starred in short-lived TV series such as Charlie's Angels and Almost Human. Kelly recurred in shows like The Path and Jane the Virgin. At present, she plays a superhero in Titans.
Zach Gilford
Gilford played Matt Saracen, a new recruit on the Dillon Panthers who has to step up after tragedy strikes. Gilford was part of the main cast through Season 3, recurring in Seasons 4 and 5.
The actor has had a number of roles in film and TV since FNL ended, including the short-lived series The Mob Doctor and the movie The Purge: Anarchy. He currently recurs in Good Girls and is a regular in L.A.'s Finest.
Adrianne Palicki
Palicki portrayed bad girl Tyra Collette in FNL. Like many of the others who were in high school at the beginning of the series, she left after Season 3, returning as a guest star in Season 5.
You may recognize Palicki from a number of roles, many of which fall into the action/superhero genre. She was set to portray Wonder Woman in a 2011 TV series that never transpired. Palicki also starred in Seasons 2 and 3 of Agents of SHIELD. At present, she stars in The Orville.
Gaius Charles
Charles portrayed Brian "Smash" Williams in the first two seasons of the Friday Night Lights. He also recurred in Season 3. The show had a serious lack of diversity aside from Charles, which was later amended slightly with the addition of actors like Michael B. Jordan and Jurnee Smollett.
Aside from his role in FNL, you may know Charles as Dr. Shane Ross in Grey's Anatomy. He was on the long-running medical drama for just two seasons. Charles also recurred in Season 1 of God Friended Me, which recently returned for a second season.
Scott Porter
Finally, Porter portrayed Jason Street, the star quarterback of the team who suffers a life-changing trauma in the very first episode. He continued to star in the series through Season 2, recurred in Season 3, and returned for a guest appearance in Season 5.
Porter, like many of his co-stars, has done fairly well for himself on TV. He's recurred in shows like The Good Wife and Scorpion. He also had a lead role in the CW drama Hart of Dixie. Porter has a thriving career as a voice actor, voicing characters in numerous video games and TV series.