Where to Stream All the 'Scream' Horror Movies For Halloween 2021
"What's your favorite scary movie?"—All the Scream movies! Horror fans are ready to confront Ghostface for Halloween 2021. Serious Halloween enthusiasts start their countdown in August. But September is the prime time to catch up. Fans kept track of the long-awaited Scream 5, which should premiere in early 2022.
Until then, where can horror movie buffs watch the Scream movies? Many of them are ready to stream Halloween Kills on Peacock in October. So they'd like to add another flick to their Halloween watch-fest.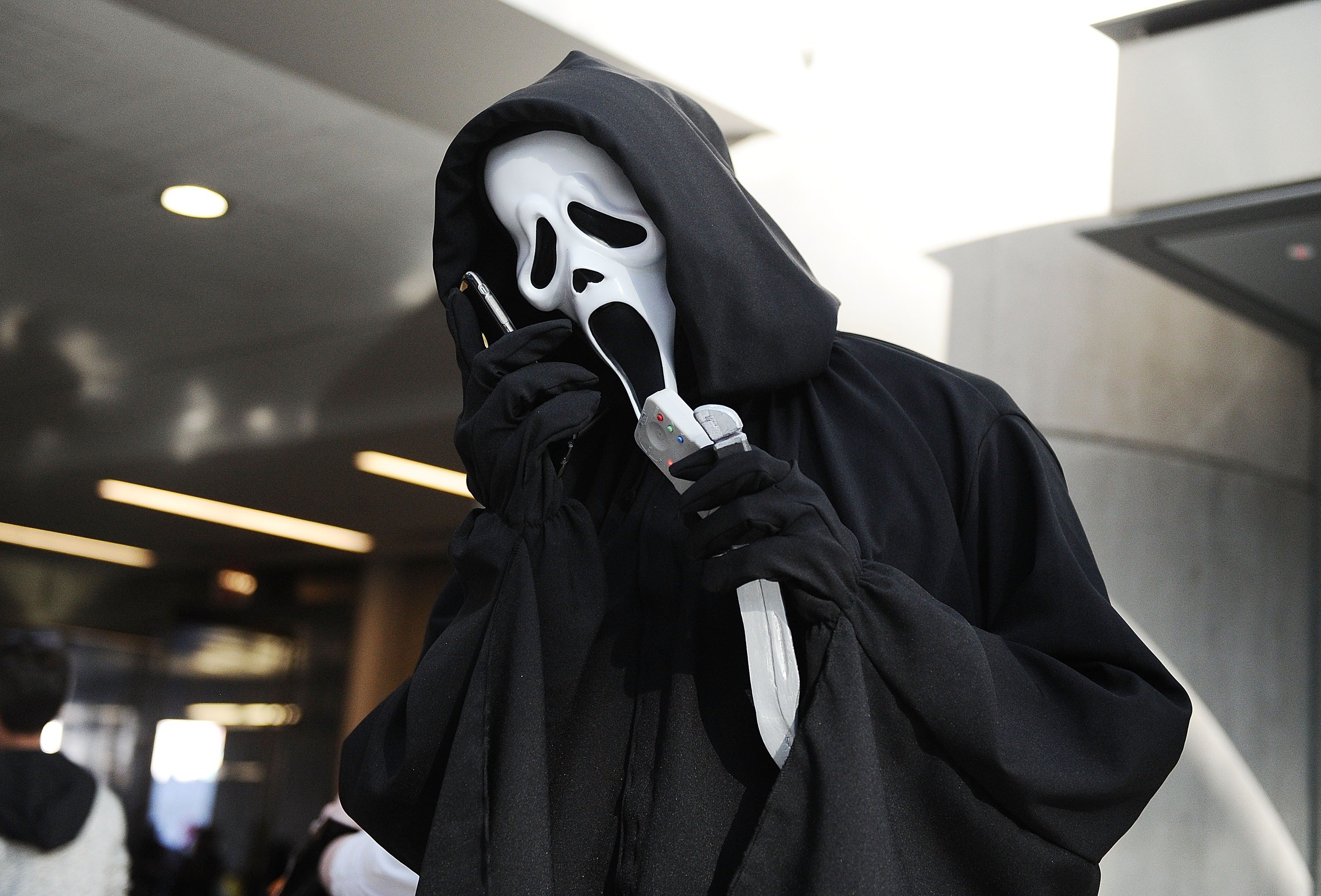 How many 'Scream' movies are there?
As of 2021, there are four Scream movies.
Sidney Prescott (Neve Campbell) picks up the phone and hears Ghostface for the first time. But poor Drew Barrymore is the first to face his wrath. The famous actor was supposed to star in the lead role but opted for a smaller one due to other commitments. The first flick includes Matthew Lillard, Courteney Cox, David Arquette, Skeet Ulrich, and Rose McGowan.
In 1997, the late Wes Craven established a franchise by releasing Scream 2. The original stars Cox, Arquette, and Campbell reprised their roles. Sidney is in college, recovering from her traumatic experience in high school. She now has a trustworthy boyfriend, a new best friend, and studies Drama. But a new Ghostface threatens her life.
It was no surprise to horror fans when Scream 3 came out. But this one emphasized a cinematic element, complemented by its Hollywood setting. Sidney uncovers the truth behind her mother's death. Her life is truly one long horror movie.
By the time Scream 4 debuted, many horror fans were surprised but pleased. After all, it's not rare to continue a highly successful franchise. Now an adult, Sidney returns to Woodsboro to promote her new book. But Ghostface returns—again. Sidney knows the game but discovers how personal it's become for her and her family.
Stream each 'Scream' movie for Halloween 2021
Some critics wonder why the slasher flick became a cult classic. They believe the flick is a run-of-the-mill, formulaic horror with gory scenes, comedic moments, and a simple love story. Although the killer is usually one step ahead of everyone, many critics think the "whodunit" theme is stale.
Nevertheless, Craven ensured this would be a fresh take on horror. Through satire, the horror-comedy derides its genre. Older scary movies created a misogynistic reputation. Many women characters appear unaware of their surroundings as they clumsily run from the killer. Even Sidney says "they're all the same" in 1996's Scream.
This is one of the main reasons horror enthusiasts adore Scream. Each film raises the bar yet maintains the irony.
To gear up for the fifth installment, fans can watch each satirical slasher at home. Scream 1-3 stream on HBO Max until late September 2021, according to Discussing Film. Scream 4 is on AMC+ and Hulu. Other streaming services have not confirmed if they would add the Scream movies to their collections. So horror fans should stop waiting and start watching if they want to watch the movies by Halloween 2021.
Since Paramount Pictures own the films, horror fans hope they can watch the franchise on Paramount+.
When is the new 'Scream' movie coming out?
Titled Scream, the fifth film wrapped production in November 2020. Paramount scheduled Scream 5 for Jan. 14, 2022. So far, viewers expect a theatrical release. But the company might weigh premiere options due to pandemic concerns.
Paramount has not released a detailed synopsis yet. But the company confirmed the return of the franchise's original stars.
The cast of Scream 2022 includes plenty of new faces: Melissa Barrera (In The Heights), Jenna Ortega (Insidious: Chapter 2), Jack Quaid (The Hunger Games), Mason Gooding, Jasmin Savoy Brown (The Leftovers), Dylan Minette (13 Reasons Why), Mikey Madison (Once Upon a Time…in Hollywood), Sonia Ben Ammar, and Kyle Gallner (American Sniper).