Where You Can Buy Kaia Gerber's 24k Gold Facial Treatment
Kaia Gerber has been getting a lot of attention for her short-lived but gossip-worthy relationship with comedian Pete Davidson. Since the couple called it quits, fans have been following along with Gerber's attention-grabbing decisions like posting an Instagram picture alluding to a potential pregnancy and walking down the runway in what looked suspiciously like a wedding gown.
While these may be some over-the-top signs of someone hanging on after a relationship has ended, more recent events suggest that Gerber may finally be moving on. Whether it's moving on to a new hobby like sitting on the other side of the tattoo gun or pampering herself, Gerber seems to be doing just fine after the tumultuous romance came to an end.
One way that she's taking care of herself is with lavish facial treatments. Considering her line of work and her lineage, Gerber surely knows the value of good skincare, and she's putting the belief in pricey products on full display.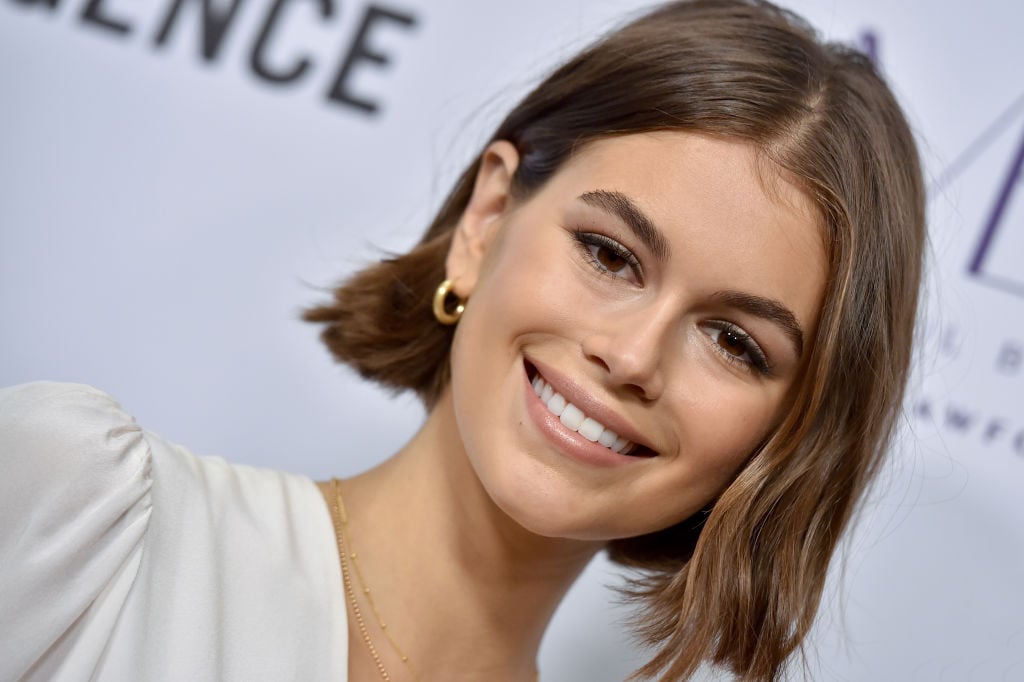 Kaia Gerber knows the value of good beauty products
Gerber may only be 18 years old, but she's already a well-established model with a family history of greatness. As the daughter of model and businessman Randy Gerber and supermodel Cindy Crawford, she knows a thing or two about how to look her best. It's paid off in a major way. She signed a contract with IMG models in 2015, and her career has been taking off ever since.
With more than 5 million Instagram followers and contracts with companies as high profile as Chanel and Jimmy Choo, Gerber is trusted to represent some very luxurious brands. It's crucial that she stay looking her best, and she relies on some truly elite products to do so.
Kaia Gerber's beauty secrets include a 24-karat facial treatment
Gerber's appearance at Paris Fashion Week was a time when she knew she had to shine, and she took the challenge literally by preparing with one of the world's fanciest facial masks before her Saturday appearance on the runway. The mask includes real 24-karat gold and is a specialty of Mimi Luzon, a facial care specialist who is known to work for clients like Bella Hadid and Irina Shayk. 
The facial care expert explains that the product is known for "treating redness and fine lines while evening the skin's tone and promoting a healthy glow." It has been a favorite for other famous people including Victoria's Secret models. The fact that Gerber turned to this treatment at such a crucial moment in her career — one where all eyes would be on her in person — shows just how respected it is among professional models. 
The luxury mask is available for home use
If you want to get star treatment for your own at-home spa day but don't have the cash on hand to hire an expert like Mimi Luzon, rest at ease. The 24k Pure Gold One Treatment is available for purchase. The description for the cream promises "an immediate sense of wellbeing" and associates itself with Queen of Egypt Cleopatra, who allegedly used gold to get her famously glowing skin.
Beware, however, that the treatment isn't cheap! A single-use amount will set those looking to be pampered back $139. That's a steep price to pay for mere minutes (the instructions say to leave it on for about ten) of getting to taste the life of a celebrity model, but perhaps the glowing results will be worth it. At the very least, the gold-plated selfies and the bragging rights of the experience leave some shoppers ready to take the plunge.