Which 'Angel' Cast Member Has the Highest Net Worth?
You can probably count on two hands the number of spinoffs that have done as well (or better) than their predecessors. Angel, the second series from Buffy the Vampire Slayer creator Joss Whedon, is among those select few, having garnered critical and audience adoration over its five seasons on the WB.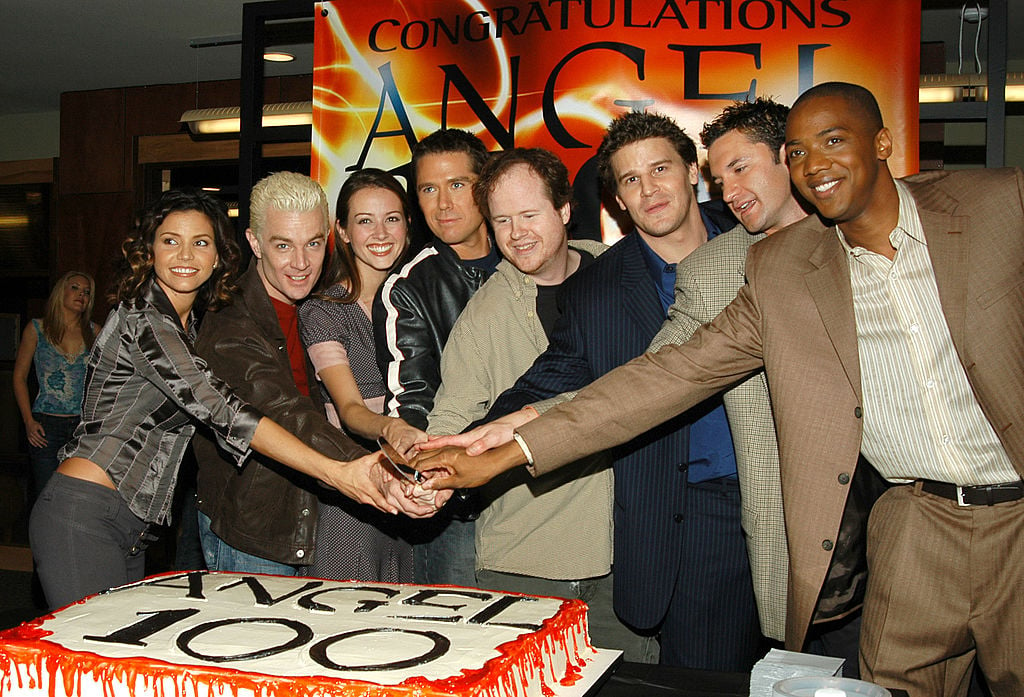 Now, almost 20 years after the pilot, "City Of," premiered, the main cast gathered to reminisce about their time on the beloved drama. Here's a look at what they've been up to since it was canceled, and how much each star is worth today.

David Boreanaz

Boreanaz played the titular Angel, a vampire with a soul seeking redemption. His character was introduced in Buffy and became a love interest for the demon-slaying teen. In Angel, he moves to Los Angeles and starts his own detective agency, with the help of some old and new friends. Angel grows throughout the series from a brooding loner to jovial business owner.

The actor behind the character has continued to thrive on the small screen. After Angel, he landed the starring role of Agent Seeley Booth in Bones, which ran for 12 seasons on Fox. Following that, he segued into the role of Jace Hayes, an elite leader in the military drama SEAL Team. Given his multiple long-running TV successes, Boreanaz has the highest net worth of all his former castmates at around $30 million, according to Celebrity Net Worth.

James Marsters

Though he was in attendance at the reunion, Marsters only portrayed Spike, another "good guy" vampire, on Angel for the final season. Prior to this, he was a regular in Buffy, which was canceled the year prior to Angel. Spike is Angel's long-time foil, but the two manage to work together — albeit with many conflicts.

Marsters hasn't had a particularly steady career after Angel. He had recurring roles in series such as Smallville, Without a Trace, and Hawaii Five-0 before landing a lead part in the Hulu Marvel series Runaways. Marsters has also maintained a music career throughout all of this. His net worth is thought to be approximately $5 million, according to Celebrity Net Worth.

Charisma Carpenter

Carpenter portrayed Cordelia Chase, a snobby high school cheerleader who became friends with Buffy and the gang in Sunnydale before moving to Los Angeles to pursue an acting career. There, she became reacquainted with Angel and became a pivotal part of the team working to "help the helpless," before her character was written off in Season 4.

Despite the unfortunate circumstances of her departure, Carpenter has gone on to have a fair amount of success over the years. She had a notable role as Lacy in the action franchise The Expendables. Carpenter had recurring roles in series such as Veronica Mars and Greek, and starred in the short-lived ABC Family show The Lying Game. According to Celebrity Net Worth, Carpenter has a net worth of close to $4 million.

Alexis Denisof

Denisof arrived on Angel mid-way through the first season, having been first introduced as a member of the Watcher's Council on Buffy. He portrayed Wesley Wyndam-Pryce, whose knowledge of demons assisted the team while he became a strong fighter alongside Angel. Denisof remained on the series until the series finale, when his character was killed.

It has taken Denisof awhile to find success. Aside from unrecognizable cameos in The Avengers and Guardians of the Galaxy as the Other, he has stuck to TV, appearing in series such as Dollhouse and How I Met Your Mother (opposite his wife and Buffy co-star Alyson Hannigan). In recent years, he has had a few more notable TV roles, in series like Grimm, Finding Carter, and Chilling Adventures of Sabrina. Denisof may be worth around $2 million.

Amy Acker

Acker first portrayed Winifred "Fred" Burkle in Season 2 of Angel, soon becoming a regular cast member. Fred is a scientist who was trapped on a demon planet for years before being rescued by Angel Investigations and quickly becomes a vital part of the team. Though Acker remained on the series through the finale, Fred did not: Instead, her body was taken over by Illyria, an ancient being.

Acker has found quite a bit of success on TV since Angel ended. She starred in the final season of Alias before she was cast in Whedon's Fox series Dollhouse. Acker then had a main role in the short-lived comedy Happy Town, which she followed up with a notable part in Person of Interest. Additionally, she starred on the Fox-Marvel series The Gifted. As for her net worth, Acker is estimated to be worth approximately $2 million.

J. August Richards
Richards played the recurring character Charles Gunn, a young demon hunter, in Season 1. He then goes on to join the team full-time. Richards has, like his co-stars, done well on TV. He had notable roles in Raising the Bar, Agents of SHIELD, and Girlfriends' Guide to Divorce before landing a lead gig on the short-lived comedy Kevin (Probably) Saves the World. Richards' net worth is hard to determine but may be around $1.6 million