Which 'Below Deck' Crew Members Made Captain Lee's Dream Team?
Which 'Below Deck' Crew Members Made Captain Lee's Dream Team?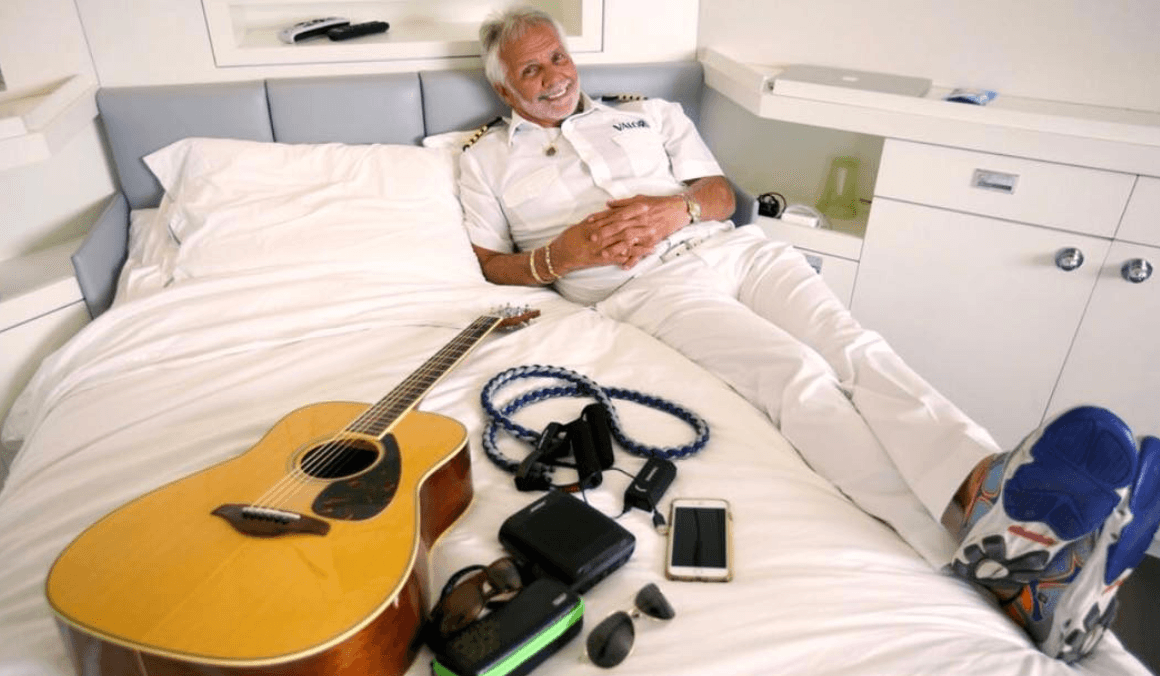 With more than a few seasons of Below Deck under his belt, which crew members would make Captain Lee Rosbach's rock star roster? Rosbach and chief stewardess Kate Chastain sat down with Bravo to dish about who made the cut.
Obviously, Rosbach is smitten with Chastain and says, "We just work well together [he and Chastain] and I don't have to worry about anything," he says. Sorry, Hannah Ferrer and Andrienne Gang. Chastain says her personal dream team is pretty much the Below Deck season 6 crew ("give or take a couple of them"). But what about Rosbach? Who would he choose to create his Below Deck "dream team?" Let's dream.
Deckhand: Colin Macy-O'Toole
Colin Macy-O'Toole won both Rosbach and Chastain's stamp of approval. Macy-O'Toole was notoriously always on his game, hilarious and a team player on Below Deck Mediterranean. Chastain and Macy-O'Toole did some long-distance flirting. Chastain tweeted, "Omg please can I adopt Colin from #BelowDeckMed. cutest. Of. All. Time. ( that would be called COAT to you Joaiao)."
The feeling is mutual as Macy-O-Toole told Bravo's The Daily Dish, "I've never met Kate," he said. "I think I am trying to go down to Florida at some point this year, just to hang out with friends, but if she's down there, I'd love to meet her and just say hello."
Deckhand: Jamie Jason
https://www.instagram.com/p/BpFurglhbtj/?hl=en&taken-by=jamielynnjason
Rosbach chose Jamie Jason, another Below Deck Mediterranean deckhand. Like Macy-O'Toole, Jason kept her head down and remained professional, but fun while performing her job while on charter. Captain Sandy Yawn, who worked with Jason tweeted, "Future captain!!! to Jason. Needless to say, Yawn is a fan too.
Stewardess: Kat Held
https://www.instagram.com/p/BVtYW_0F47b/?hl=en&taken-by=katostate
In a reunion episode of Below Deck season 5, Rosbach plucked Held out from working with her on previous charters. Held brought the drama on one or more occasions, even angering Rosbach from time to time. However, Chastain and Held worked well together so perhaps that's where he was going with this line of thought. "I thought Kat was an outstanding stew," he said at the reunion.
Chef: Ben Robinson
In front of his latest chef, Matt Burns, Rosbach seems to want chef Ben Robinson on his dream team. Ouch. "Ben was a good chef," Rosbach says in somewhat of a questioning tone. "Yeah…I'd work with Ben again." Robinson appeared in four Below Deck seasons, But fat chance Robinson would come back. "I've decided to take a break from the show this season. I will continue to focus on my career as a chef and holistic nutritionist, and I'll have a lot of exciting news on these fronts soon!" he said in a statement to Bravo's The Daily Dish. "The door is always open for Below Deck, and I wish the crew all the best with the upcoming season."
Robinson's coveted spot may have already been snagged as Rosbach elevated new chef, Adrian Martin to number one chef.
Bosun triple play: Kelley Johnson, Eddie Lucas, and Nico Scholly
https://www.instagram.com/p/BRbwpIGDsF9/?hl=en&taken-by=nico_scholly
Three bosuns made Rosbach's cut, but all three were on his "naughty" list at one point during charter. While highly skilled, Lucas tripped up by having a secret affair with stew, Raquel "Rocky" Dakota on charter. The affair left the bosun often dazed and confused.
Kelly Johnson had a rough start but rose to the occasion during the next season. "Just watching myself, I cringed a lot during Season 2," Kelley told Bravo's The Daily Dish about his relationship with Rosbach. "And coming into this season, I just wanted to show [Captain Lee] what I could really do and what other boats had seen me do while I was working on them. I looked up to Captain Lee on Season 2 — it may not have shown through during that season — but I really do look up to Captain Lee, and so earning a good job from him is a very big deal to me."
Scholly started as a deckhand under Rosbach, He became bosun but during a tumultuous time in his life. Scholly's brother recently died, plus he was still new to the job. Bravo reports, "I think Nico lacks the integrity to do what we do," Rosbach said on After Deck with Kate Chastain's podcast. "I mean when he unloaded Bri at the end, he didn't even have the balls to tell her that he was going back with his girlfriend. He told her he was going back because of family matters. I mean that was a crutch, an obvious crutch."
Check out The Cheat Sheet on Facebook!