Which Character Was on 'Days of Our Lives' the Longest?
With soap operas seemingly being on their last legs in recent years, a small handful continue to keep going on network TV. Only Days of Our Lives and General Hospital are the longest-running, with DoOL arguably being the most popular of them all.
One good reason for this is no doubt the connective strings to longtime cast members. Shows like Days clearly keep a devoted fan base because they don't always kill off the older actors in favor of an all-new, younger cast.
Well, a lot of youngers have come aboard in waves. Even so, many older characters are still going on the show, some after nearly four decades. While the oldest characters have since passed away, a few older women characters continue to pop up. One, though, stayed on longer than any other.
Who is the current longstanding woman character on 'Days of Our Lives?'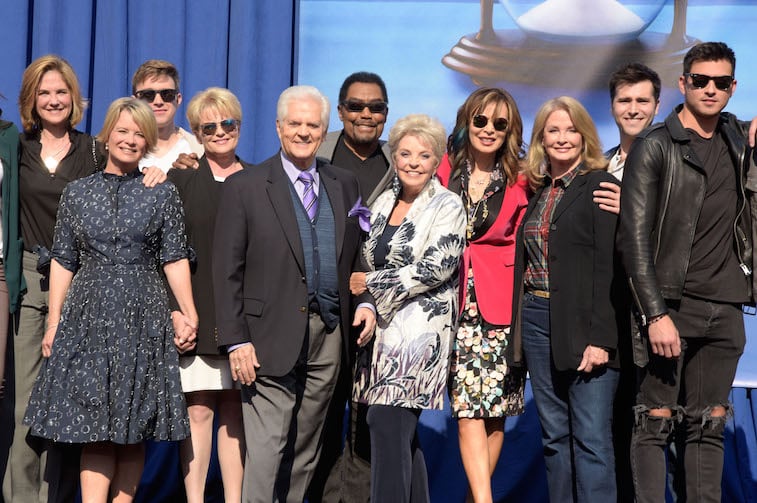 According to recent data, Suzanne Rogers (who plays Maggie Horton) is currently the longest-running female character still on the show. She's been on there 46 years, starting in 1973. That was back when names like McDonald Carey and Frances Reid were regulars as the heads of the Horton family.
Maggie came in as a love interest for Mickey Horton. The two married, making Maggie a part of the Hortons for years. However, the writers had her character killed off by a serial killer in 2003.
A year later, they had her brought back as part of a plotline to resurrect all the murdered characters on the fictional island of Melaswen. To date, Rogers is still listed as a regular on Days of Our Lives, despite only appearing occasionally.
She isn't the only woman character who's been with the show for years. A number of others have been on since the 1970s.
Bill Hayes, Deidre Hall, and others
Technically, Bill Hayes is the longest-serving cast member of all (playing Doug Williams) if you consider he started on the show a year before Suzanne Rogers came aboard. While he and Rogers are only seen briefly and occasionally, it's proof the show values their elders.
Many other women were hired for the show throughout the 1970s to gradually acclimate a slightly younger cast. Names like Susan Seaforth Hayes (who plays Julie Olson Williams) and Deidre Hall have been on almost as long as Bill Hayes has. Susan Seaforth Hayes happened to take that last name because she's married to Bill Hayes in real life.
Deidre Hall has been with DoOL since 1976, outside of departing the show a few times. Some of these actors above have taken breaks periodically before being rehired. Hall's Marlena Evans has gone through virtually everything you can name as most soap characters do.
Nevertheless, Hall is still seen, but she isn't the all-time longest running actor. Only one from the show's debut year ended up being the longest-running, depending on one's calculations.
Frances Reid was on the longest
Alice Horton was the matriarch of the Hortons from the beginning in 1965. Although Frances Reid died in 2010, she played the role of Alice for 44 years.
In terms of longevity, that's already been beaten by Bill Hayes and Suzanne Rogers, though it depends on what you consider a consistent character. Reid was on the show continuously without many breaks, so she was on technically the longest.
With no end in sight for Days of Our Lives, this record might be broken several times over down the road. Several generations continue to have an emotional connection to the show thanks to older characters still popping in and out of the stories.
No other fictional show on TV can say they still have the same characters who've been on for over four decades. Perhaps TV executives will learn that respecting those legacies is why soap operas probably aren't dying as much as critics say.