Which Duchess is Nicer in Real Life: Meghan Markle or Kate Middleton?
Kate Middleton and Meghan Markle share a similar age, similar husbands, and the same royal titles. While Kate has been doing the whole "royalty" thing for a while now, Meghan is still new to the job and has been navigating her royal role the best she can. Over the past year, there have also been rumors that things between Meghan and Kate aren't all that smooth. But what are these duchesses like in real life; is one nicer than the other?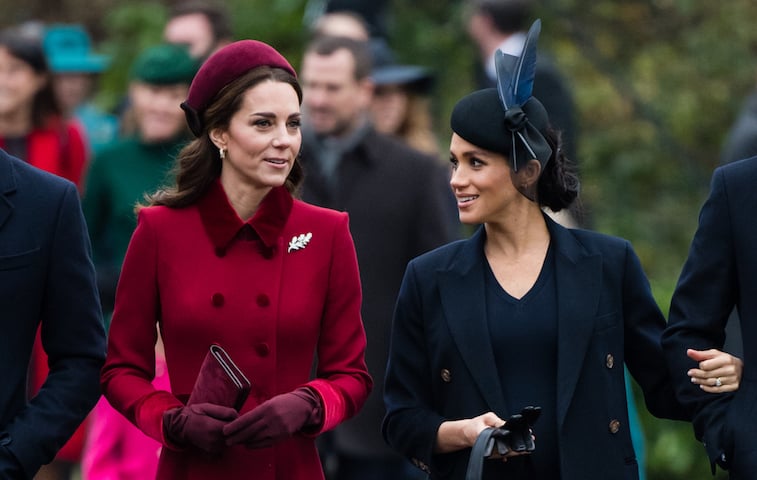 Kate and Meghan have been at odds in the eyes of the public
The public and the media have had their eye on Kate and Meghan's relationship ever since Meghan married Prince Harry. And last year, those close to the duchesses reported that things between the two were not going smoothly. It seemed like every day there were new rumors about the two women circling in the media. Despite neither woman ever acknowledging anything wrong between them, the public continued to wonder if things were rocky. Finally, the two women made an appearance together on Christmas Day looking very happy while walking next to each other, and since then, the rumors have died down significantly.
Those who knew Kate growing up said she's calm and down to earth
Kate's family was well-known by those in her hometown, and everyone the Middletons had known growing up seemed to have only good things to say about the Duchess of Cambridge. The owner of a pub the Middletons used to frequent said the whole family was "liked and loved by loads of people." A childhood friend of Kate's also said she was very down to earth and never lashed out at photographers for trying to capture a quick photo of her. She always does appear cool and collected in public, and clearly she has grasped the royal role very well.
Meghan's family claims she's not as nice as everyone thinks she is
Meghan has always appeared very calm, cool, and collected in public, but her family has had plenty to say about the royal — and it hasn't been good. Her half-sister Samantha said that Meghan is reportedly embarrassed that she's in a wheelchair. She also claims Meghan is a social climber who neglected her family years ago and continued to do so when she married Harry. Her ex-husband said Meghan divorced him out of nowhere and ruined his life; her father said she completely cut him off and doesn't answer his texts or speak to him anymore. Realistically, the allegations made by Meghan's family could very well be false. It seems that rather than supporting her, they're out to get her.
Meghan's friends have always had nothing but kind words to say about the Duchess
On the contrary, Meghan's friends have always had amazing things to say about the Duchess. They have said she's very kind and funny and has always taken care of them. One friend of Meghan's said she helped find proper care for her son when he was diagnosed with special needs. Meghan's friends have also backed her charity work and her own good will; they said Meghan has found success in acting and always shared that success with friends.
It's difficult to say which duchess is actually nicer. While Kate appears to have a more supportive family than Meghan, it's possible that Meghan has given off a bad vibe with some of her family members over the years. Both women handle their royal roles with poise and grace, and both women appear to be very kind, gentle people.
Check out The Cheat Sheet on Facebook!