Which Food Network Star Has the Higher Net Worth: Guy Fieri or Bobby Flay?
Which one of these stars is richer?
Food Network has produced some incredibly wealthy chefs. And the biggest names on the channel tend to have more than one show. But as far as male Food Network chefs go, it seems there are two who are more well-known than the others: Guy Fieri and Bobby Flay. Which of them has the higher net worth?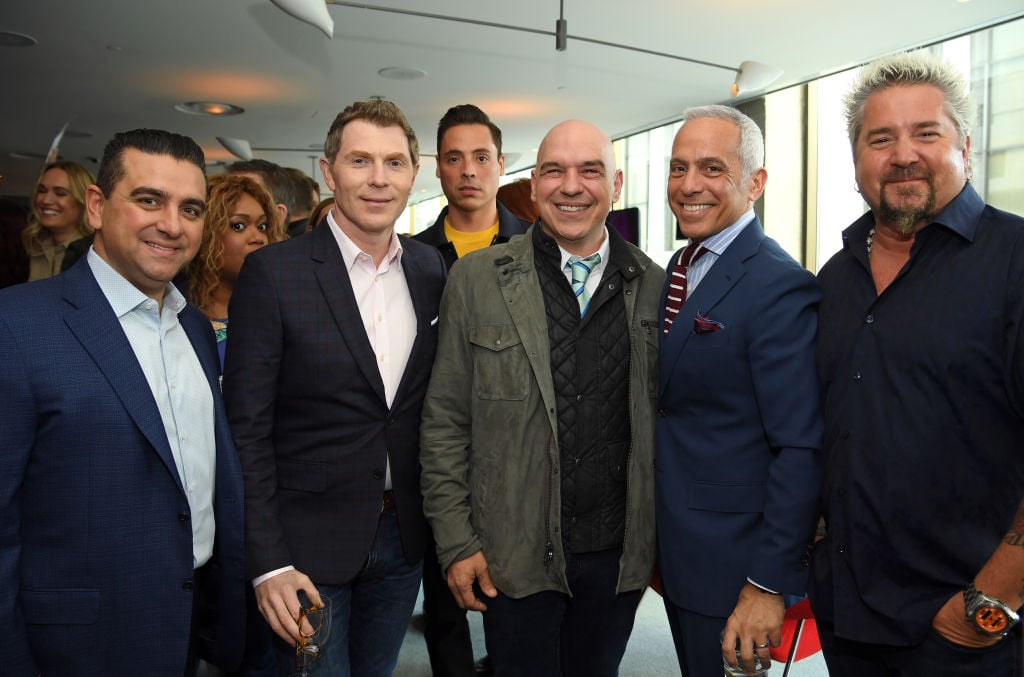 Guy Fieri didn't actually go to culinary school — yet he has several shows on the Food Network
Fieri was born in Ohio but raised in California. He attended the University of Nevada at Las Vegas and majored in hotel management. However, he developed a passion for cooking in high school and studied abroad in France, where he furthered his interest in food. He entered a cooking competition, The Next Food Network Star, back in 2006, and won, giving him his first Food Network show, Guy's Big Bite. But Fieri is most known for his iconic show Diners, Drive-Ins, and Dives, which premiered back in 2007 and still runs today. He also has another show Guy's Grocery Games, which frequently airs on the network.  
Today, Fieri is worth an estimated $8.5 million
After more than a decade of being America's most rambunctious cook, Fieri has earned himself a net worth of about $8.5 million. He's become a household name due to his bleach blonde hair and big personality. In addition to hosting Food Network shows, Fieri also is the co-owner of several restaurants out in California as well as eateries in New York and Las Vegas. Diners, Drive-Ins, and Dives has been nominated for two Emmy Awards, and Fieri doesn't appear to be slowing down. He lives in California with his wife, Lori, and he has two sons, Hunter and Ryder.
Bobby Flay is arguably one of the best chefs Food Network has ever seen
Flay is an extremely well-renowned chef, and his training is a bit more professional than Fieri's. Flay was born in New York City and was a high school dropout. He eventually found his niche with cooking and attended the French Culinary Institute. He quickly worked his way up to executive chef and became a partner. Today, he owns plenty of restaurants in various locations throughout the United States and Caribbean, but the majority of his restaurants are in New York and New Jersey.
Today, Flay is worth an estimated $30 million
Flay worked his way up in the restaurant industry and eventually made it to Food Network. Over the past decade, he's hosted plenty of Food Network shows, including Beat Bobby Flay and Food Network Star, which he hosts with Giada De Laurentiis. Experts believe Flay is worth around $30 million, giving him a net worth almost quadruple that of Fieri. However, Flay and Fieri have two very different personalities and techniques. Some might say Fieri's personality has gotten him further than his cooking; Flay might not have the personality Fieri has, but he arguably has more skill in the kitchen. Either way, both of these men have made major names for themselves in the food world — and have millions of dollars to show for it.
Check out The Cheat Sheet on Facebook!