Which Fox News Host Is the Model for the Nazi-Lover on 'Succession'?
On Succession, the great HBO show starring Brian Cox and Jeremy Strong, we find a conservative TV network run by a billionaire foreigner that happens to have a Nazi problem. That is, the network employs a host who's so racist — so into Hitler — that they have to consider firing him.
They don't want to fire him, though, and it makes everybody who pays attention to cable TV wonder which Fox News host the show is referencing. After all, we've seen scores of advertisers flee programs hosted by Tucker Carlson, Jeannine Pirro, and Laura Ingraham in the past year.
The companies that used to promote their products on Fox chose to leave because they didn't want to associate with hosts who spout Islamophobia and anti-immigrant rhetoric (as well as garden-variety racism).
Of course, the network itself (Fox, not ATN) raised some eyebrows when it declined to air an anti-Nazi ad earlier in 2019. (Presumably, it didn't want to offend its viewers.) So there was a lot for Succession to work with in Season Two.
Neo-Nazis and KKK members love both Laura Ingraham and Tucker Carlson.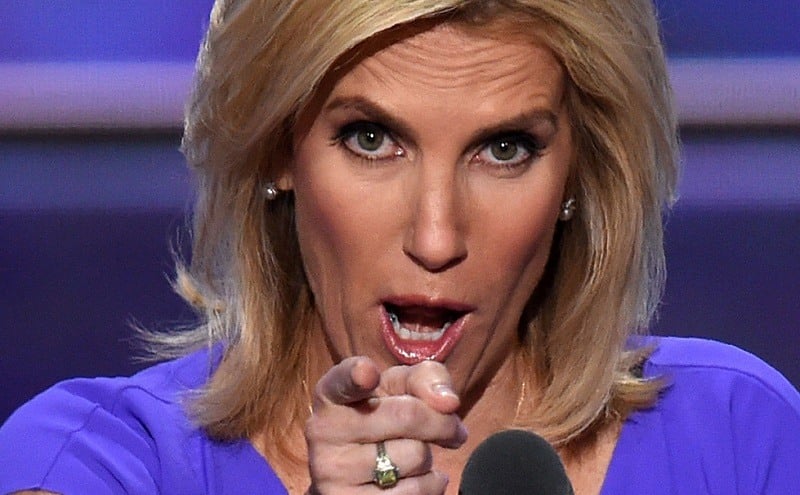 When you look at the things Ingraham and Tucker have said over the past few years, you start to wonder to whom they are speaking. As Media Matters has documented, Ingraham's demonization of immigrants and routine Islamophobia make her show a particularly ugly opinion program.
But some people enjoy it immensely — and one of them is Ku Klux Klan leader David Duke. "The America we know and love doesn't exist anymore," Ingraham said in 2018. "Massive demographic changes have been foisted on the American people…"
Duke retweeted the above quote, calling it "one of the most important (truthful) monologues in the history of mainstream media." In short, Klan members absolutely love Ingraham, and many feel the same way about Tucker.
In fact, the neo-Nazi website The Daily Stormer has called Tucker "literally our greatest ally." When a Playboy interviewer recently asked if that bothered him, Tucker shrugged it off. That seemed like a scene from a recent Succession episode, though the character is slightly more clueless than Tucker.
The Nazi-loving ATN host is closest to Tucker.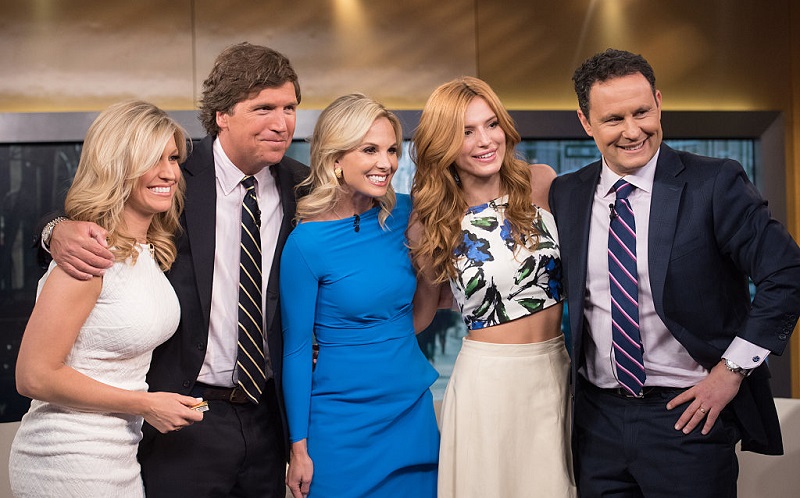 In "Safe Room," the fourth episode of Succession's second season, we get a look at ATN's Manhattan headquarters under fire. Antifa protesters are outside clashing with pro-facist conservatives; an ATN producer shoots himself at his desk; and people are calling for the Nazi-affiliated host to resign.
It really does seem like Fox News on steroids. As for the calls for hosts to resign, that happens frequently. (The network only occasionally heeds them.) And the denials and misdirection of the ATN host sound an awful lot like Tucker's blank denials and "aw shucks I have no idea why Nazis love me" routine.
Then again, the ATN host Tom does his "colonoscopy" on is both more flagrant and clueless than someone like Tucker or Ingraham. (The host's dog has the same name as Hitler's dog and he got married at Hitler's retreat, so he's not as subtle, either.)
So Succession didn't go straight for a real-life Fox News host. The writers simply wrote a character who's a Nazi enthusiast who offends people on TV on a nightly basis while winning the ratings at his hour.
The big clue came in the note about demographics: ATN's fictional Nazi-loving host did very well with young viewers. No one at Fox News does that.
Also see: How Old Is the Average Fox News Viewer in America?