Which 'Friends' Actress Has the Highest Net Worth: Jennifer Aniston, Courtney Cox, or Lisa Kudrow?
'Friends' launched Jennifer Aniston, Courtney Cox, and Lisa Kudrow into stardom. So which one has the biggest bank account?
Fans of Friends are eagerly awaiting the reunion of Jennifer Aniston, Courtney Cox, Lisa Kudrow, Matt LeBlanc, Matthew Perry, and David Schwimmer in their upcoming HBO Max special. The cast of the iconic NBC sitcom hasn't appeared on television together since the show ended in 2004.
Each member of the Central Perk six has gone on to pursue other projects. While some couldn't seem to find their footing after Friends, others were firmly on the path of success. The actresses on the show have stayed close friends and embarked on different opportunities. So who's career has gone on to be the most profitable?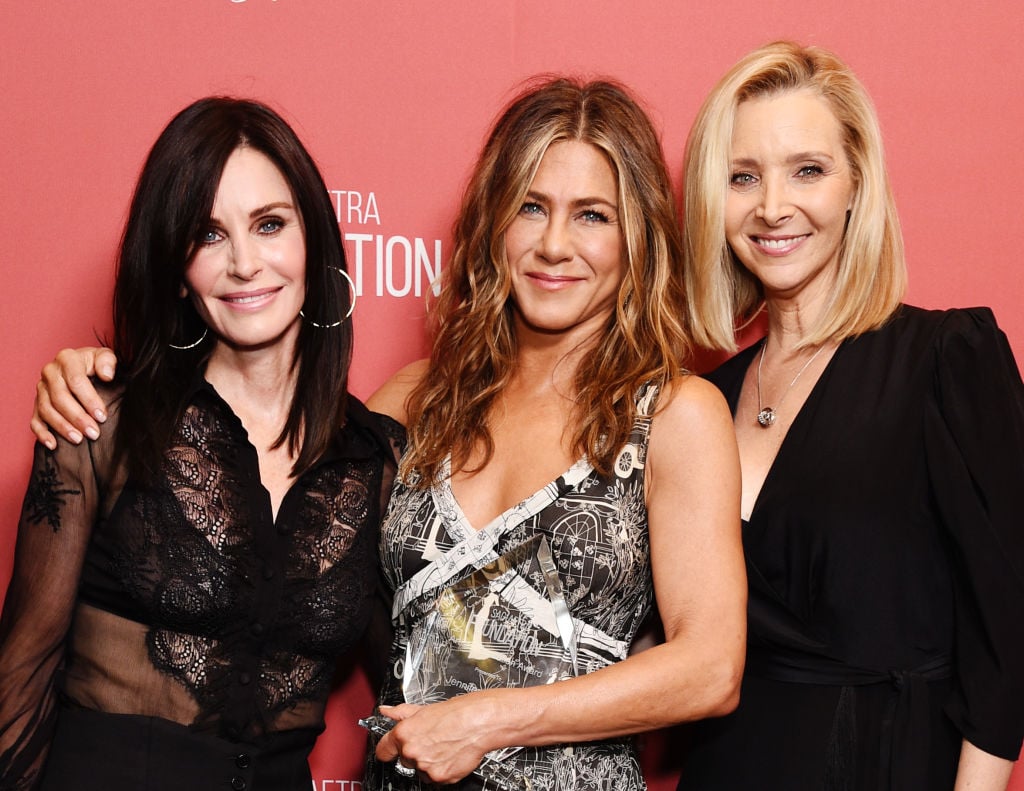 Lisa Kudrow
Always displaying her versatility, Kudrow moved on from playing Phoebe Buffay on Friends to appear in a myriad of films including The Long Shot, The Girl on the Train, and Booksmart. The actress also kept working on the small screen with parts on Scandal, Unbreakable Kimmy Schmidt, The Good Place, and Grace and Frankie, according to Insider.
Kudrow added to her acting role for the Showtime series Web Therapy, where she served as executive producer and writer in addition to playing the lead. The series was nominated for an Emmy and ran for six seasons.
Now starring in the Netflix series Space Force, Kudrow still feels a bond with her friends from Friends. "We spent 10 years together, almost every day," she told The Guardian in 2015. "We all went through something significant together, and that's a strong bond. As you get older, you realize, oh, you don't have that with just about everybody."
According to Celebrity Net Worth, Kudrow's total is listed at $90 million.
Courtney Cox
Launching the show Cougar Town in 2009, Cox served as executive producer and star of the series for six seasons. She also was featured in the show Dirt from 2007 to 2008, and had guest appearances on programs including Modern Family, Shameless, and Kudrow's Web Therapy.
Cox's personal life had some ups and downs after her turn as Monica Geller on Friends. After almost 13 years of marriage, she and actor David Arquette divorced. They share a daughter, Coco. The actress has been in a relationship with musician Johnny McDaid since 2013.
Now with her Facebook Watch series called Nine Months, Cox heads the documentary-style show that follows 15 families through pregnancy. "They're letting us into the most intimate time of life before birth," she explained to Jimmy Kimmel. "You laugh, you cry, and it's incredible."
Celebrity Net Worth lists Cox's total at $150 million.
Jennifer Aniston
It's a safe bet to say Aniston has become the biggest success of the Friends bunch following her role as Rachel Green. Starring in over 40 movies in her career, Aniston is considered one of today's most bankable actresses.
While film roles seem to dominate Aniston's time, she has also taken on more producing projects. Playing the lead role alongside Reese Witherspoon in the Apple TV+ series The Morning Show, Aniston is also an executive producer. According to IMDb, the actress held this post on several other projects including Dumplin', Murder Mystery, and The Yellow Birds.
The Friends alum recently revealed that she's become more selective over the years when taking on a role. "Time is precious, and what takes me away from home has to be really worth it," Aniston told Entertainment Weekly in 2019. "In the last 10 years, I'm just having more fun and exploring characters I wouldn't have normally thought to do."
Not surprisingly, Aniston's total comes out on top with a reported net worth of $300 million.