Which 'Friends' Cast Member Made the Most Money?
When Friends hit the airwaves in 1994, no one could have predicted what a runaway hit it would be. But ten years later when this talented cast went their separate ways, the world of television was forever changed. Friends later found a new life on Netflix, and the crew from Central Perk have now won the hearts of a new generation of fans. We know Friends has aged well, but how have its stars done in the passing years? 
A tight-knit bunch
One of the great strengths of the show was how well the cast worked together. Six very different actors came together to make something that was more than the sum of its parts. Here are the people who made Friends such a success.  
Jennifer Aniston's role as Rachel Green made her a household name and influenced the hairstyles of an entire generation. Aniston is still acting, and recently won a SAG award for her work on The Morning Show. 
David Schwimmer played Ross Geller, the pedantic paleontologist and Rachel's love interest. After the series ended, he kept acting, including voice-over work in the Madagascar movies and a recurring role in the revival of Will & Grace. 
Courteney Cox played Monica Geller, Ross' sister and the clean freak who kept the purple apartment spotless. Cox has had a busy career since the series ended, starring for six seasons in Cougar Town and appearing on many other shows, such as Shameless and Modern Family.
Matthew Perry played wise-cracking Chandler Bing. During the series, Perry became addicted to pain killers. He's been open about his struggle and recovery in the year since. He's appeared in a few projects, such as The Odd Couple.
Lisa Kudrow played flaky, friendly Phoebe Buffay. After the show, she stayed busy acting, from voice-over work in Boss Baby to a well-received series on Showtime called Web Therapy. 
Matt LeBlanc played the dim but sweet Joey Tribbiani. He starred in a spin-off called Joey, but it only lasted two seasons. He kept acting, and he won a Golden Globe for his role on the show Episodes. 
They were true friends — and they proved it
The cast was so tight-knit that before the third season they joined together to negotiate their salary. They were determined that everyone receive equal pay, so much so that Aniston and Schwimmer took a pay cut to make that happen. In season three, each actor got $75,000 an episode, and by the last two seasons, that number had grown to a staggering $1 million per episode. 
Their net worth today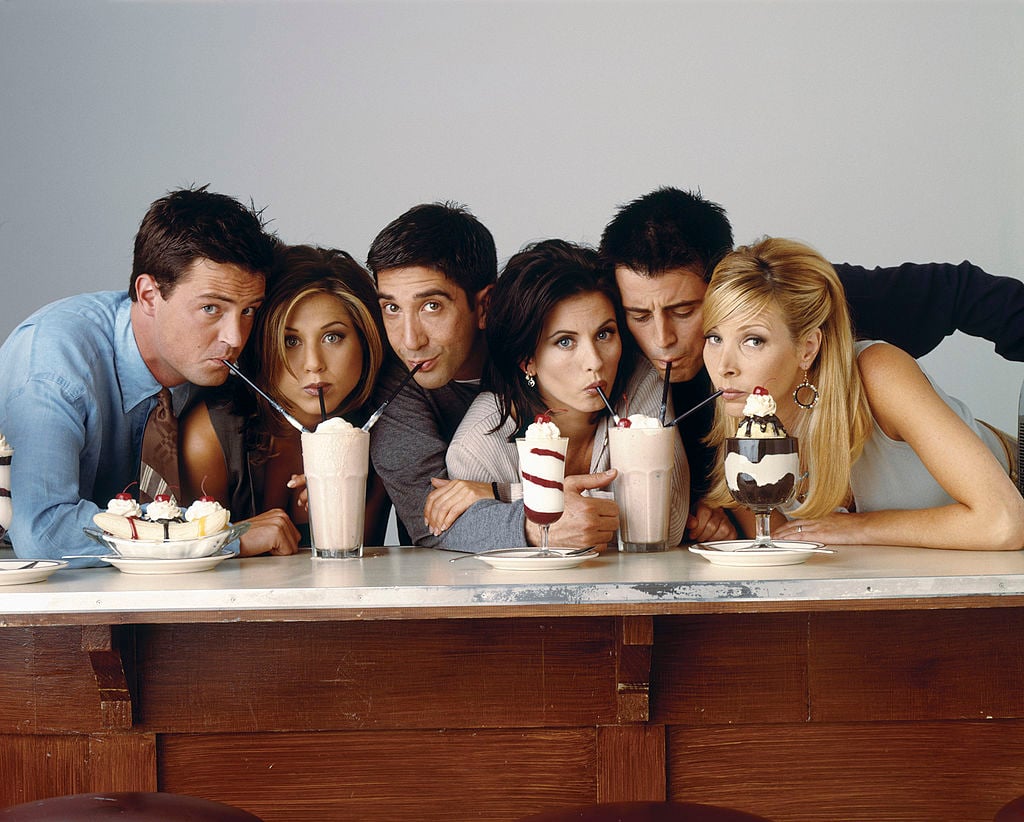 Not that it's a competition, but Aniston takes top place with a total net worth of $300 million. Her acting career has been the most successful, plus she's had a number of lucrative endorsement deals.
Cox comes in next, with $150 million. Cougar Town paid her well, and she was also paid well as the face of Pantene, as well as other endorsements. 
Perry isn't far behind, with a bottom line of $120 million. Although he hasn't been that busy as an actor, Perry has made some excellent real estate investments.
With a net worth of $90 million, Kudrow is doing pretty well for herself. Much of her money comes from acting, but she's also made some good real estate deals. 
Schwimmer has $85 million to his name. He's earned a decent amount from acting, but the majority of his money comes from Friends. 
LeBlanc also owes the bulk of his fortune to Friends, with $80 million to his name. 
The main cast of Friends has done pretty well for themselves. Not only are they busy and successful, but they're also apparently still close. And that — plus millions of dollars — is a pretty happy ending to their story.