Which Hemsworth Brother Has the Higher Net Worth?
The Hemsworth brothers, Luke, Chris, and Liam are all successful actors in their own right. Luke Hemsworth, the oldest at 38 is best known for playing Ashley Stubbs on HBO's Westworld.
The middle brother, Chris Hemsworth, is 36 and has been playing Thor in Marvel films for almost a decade now. Liam, the youngest of the family is 30 and was most notably Gale Hawthorne, in The Hunger Games series.
Thanks to their many roles in Hollywood and Australia, they're all quite wealthy, but which brother has the highest net worth and why?
The Hemsworth brothers were a rowdy bunch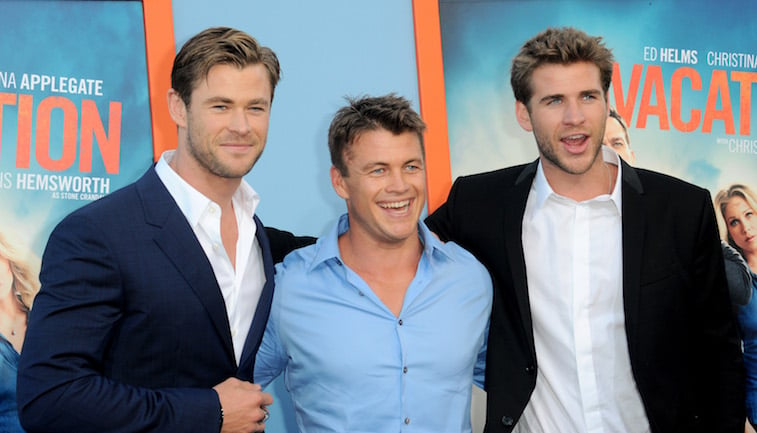 The Hemsworth brothers were all born in Melbourne, Australia but eventually, the family moved the Australian Outback when Liam was still a child. Much like the region's reputation, the boys were a bit wild. According to Luke Hemsworth, they'd be up and out each day, say goodbye to their mom and then "disappear into the bush."
The three were also quite prone to good-natured fighting. Luke Hemsworth once said of his little brothers: "They're really tall, but they're actually quite soft—and they cry a lot. I take great joy in making them cry."
He wasn't the only one to make mention of their rowdy natures. Liam Hemsworth once told Conan: "I feel like that's when you really get to know each other, when you give someone a good punch in the face. It's one way of expressing love."
Their fighting did go a little too far from time to time. Liam Hemsworth once threw a knife at Chris Hemsworth's head. Luckily only the handle hit him. He defended himself in the aftermath saying, "It was just a warning!"
The Hemsworth brothers all started acting in their teens
By the time the Hemsworth brothers were in high school, they took an interest in acting one by one. Chris Hemsworth had financial goals in mind going into the business: he wanted to help pay off his parents' house. However, he said he may have been more relaxed in auditions if he hadn't put that pressure on himself.
He did miss out on some parts that he wanted early on, like the role of GI Joe that went to Channing Tatum, but it all worked out when he eventually was cast as Thor.
Liam Hemsworth once told GQ that Chris Hemsworth is his hero and that he goes to him when he's on the fence about what projects to take. The two are very open in interviews about how picky they are about which film projects they participate in. They won't take just any role, they want the script to be solid, and they want to know they can bring something to the part.
The three brothers are close. Liam Hemsworth lived just five minutes away from Luke Hemsworth in Malibu before his mansion with then-wife Miley Cyrus was lost to the fires. If the aftermath of losing his home and separating from Cyrus, Liam Hemsworth then decided to move back to Australia, less than a mile away from Chris Hemsworth and his family.
Chris Hemsworth's work with Marvel made him the richest Hemsworth
When it comes to the net worth of the Hemsworth brothers, there really is no contest. According to estimates from The Richest, Chris Hemsworth's net worth is $90 million. He made over $64 million in 2018 alone, that's more than double Liam Hemsworth's total net worth of $26 million.
Despite their similar looks, Thor was one of the only parts that the two brothers have competed for. "We're not generally looked at in the same age bracket," Liam Hemsworth told GQ Australia, "Thor was the only time when we were really up against each other." He went on to say being just 18 at the time, he didn't really want to do the role and thought he was too young when compared to the other actors up for it.
As for Luke Hemsworth, his net worth is somewhere around $3 million, a more than respectable amount for any actor. Regardless of who makes the most, Chris Hemsworth and his brothers achieved their financial goals, and then some. Their parents must be very proud.