Which Kardashian Family Member Has Had the Most Marriages? (The Answer Will Surprise You)
Fans of Keeping Up with the Kardashians know so much about the famous family as much of their lives are documented on their TV show. Fans can also check their social media feeds to see what the ladies are up to. But there are some things people get stumped on about the reality stars and one question is how many times they've all been married. If you think you know the answer to that you'll be surprised to learn that two of the family members are tied for having the most marriages.
Read on to keep up and find out who.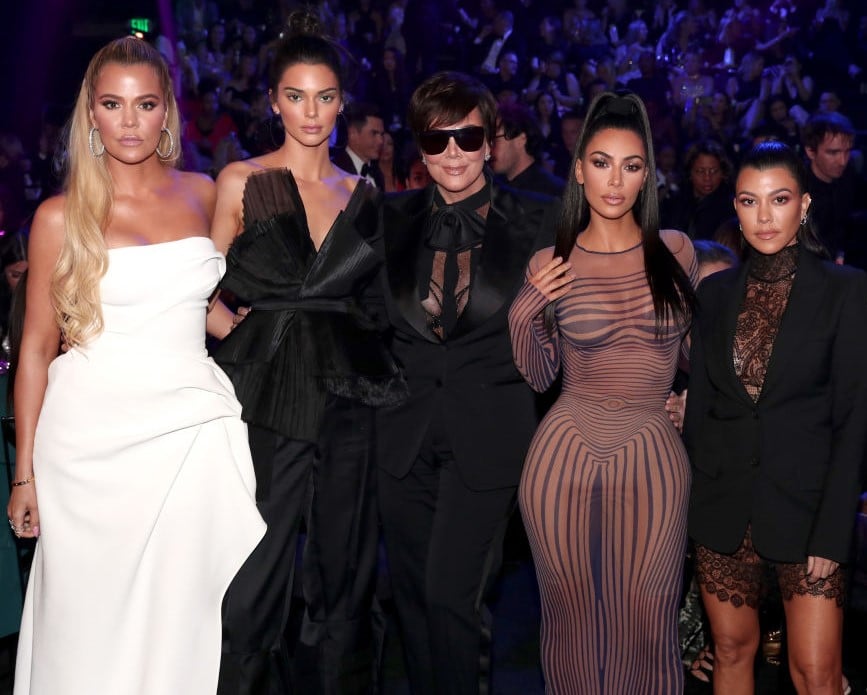 How many times has Kris Jenner been married?
We'll start with the Kardashian family matriarch Kris Jenner. The momager has been married twice.
Her first marriage was to Robert Kardashian. They said "I do" on July 8, 1978, and had four children together. Kris and her first husband divorced in 1991. He died of esophageal cancer in 2003.
After her divorce, Kris went on to marry Caitlyn Jenner (formally known as Bruce Jenner). Together they had two daughters, Kendall and Kylie. Kris and her second spouse separated in 2013 and later divorced. She's been dating Corey Gamble ever since but Mama Kris doesn't seem too keen about walking down the aisle for a third time.
"You know, I've done that twice and it didn't work out so well," she said during an appearance on The Ellen DeGeneres Show. "So I don't know — you never know… I think as long as things are going so well, why ruffle it up?"
How many times have her children been married?
When it comes to Kris' kids Rob, Kendall, Kylie, and Kourtney have never been married. Kourtney was in a long relationship with Scott Disick who she has three children with but the two never tied the knot. So what about Kim and Khloé?
In 2009, Khloé wed former NBA player, Lamar Odom, one month after they met. Much of their relationship was chronicled on KUWTK but viewers weren't aware of their serious marital problems. Khloé filed for divorce in 2013 but called it off after Odom's near-fatal overdose. She then re-filed and their marriage officially ended in 2016. The Revenge Body host never remarried but has one child with Cleveland Cavaliers star Tristian Thompson. They went through a very public breakup as well and are now co-parenting their daughter.
Kim has walked down the aisle more times than her sister and mother. The KKW BEAUTY founder has been married three times. Kim eloped with Damon Thomas in 2000. He filed for divorce three years later. She wed her second hubby Kris Humpries in 2011 but they split 72 days later and their divorce was finalized in 2013. The third time seems to be the charm for Kim who married rapper Kanye West in 2014. They currently have four children together.
But Kim isn't the only person in her family who has gotten hitched three times.
Who's been married as many times as Kim?
So which family member has been married as many times as Kim? That would be her grandmother, Mary Jo.
Fans of KUWTK will recognize the woman affectionately known as "MJ" since she's appeared on several episodes of the reality show. But what fans probably don't know is that like Kim, MJ has been married three times as well.
Mary Jo was married to Kris' father, Robert True Houghton, before divorcing when Kris was 7. She then walked down the aisle with businessman Harry Shannon. They were together for 40 years until he died in a car accident in 2003. But MJ revealed on Kim's website that she tied the knot with someone else before meeting her grandfather.
"We have so much in common. I mean, history repeats itself, I can't believe it, because I was married for two months at 18. Right out of high school I was given an engagement ring," MJ told her granddaughter. "Guy I had been going with for four years. And then I just thought 'this really isn't that much fun' so I got out of it. Once you got married you realized 'Oh, what did I do?' You know? And you try to stay in there for a month or so."
Read more: Which Kardashian-Jenner Sister Has Had the Most Plastic Surgery?