Which Kardashian-Jenner Sister Makes the Most Money For Their Instagram Posts?
Fans who are always keeping up with the Kardashians, love getting daily updates from the family on just about everything from what they're eating to their workout routines to which products they like to use. And the Kardashian-Jenner siblings certainly don't mind posting about their products of choice because they get paid a substantial amount of money for doing so. But who earns the most per product post on Instagram?
Calculations from Myprotein study and Inkifi estimate how much cash the siblings and even Mama Kris make off a single post.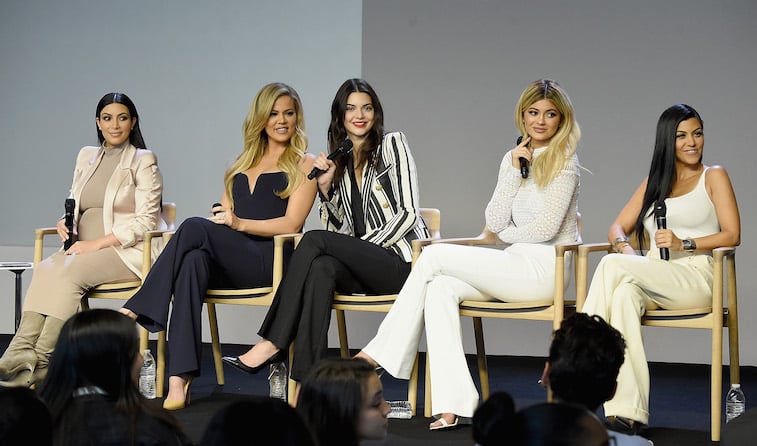 Kris Jenner
We'll start with the Kardashian-Jenner matriarch because as the saying goes: The devil works hard but Kris Jenner works harder.
For years, Kris has promoted her children's products via her social media accounts. The famous momager gets 10% of what her kids make and she serves as one of the executive producers for the Keeping Up with the Kardashians reality show.
Kris has an estimated net worth of $90 million but if she ever wants a little extra cash, she can share a post for other products she's partnered with and rake in cool $188,800 per post.
Kourtney Kardashian
The eldest of the KarJenner siblings, Kourtney Kardashian, has earned the bulk of her $40 million net worth appearing on the family's reality show over the years.
These days though Kourt often promotes her lifestyle site, Poosh, and you can always find some posts for different products she recommends. For those, she can make $515,700 each.
Khloé Kardashian
Khloé Kardashian has been involved in a number of business ventures including the Good American clothing line she founded in 2016. She's also hosted and starred in quite a few reality shows.
"Khlo Money" already has an impressive net worth of $50 million but she's never shied away from endorsing products on her social media pages which could pay up to $620,300 a post.
Kendall Jenner
As a model, Kendall has built her brand and net worth to $40 million thanks to her many campaigns with top products including Adidas, Estée Lauder, Calvin Klein, and Stuart Weitzman.
She knows how to promote everything from clothing to beauty tools via social media which is why she can earn $724,600 for sharing a post of a hair straightener by Formawell Beauty.
Kim Kardashian West
Kim has become an expert at promoting herself and her family's brand. She's active on social media and while she never misses a chance to share a selfie, she also understands business and that her posts can equal cash.
To add to her $350 million mega fortune, Kim can endorse a product on social media and earn well over $900,000 a post, according to Hopper HQ.
Kylie Jenner
Based on the calculations and projections of how much each family member can pocket for their online endorsements, Kylie Jenner comes out on top.
We already know that the youngest Kar-Jenner sister reigns supreme in terms of net worth compared to her siblings, but Kylie also has the most Instagram followers which gives her the most influence via social media. Therefore she could see a whopping $983,100 per post for what she chooses to promote.
Read more: Which Kardashian-Jenner Sister Has Had the Most Plastic Surgery?